Gaming Stocks: What to Watch in 2017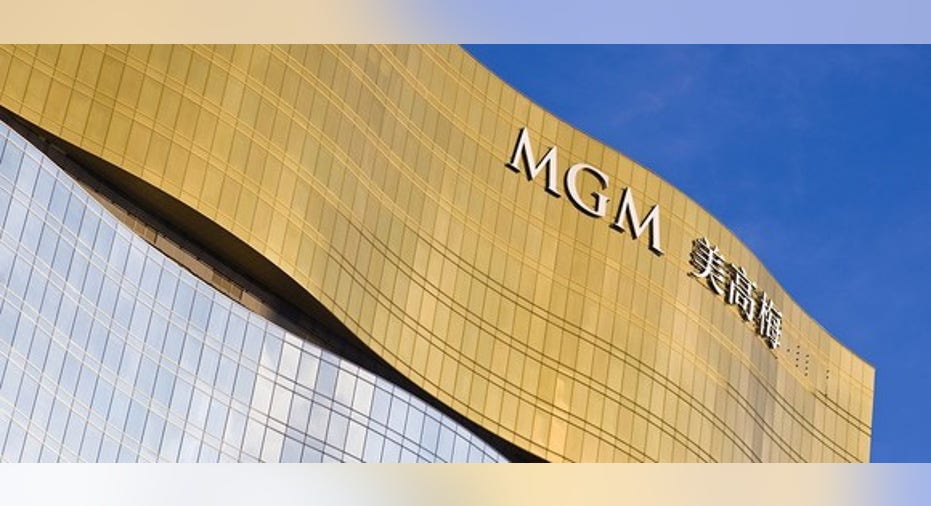 Wynn Palace Cotai. Image source: Wynn Resorts.
The gaming sector has had some big wins in the last few months, including what looks like a rebound in Macau, stronger growth in Las Vegas, and casinos preparing to open in new regions. With each of the big names in gaming preparing for potentially major gains in the quarters ahead -- including Las Vegas Sands (NYSE: LVS), Wynn Resorts (NASDAQ: WYNN), and MGM Resorts International (NYSE: MGM) -- here's what to watch in 2017.
Macau's turnaround year
Numbers for November show the fourth month in a row of year-over-year gains in gaming revenue in Macau. While that streak shouldn't be very impressive, it is when considering that it is a reversal from the 26 months in a row that the figure was in decline from early 2014 through July 2016.Regulations that have caused most of the issues in Macau in the last two years, including limits on travel and spending, have been eased and new casinos have opened. For full year 2016, gaming revenue is expected to break even or rise slightly year over year.
2017 could be the turnaround year for the gaming island and the companies that operate there. Wynn and Las Vegas Sands have opened promising new resorts in Macau in recent months. The Wynn Palace, which features a more upscale option on Macau's strip, along with Las Vegas Sands' Parisian resort, with its focus on mass-market entertainment, both look like solid bets so far this year. However, in the coming year, MGM is the company to watch in Macau.
Image source: MGM Resorts International.
MGM will be the one making headlines in 2017 when it opens the MGM Cotai resort in the spring. This casino resort is designed to be the "jewelry box" of Cotai with 1,500 hotel rooms and suites, as well as meeting and convention space, plenty of shopping and restaurants, and what the company says will be "the first international Mansion at MGM," which appears to be luxury accommodation for VIP visitors. The company says MGM Cotai is "being developed to drive greater product diversification and bring more advanced and innovative forms of entertainment to Macau as it grows as a global tourist destination."
Vegas isn't the hottest spot to watch
Las Vegas, which suffered major declines following the global financial recession of 2008, has made a remarkable turnaround to become a more diverse and sustainable entertainment destination. However, while Las Vegas looks on track to continue posting record visitation in 2017 and impressive growth in non-gaming revenue, it's the U.S. Northeast that will be more interesting region to watch next year.
At a time when Atlantic City has become a laughingstock of the gaming world, each of these companies is looking to other parts of the U.S. East Coast to grow regional casino resorts. MGM National Harbor outside of Washington, D.C., just opened, meaning that while it technically opened in 2016, its first full month of operation will be in Q1 of 2017 and it's the Q1 numbers that will help show if this East Coast bet is a good one. MGM is also working on MGM Springfield, a smaller casino inMassachusetts expected to open in 2018.
Wynn Boston Harbor Rendering. Image source: Wynn Resorts.
Wynn Resorts is also seeking to grow in the area, and is currently working on Wynn Boston Harbor just outside of downtown Boston. Construction only officially started for this new resort in August, so it's unlikely that the resort will open in 2017, but you can expect hype around the resort to continue throughout the next year as it starts to take shape, especially if MGM National Harbor turns out to be a well-performing regional bet.
Taking a risk on gaming stocks again
The last few years have been rough for the casino industry, with shares of Las Vegas Sands, Wynn, and MGM each crushed between early 2014 and mid-2016. However, those fortunes have largely changed in the last few months, and positive industry changes are getting investors excited about these gaming stocks again. With each stock showing positive momentum now, this looks like a great time to consider betting on these stocks for the new year.
10 stocks we like better than Wynn Resorts When investing geniuses David and Tom Gardner have a stock tip, it can pay to listen. After all, the newsletter they have run for over a decade, Motley Fool Stock Advisor, has tripled the market.*
David and Tom just revealed what they believe are the 10 best stocks for investors to buy right now... and Wynn Resorts wasn't one of them! That's right -- they think these 10 stocks are even better buys.
Click here to learn about these picks!
*Stock Advisor returns as of Nov. 7, 2016
Seth McNew owns shares of Las Vegas Sands. The Motley Fool has no position in any of the stocks mentioned. Try any of our Foolish newsletter services free for 30 days. We Fools may not all hold the same opinions, but we all believe that considering a diverse range of insights makes us better investors. The Motley Fool has a disclosure policy.