Galena Biopharma Gives Shareholders 3 More Reasons to Bury Their Heads in the Sand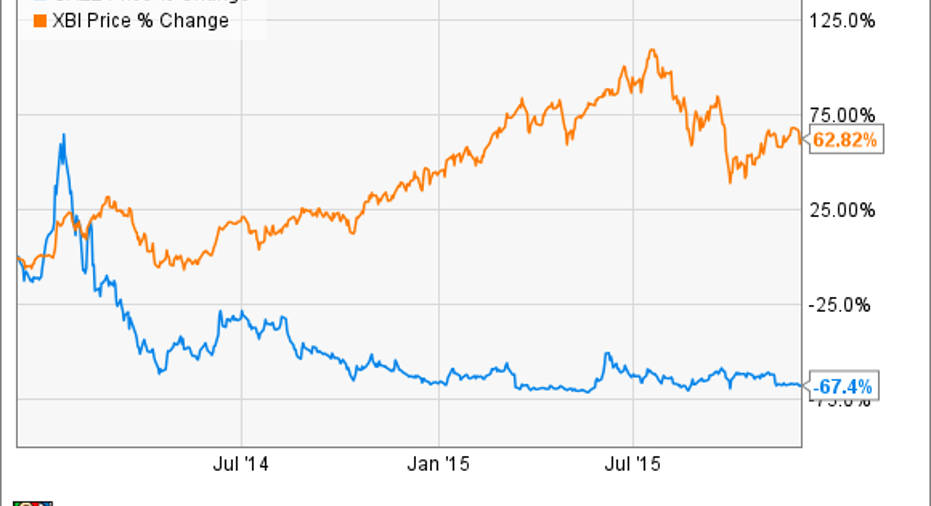 It's been an ugly past two years for clinical-stage cancer drug developer Galena Biopharma .
In late 2013, shares of Galena, almost inexplicably, scorched higher from $2 to more than $7 in just three months. But almost as quickly, Galena's shares fell back to Earth. The company's shares are down just 2% year to date as of Friday's closing price of $1.48, but that's hardly any consolation when the SPDR S&P Biotech ETF is up 13% year to date and 63% over the trailing-two-year period (an outperformance of 130 percentage points over Galena during the same timeframe).
Shareholders in Galena have been steadfast in their belief that clinical data will soon drive Galena's share price higher, but over the past half-month, they've again been blindsided by mind-numbing news that's enough to make you want to bury your head in the sand. Here are the three most recent incidents where Galena and its management team gave its shareholders fits.
Galena sells a fully launched drug for less than it paid for it First, on Nov. 20, just days after the company released disappointing third-quarter results that entailed a wider-than-expected net loss and the discontinuation of its commercial business, Galena announced the sale of breakthrough cancer pain drug Abstral to a private company. The sale price includes $8 million in upfront cash as well as $4 million in additional value that could be achieved if Abstral hits certain sales milestones. The $8 million in upfront cash should help extend Galena's cash runway by a couple months.
Image source: Galena Biopharma.
What's really noteworthy regarding this sale is that Galena paid $15 million to acquire Abstral from Orexo in March 2013. It then turned around and sold the drug for a maximum value of $12 million, for which $4 million isn't even guaranteed. In short, Galena took an unlaunched drug, put money into launching it, then sold a fully launched drug and somehow lost money. Furthermore, it sold Abstral for less in upfront cash than the drug is generating in full-year sales. Abstral is likely capable of $12 million to $15 million in full-year sales, and while that's not exactly great, selling below one times sales is practically unheard of (and almost screams of desperation) in the biotech sector.
Galena settles two lawsuits Secondly, on Dec. 4, Galena announced that it had reached a settlement on two class action lawsuits outstanding against the company.
A little background on these lawsuits may help explain Galena's herky-jerky share price action in late 2013 and early 2014. According to the allegations brought forth by the consolidated shareholder derivative lawsuit and the consolidated securities putative action lawsuit, Galena withheld vital information and breached its fiduciary responsibility with shareholders by engaging in a third-party relationship without proper disclosure. Specifically, the lawsuits allege that the hiring of the Dream Team Group, a stock promotion service, wasn't properly disclosed. Although the use of a stock promotion service isn't illegal, not reporting a relationship with one is against the rules.
Image source: Pixabay.
The settlements Galena agreed upon don't admit any guilt on Galena's part, but they don't exactly absolve the company of wrongdoing in the eyes of investors. As it relates to the derivatives lawsuit, Galena agreed to pay $15 million (which will be covered by Galena's insurance company) as well as cancel 1.2 million director stock options. The putative securities lawsuit will be settled for $20 million, of which $16.7 million will be paid by Galena's insurance company, $2.3 million will be paid in cash by Galena, and $1 million will be paid in common stock. Yes folks, it looks as if Galena is going to issue more common stock to make this problem officially go away.
Galena files another prospective offeringLastly, as has become almost customary to Galena's shareholders, the company filed an S-3 with the Securities and Exchange Commission on Dec. 4 to issue 21,625,289 shares of common stock upon the exercise of warrants.
Based on the registration fees breakdown provided in the S-3, some 14 million shares will be issued with an exercise price of $2.08, nearly 4 million shares will be issued with an exercise price of $2.50, a little over 3 million shares with an exercise price of $1.90, and roughly 615,000 shares with an exercise price of $0.65. Some of these warrants have exercise dates that extend as late as 2020.
The move by Galena to file an S-3 for expected warrant executions isn't entirely a surprising move, but it nonetheless could bring about dilution at some point in the future. In other words, existing shareholders may continue to see the value of their shares diluted.
On top of Galena's S-3 filing, it also has an ongoing deal with Lincoln Park Financial to privately sell up to $42 million in common stock, meaning even more immediate dilution potential with its cash pile dwindling.
Image source: Galena Biopharma.
There's hope, but the headaches are piling upAmidst the chaos, shareholders also don't want to lose focus on what has been promising data from adjuvant breast cancer vaccine NeuVax. Mid-stage studies involving NeuVax led to a 78.4% reduction in breast cancer recurrence in low-to-moderate HER2-expressing patients compared to the control group. Expanded into a larger phase 3 trial known as PRESENT, Galena is expected to report interim data on the safety and potential inferiority of NeuVax in 2016, with an expected full readout by 2018. An approval of NeuVax would validate Galena's drug development platform, likely open up additional collaboration and combination opportunities, and may give the company a chance of turning a profit.
Beyond NeuVax, there's GALE-301, an experimental treatment to prevent the recurrence of ovarian and endometrial cancer, and GALE-401, a controlled release formulation of anagrelide indicated for the treatment of patients with thrombocythemia, secondary to myeloproliferative disorders.
There is hope that Galena's research will bear fruit for patients and investors, but it's hard to ignore the fact that the headaches are also piling up. Whether it's lawsuits or cash concerns, shareholders have regularly found their patience (and wallets) tested over the past couple of years. While I hope for the best in terms of patient care, I can't guarantee Galena will reward its investors. Only time will tell.
The article Galena Biopharma Gives Shareholders 3 More Reasons to Bury Their Heads in the Sand originally appeared on Fool.com.
Sean Williamshas no material interest in any companies mentioned in this article. You can follow him on CAPS under the screen nameTMFUltraLong, track every pick he makes under the screen nameTrackUltraLong, and check him out on Twitter, where he goes by the handle@TMFUltraLong.The Motley Fool has no position in any of the stocks mentioned. Try any of our Foolish newsletter servicesfree for 30 days. We Fools may not all hold the same opinions, but we all believe thatconsidering a diverse range of insightsmakes us better investors. The Motley Fool has adisclosure policy.
Copyright 1995 - 2015 The Motley Fool, LLC. All rights reserved. The Motley Fool has a disclosure policy.