Futures Turn Higher as Oil Stablizes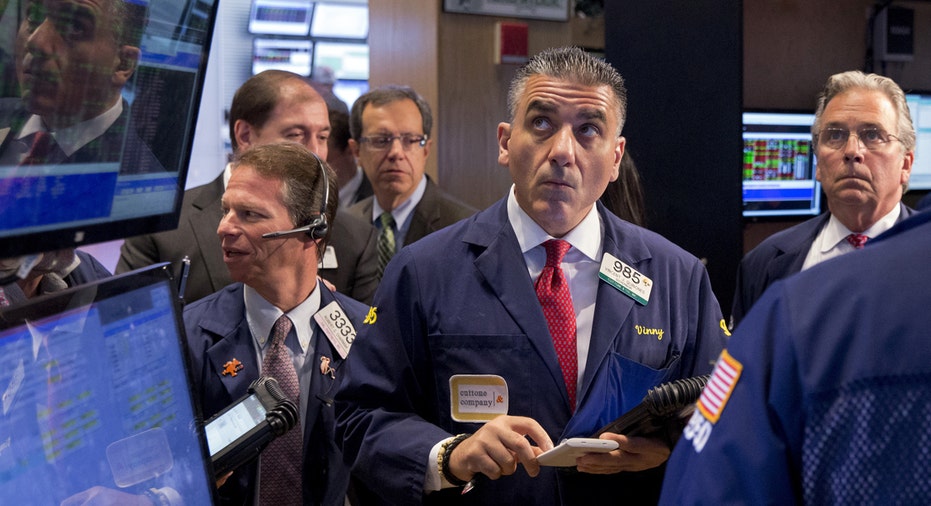 As of 9:00 a.m. ET, Dow Jones Industrial Average futures were 19 points higher, or 0.13% to 16626. S&P 500 futures rose by 4  points, or 0.19% to 1946, while Nasdaq 100 futures gained 4 points, or 0.09% to 4234.
(The following is the original story published by Reuters)
Shares retreated on Monday after a weekend meeting of G20 finance chiefs ended with no new plan to spur global growth and as investors fretted the U.S. Federal Reserve could raise interest rates before year-end.
The dollar, however, tumbled against the Japanese yen as investors sought shelter from the fall in equities, which saw Chinese stocks lose nearly 3 percent. Gold, another "safe haven," rose and was on track for its best month in four years.
U.S. stocks were expected to follow European and Asian shares lower, index futures showed.
Weak equities sharpened investor appetite for low-risk government debt and 10-year German Bund yields hit 10-month lows after data showed deflation returned to the euro zone this month.
G20 finance ministers and central bankers, meeting in Shanghai on Friday and Saturday, agreed to use "all policy tools - monetary, fiscal and structural - individually and collectively" to reach the group's economic goals.
But there was no plan for coordinated stimulus, which some investors had been seeking after concerns about a slowdown in China depressed markets at the beginning of 2016.
The pan-European FTSEurofirst 300 index fell 0.5 percent, coming off a three-week high hit on Friday, and Germany's DAX was down 1.2 percent.
Britain's FTSE 100 index lost 0.4 percent.
"Markets looked at the G20 meeting and found it a tad disappointing, what they had been looking for was a unification of the G20 to do something as a force," said Peter Lowman, CIO of Investment Quorum, a London-based wealth management firm.
REAL ESTATE
MSCI's broadest index of Asia-Pacific shares outside Japan dipped 0.6 percent and looked set to post its second consecutive monthly loss, with a 1.2 percent drop so far.
Chinese shares closed at one-month lows. The CSI300 index of the largest listed companies in Shanghai and Shenzhen, closed down 2.5 percent while the Shanghai Composite index fell 2.9 percent on concern rising real estate prices would see funds withdrawn from shares.
After the market closed, China cut the amount of cash banks must hold as reserves for the fifth time since last February.
The yuan hit a three week low of 6.5585 per dollar in offshore trade.
Tokyo's Nikkei lost 1 percent as the yen gained, causing headaches for Japanese exporters, and on China worries.
The yen gained 1 percent to 112.90 per dollar. The euro dipped 0.4 percent to a four-week low of $1.0882 after euro zone data showed consumer prices fell 0.2 percent, pushing the bloc into deflation for the first time since September.
The data ratcheted up expectations the European Central Bank would deliver more stimulus at its meeting on March 10.
Overall, the dollar rose 0.2 percent against a basket of its peers, extending gains from Friday when U.S. data showed consumer spending and underlying inflation picked up last month and the economy grew faster than earlier thought last quarter.
That revived expectations U.S. interest rates could rise again this year. Any 2016 hike had been priced out of markets but federal funds futures implied around a 50 percent chance of a rise before the year is out.
"Reviving expectations for a rate hike by the Fed is a key factor to halt the dollar's recent depreciation," said Koji Fukaya, president of FPG Securities in Tokyo.
Sterling, which took a hit last week on worries Britons could vote to leave the European Union in a June referendum, dipped 0.1 percent to $1.3850.
TREASURIES
Weaker stocks helped raise investor appetite for low-risk government debt. U.S. 10-year Treasuries yielded 1.74 percent, compared with 1.77 percent in New York on Friday.
German 10-year Bund yields fell 4 basis points to 0.11 percent and British gilt yields were down 4 bps to 1.36 percent.
Oil prices edged up as some in markets said a fall, which has seen crude lose some 70 percent since mid-2014, may have reached a bottom. Data on Friday showed a fall in the number of U.S. shale oil rigs in production.
Brent crude rose 25 cents a barrel to $35.35. It is up 18 percent since Feb. 11, the last day on which it dipped below $30.
Gold gained 1 percent to $1,233 an ounce and has risen 10 percent this month, its best performance in four years.
(Additional reporting by Hideyuki Sano in Tokyo, Henning Gloystein in Singapore, Sujata Rao, John Geddie and Patrick Graham in London; Editing by Toby Chopra)