Frustrations Build as Greece Drags its Heels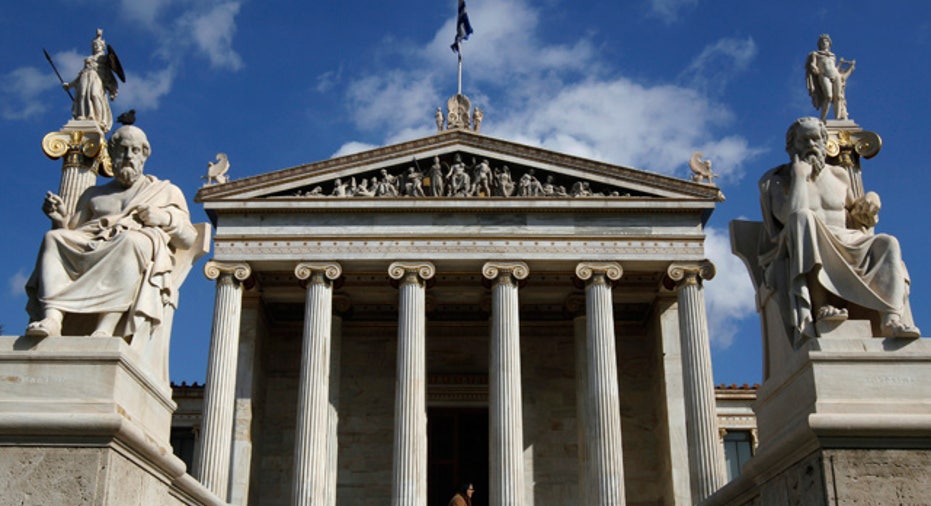 Greek party leaders finally gathered on Wednesday to agree a reform deal in return for a new EU/IMF rescue to avoid a chaotic default, after repeated delays which have prompted warnings that the euro can live without Athens.
With the future of Greece and the wider euro zone at stake, Prime Minister Lucas Papademos' efforts to get the three parties in his government to accept the tough reforms demanded by the European Union and International Monetary Fund seem to have been thwarted by arguments over little more than procedural matters.
One deadline after another has passed without the leaders making up their minds on terms for the new 130 billion euro ($172 billion) rescue which Athens must receive to avoid going bankrupt next month when big debt repayments are due.
What was supposed to have been a crunch meeting on Tuesday was postponed because of missing paperwork, according to one party official, delaying discussion of a deal which will further inflame an angry Greek electorate.
All three parties - conservative New Democracy, the PASOK socialists and far-right LAOS - finally received the 15-page document on Wednesday morning laying out the principles of the bailout and its conditions, a party official told Reuters.
There were seen arriving at the prime minister's office at around 1500 GMT.
Attached to the document are a further 30 or so pages laying out how the program, which is likely to force a big cut in many Greeks' living standards, will be implemented.
The draft of the bailout includes plans to cut the minimum wage by about 20-22 percent, a government official said. It also gives political leaders the option of cutting pensions over 1,200 euros by up to 20 percent or cutting supplementary pensions by 15 percent on average or a combination of cuts in both main and supplementary pensions, the official said.
DELAY AND MORE DELAY
After officials spoke optimistically that the three leaders - New Democracy's Antonis Samaras, PASOK's George Papandreou and LAOS leader George Karatzaferis - would meet just after noon on Wednesday, the meeting was delayed again.
Earlier, an official said Karatzaferis wanted all documentation translated from English - the language of negotiation with the international lenders - into Greek before he would look at them.
The far-right leader then threatened to abandon the meeting because he had not received the Greek version of the document, though he has backed down from similar threats in the past.
Another party demanded several hours to study the draft before discussions could begin, an official at the party said, requesting anonymity.
One Greek news website wrote an open letter to Papademos on Wednesday demanding that he "end this water torture."
"Greeks cannot any longer stand this torment of constant insecurity that is destroying the country and hurting our national dignity," it said. "The prime minister must end this endless bargaining that demeans the country and its citizens."
Facing elections possibly as early as April, coalition leaders have shown little sense of urgency, seemingly deaf to demands from euro zone leaders to make up their minds fast.
An opinion poll on Wednesday showed that PASOK, which ruled Greece until Papandreou's government collapsed last November, has most to fear from elections. The monthly survey by Public Issue for Kathimerini newspaper showed support for PASOK had collapsed to eight percent from the nearly 44 percent it commanded when it returned to power in 2009.
Karatzaferis defended the delays. "We can't say a plain yes or no unless we have assurances from the relevant state authorities that these actions are constitutional and will lead the country out of the crisis."
"There is time. When it comes to the future of the country, we will find the time," he told reporters late on Tuesday.
Such attitudes have raised frustration levels in Greece and abroad close to breaking point. German Chancellor Angela Merkel, whose government funds much of Greece's bailouts, expressed bewilderment on Monday at what the delays could achieve.
Dutch Prime Minister Mark Rutte said the euro zone could live without Athens if it did not keep its side of the bargain.
That drew a robust response from Deputy Finance Minister Filippos Sachinidis who told parliament that the EU treaty has no clause to force any country out of the euro.
"There is no legal ground to throw into question a country's sovereign rights," he said. "A country that does not protect its social fabric has no future."
Some exasperated Greeks believe that their leaders are drawing out the talks to create the impression that they are driving a hard bargain to soften the deal's terms.
The reality is that the "troika" of the European Commission, European Central Bank and IMF holds most of the cards. While the leaders can seek less harsh cuts in some areas, overall targets have to be achieved and savings must be made elsewhere.
BOND EXCHANGE
Greek media reported various elements of the deal were now in place, including a bond swap deal with private creditors to ease Greece's debt burden by reducing the value of government bonds held by banks and insurers. The new bonds would have an average interest rate of around 3.5 percent, said state NET TV.
But one person familiar with matter said that no deal had been nailed down. "Everyone knows where we (creditors) stand. There's a lot of clarity on the terms and conditions but the Greeks still have to provide more feedback," said the source, noting that little had changed since reports that the creditors would take a 70 percent loss on their holdings.
One newspaper also reported that the European Central Bank, which has large holdings of Greek bonds but has refused to take part in the swap, had agreed to sell its holdings at their purchase price to a euro zone bailout fund, the EFSF.
However, one EU official in Brussels said it was highly unlikely the ECB would agree to anything without first seeing that the final elements of the Greek deal were in place.
Financial markets continued to position for a deal being done eventually. Prices of German government bonds, which investors buy at times of uncertainty for their perceived safety, fell on Wednesday. The euro also hit a new two-month high versus the dollar.
Euro zone officials say the full package must be agreed with Greece and approved by the euro zone, European Central Bank and IMF before February 15.