Frozen Makes Disney World's Epcot Cool Again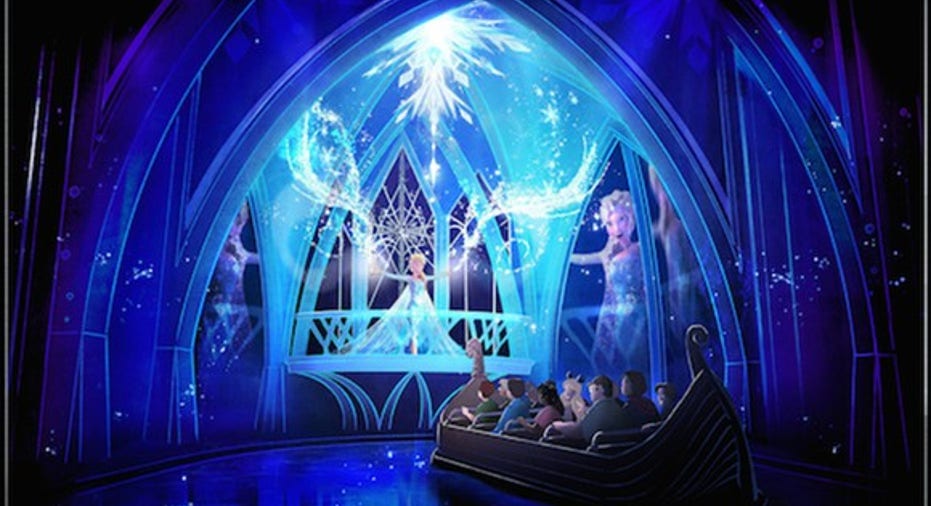 Image source: Disney.
Today is a big day forDisney'sEpcot theme park in Florida. Frozen Ever After -- a boat ride themed to the media giant's 2013 animated blockbusterFrozen-- opened this morning. Located in the park's Norway pavilion, the new attraction replaces the original Maelstrom ride that closed nearly two years ago to clear the way for this upgrade.
Frozen is a pretty big deal. It rang up more than $400 million in domestic box office receipts, making it Disney's third highest grossing film of all time without adjusting for inflation. The primary Anna and Elsa characters were so popular that they overtook Barbie as the National Retail Federation's most desired toy for young girls during the 2014 holiday shopping season, ending Barbie's 11-year reign on top of the industry group's annual list.
A Frozen ride should prove magnetic at Epcot this summer, and if you combine that with updated Soarin' attraction that opened over the weekend it's going to be a big boost for the park that has been Disney's slowest growing Disney World attraction in recent years.
Disney doesn't publish official attendance tallies, but industry watcher TEA/AECOM puts out annual estimates. It pegs Epcot's attendance growth at 1.5% in 2013, as its three other Florida theme parks grew by 2% to 6%. Epcot's 2% uptick in turnstile clicks in 2014 matched Disney's Hollywood Studios and Animal Kingdom, but clocked in at half of Magic Kingdom's 4% advance. Last year it was more of the same, with Epcot's 3% gain outpaced by the 5% to 6% growth at the resort's three other theme parks. In fact, you have to go all the way back to 2007 to find the last time that Epcot wasn't the weakest grower or tied for the honor of being the weakest grower among Disney World's four theme parks.
Given the park's languishing ways with its pedestrian growth, the only real surprise is that it has taken Disney this long to provide substantially new experiences to its patrons the way it's doing with today's Frozen Ever After and Friday's Soarin' Around the World update.
Hardhats in action
There are eight major theme parks operating in Central Florida.SeaWorld Entertainmentowns SeaWorld Orlando and Busch Gardens Tampa. Comcast has Universal Studios Florida and Islands of Adventure.
Four of the eight theme parks have added or will add new rides this summer. SeaWorld Orlando's world-class Mako coaster opened two weeks ago. Busch Gardens Tampa unleashed its Cobra's Curse spinning coaster over the weekend. Islands of Adventure is testing Skull Kingdom: Reign of Kong with an official opening likely days away.
It probably isn't a surprise that half of the area's amusement parks are introducing new rides this summer, but Epcot is Disney World's only participant. Disney prefers to mix things up through shows that are cheaper to develop and easier to get going. It's easy to knock the House of Mouse for that strategy, especially when Comcast's Universal Orlando is growing a lot faster in recent years. However, Disney still finds a way to grow its attendance with guests not flinching at annual ticket hikes.
However, after attendance dipped at Disney World during the first quarter -- something that also happened at SeaWorld Orlando but not at Comcast's Universal Orlando -- it can't afford to rest on its laurels. Magic Kingdom may be fine with a new stage show and Disney's Hollywood Studios will draw guests to its gutted theme park with a new nighttime Star Wars fireworks show. Animal Kingdom has dramatically increased its operating hours with new nighttime experiences and a waterfront show, but Epcot is the one Disney World property that's throwing a lot of muscle into actual new ride experiences.
Epcot remains Disney World's second most visited theme park, but after bringing up the rear in attendance growth for eight years it's time to make the investment in new rides to turn heads. Frozen's Elsa has the power to freeze things, but now it's time to see if she can also heat things up.
The article Frozen Makes Disney World's Epcot Cool Again originally appeared on Fool.com.
Rick Munarriz owns shares of SeaWorld Entertainment and Walt Disney. The Motley Fool owns shares of and recommends Walt Disney. Try any of our Foolish newsletter services free for 30 days. We Fools may not all hold the same opinions, but we all believe that considering a diverse range of insights makes us better investors. The Motley Fool has a disclosure policy.
Copyright 1995 - 2016 The Motley Fool, LLC. All rights reserved. The Motley Fool has a disclosure policy.