From Lepers to Leaders, Beaten-Down Banks Power 1Q Rally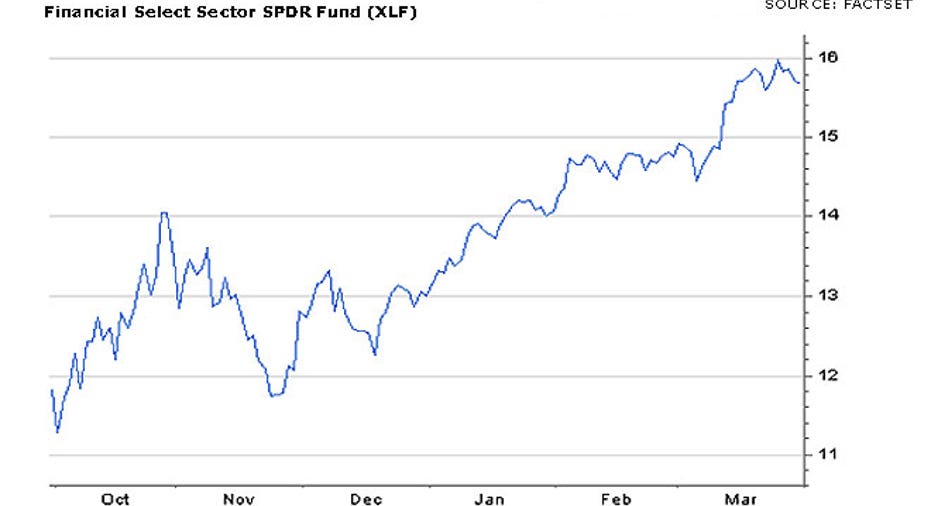 Treated as the outcasts of Wall Street just months ago, banking stocks have served as the main catalysts behind this year's red-hot start, helping to carry the S&P 500 to its greenest first quarter since 1998.
Not only have financials outperformed even the darling tech sector, but nine of the top 25 stocks on the S&P 500 this year live in the banking world, more than any other group.
So how did financial stocks go from lepers to leaders?
Scared about the prospects of a Lehman-like banking crisis sparked by trouble in Europe, investors fled the financial sector in droves last fall, overlooking the transformation in bank balance sheets over the past three years.
"People have been getting all upset. They have forgotten to take a look at the fundamentals of the industry," said Dick Bove, a veteran financial analyst at Rochdale Securities. "At some point they're going to have to start focusing on the fundamentals, which are extraordinarily positive."
Bove points to capital as a percentage of assets sitting at the highest level since 1938 and liquidity soaring to 30-year highs. He's also projecting a 12.5% jump in year-over-year profits this quarter, leaving earnings at their second-highest level in history and up for the 11th consecutive quarter.
Banks Easily Outperform
There are two dramatic differences between today and the end of the third quarter, when bank stocks and the rest of the markets began their rapid ascent.
The first is that fears of a double-dip recession in the U.S. have given way to proof the economic recovery has picked up steam. Few sectors are as sensitive to fluctuations in the economy as bank stocks are, especially in the pivotal housing sector.
The other big change is fading fears of a eurozone banking crisis, which seems to have been taken off the table, at least for now, by emergency liquidity moves by the European Central Bank.
The financial-sector SPDR ETF (NYSE:XLF) has soared about 22% so far this quarter, almost doubling the 11.6% gain for the S&P 500. That outperforms even the Apple (NASDAQ:AAPL)-juiced technology ETF, which has climbed 19% year to date. Even small-cap stocks, which typically see stronger returns during the start of bull markets, have rallied just 14%.
That's a far cry from last year, when the financial sector retreated a market-leading 18.2% despite rallying almost 11% in the fourth quarter.
From Loser to Rock Star
No stock stands out in this banking turnaround more than Bank of America (NYSE:BAC), which saw its share price plummet almost 60% last year as it became the poster child for a slew of worries about the industry.
"That's a perfect example of people freaking out on bad information," said Bove. "All through 2011 despite what the company was saying and despite what the balance sheet was saying, there was an insistence that this company could not survive."
Yet those fears subsided as the economy and Europe turnaround and thanks to a clean bill of health from the Federal Reserve – something that some peers like Citigroup (NYSE:C) can't boast of.
"The stress test proved without any shadow of a doubt that this bank doesn't need capital and it isn't failing," said Bove.
Shares of Charlotte-based BofA have soared 22% over the past month, leaving it up a remarkable 75% in 2012. That trails only Sears Holdings (NASDAQ:SHLD) – another stock mistakenly left for dead last year – which has skyrocketed 117% year to date.
Room to Run?
The BofA episode underscores how jittery investors remain about bank stocks just three years removed from the scariest financial crisis since the Great Depression.
"Investors in bank stocks care nothing about fundamentals. They care everything about the latest rumor, as long as the latest rumor is negative," said Bove. "There's good reason for it. The banks lied to investors in 2008."
Now that portfolio managers are closing their books on the first quarter, some are wondering how much more room financial stocks have left to run. After all, they can't keep going straight up -- many have more than tripled since the 2009 lows -- and the industry is still facing challenges, especially on the regulatory front.
But note that even as the XLF has generated impressive gains so far this quarter, it remains down 3.5% from a year ago. Goldman Sachs (NYSE:GS), which has leaped 40% in 2012, is off 20.5% from 52 weeks ago, while Morgan Stanley (NYSE:MS) has slumped 26% year-over-year.
With those figures in mind and an emphasis on fundamentals, Bove remains staunchly bullish on the financial sector, predicting banking stocks will over the next 12 to 18 months "at least" double from their current valuations.