From Johnny Depp to Netflix, 5 things to watch for at the 72nd Venice Film Festival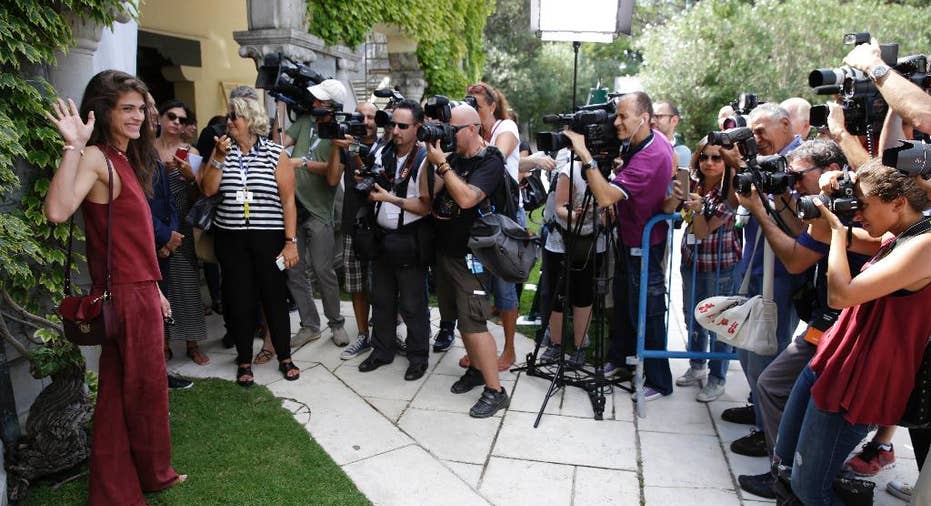 It's a sure sign that summer's over and the awards season is around the corner — the feast of fall film festivals.
The 72nd Venice Film Festival opens Wednesday, followed later in September by movie extravaganzas in Toronto, Telluride and New York. As well as celebrating the best of global cinema, the festivals battle one another to snag the biggest stars and hottest awards prospects.
Venice, the oldest and stateliest of the bunch, brings 11 days of red carpets, flashbulbs, parties and premieres to the canal-crossed Italian city. Here are five highlights, trends and themes to look out for:
___
HIGH-ALTITUDE OPENER
Venice's opening slot has developed a formidable hit-making reputation. In 2013, it sent the space saga "Gravity" into orbit, and on to seven Academy Awards. Last year's opener, the midlife crisis comedy "Birdman," scooped up four Oscars, including best picture, and revived Michael Keaton's career.
This year's festival opens with Baltasar Kormakur's thriller "Everest," which stars Jake Gyllenhaal, Robin Wright, Emily Watson and Jason Clarke in the fact-based story of peril on the world's highest peak. Producers' hopes are as high as a Himalayan summit.
Festival director Alberta Barbera said Tuesday that the opening film had to strike a balance between artistry and audience-pleasing.
"We need to find a film which is at the same time spectacular, with a lot of emotion (and) good characters the audience can relate to," he said. "So it's not easy.
"I think 'Everest' is more or less in the same vein as the previous two."
___
HOLLYWOOD HEAVYWEIGHTS
Some of Hollywood's biggest names will be walking the red carpet on Venice's Lido island — and hoping it's a rehearsal for Oscar night.
Among potential prize contenders are Johnny Depp, all but unrecognizable as a Boston mobster in Scott Cooper's "Black Mass;" Eddie Redmayne transformed into a transgender woman in Tom Hooper's "The Danish Girl;" and Idris Elba as an African warlord in Cary Fukunaga's "Beasts of No Nation."
The combination of Tilda Swinton, Dakota Johnson and Ralph Fiennes could make waves in Luca Guadagnino's drama "A Bigger Splash," while Kristen Stewart and Nicholas Hoult find love in a dangerous time in Drake Doremus' futuristic feature "Equals."
And last year's Venice hero, Keaten, returns alongside Mark Ruffalo and Stanley Tucci in Tom McCarthy's "Spotlight," about Boston Globe journalists investigating sexual abuse in the Catholic Church.
___
GLOBAL GIANTS
Venice is offering up meaty fare from heavyweight global auteurs among the 21 films that Mexican director Alfonso Cuaron and his jury will consider for the festival's top prize, the Golden Lion.
Israel's Amos Gitai depicts the traumatic 1995 assassination of Prime Minister Yitzhak Rabin in "Rabin, The Last Day," while Russia's Aleksandr Sokurov — a previous Golden Lion winner — tells the story of the Louvre museum — and of Europe — in "Francofonia" and Italy's Marco Bellocchio bites into the vampire-themed "Blood of My Blood."
Among the quirkier-sounding offerings are Charlie Kaufman and Duke Johnson's animated feature "Anomalisa" and musician Laurie Anderson's canine-themed feature debut "Heart of a Dog."
___
REAL-LIFE DRAMA
Tragic and transformative real-life events loom large in the festival's strong slate of documentaries.
Zhao Liang's Golden Lion contender "Behemoth" shows giant mines gouging the Chinese steppe, while Evgeny Afineevsky's "Winter On Fire" charts the mass demonstrations that toppled Ukraine's government in 2014.
Amy Berg's "Janis" traces the short, sensational life of singer Janis Joplin, while aerial-photography master Yann Arthus-Bertrand celebrates humanity in the kaleidoscopic "Human," which has premieres in Venice and at the United Nations in New York on Sept. 12.
___
CINEMA CONTROVERSY
No festival would be complete without a soul-searching debate over the future of cinema. This year's comes courtesy of streaming service Netflix, which is moving into fiction films with "Beasts of No Nation."
Netflix plans to release the African child-soldier drama simultaneously on-demand and in cinemas in October, a development that has alarmed distributors and movie theater owners.
Barbera is philosophical.
"We cannot avoid that the Internet and the new digital platforms are there, and they are competitors with the traditional theatrical circuit," he said. "It doesn't make any sense trying just to fight this trend. We have to find a way to collaborate."
___
Online: http://www.labiennale.org/en/cinema/
Follow Jill Lawless on Twitter at http://Twitter.com/JillLawless