Friday's Selling Frenzy: Wall Street Crushed by Euro Fears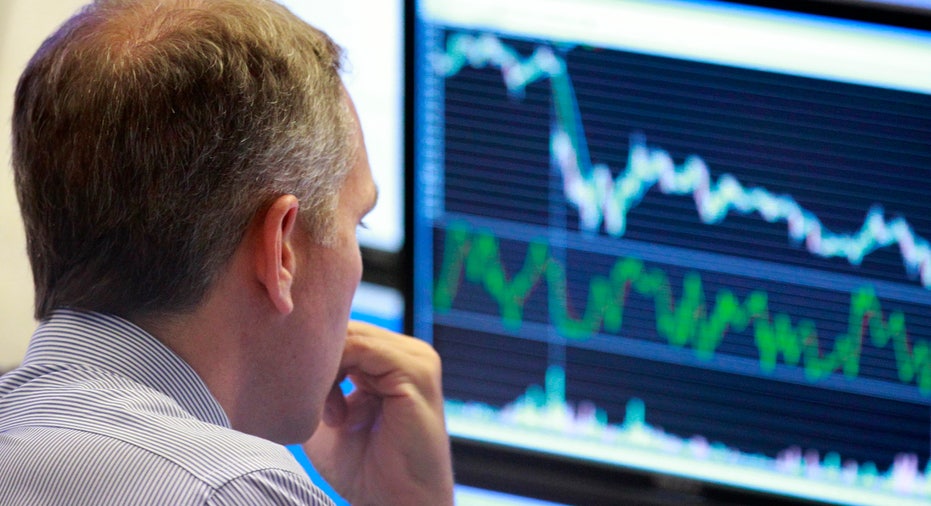 FOX Business: The Power to Prosper
Wall Street sustained deep losses to cap a highly-tumultuous trading week after a flurry of unnerving headlines on Europe's sovereign debt crisis and ongoing economic concerns set off a global flight to safety.
Today's Markets
The Dow Jones Industrial Average plunged 304 points, or 2.7%, to 10,992, the S&P 500 tumbled 31.7 points, or 2.7%, to 1,154 and Nasdaq Composite slumped 61.2 points, or 2.4%, to 2,468. The FOX 50 fell 21.5 points to 833.
The euro zone debt crisis has been a major focus on Wall Street on fears that severe weakness in the financial system there may spillover to companies across the Atlantic.  In fact, the markets have been particularly affected by even small developments and setbacks there.
Media reports that Germany is preparing to protect European banks from a potential Greek bailout roiled global markets and added to already gloomy developments earlier in the session.
European Central Bank Executive Board Member Juergen Stark plans on resigning by the end of the year once a replacement is found. The ECB says the retirement is for personal reasons, but a report by Reuters suggests the move is actually a result of a disagreement over the central bank's bond-purchasing program.
There were also discussions among the German and French officials about a financial transaction tax that would affect all types of instruments including equities and bonds.  The U.K., which houses the region's largest financial center, has opposed such a move.
The U.S. dollar soared 1.1% against a basket of world currencies to the highest level since March, while the euro tumbled 1.4% against the greenback. Meanwhile, the risk aversion trade was back on the table.  The yield on the benchmark 10-year Treasury bond fell briefly to a record low of 1.896% as traders have piled into the shelter of U.S. debt.
Volatility spiked more than 13% as measured by the Chicago Board of Options Exchange VIX index. Every Dow component was in the red, and only 2% of S&P 500 issues were higher.
Shares of European banks traded in the U.S. were slammed on the developments.  In particular, companies like Deutsche Bank (NYSE:DB), Barclays (NYSE:BCS) and Credit Suisse (NYSE:CS) took deep losses.  The broad Dow Jones Bank Titans 30 Index, which tracks 30 major banks across the world, sunk 3.7% recently.
American blue-chip financials fared poorly as well: American Express (NYSE:AXP) and JPMorgan Chase (NYSE:JPM) took bigger than 4% cuts.  Energy companies like Halliburton (NYSE:HAL) were hit hard as well.
Wall Street has been particularly volatile in recent days, making triple-digit moves for several days in a row.  For the week, the Dow crumbled 2.2%, the broad S&P 500 slid 1.75 and the Nasdaq shed a more modest 0.5%.
Energy markets trade against the dollar because most commodities are traded in dollar units, meaning a more expensive dollar makes them more expensive to obtain.  Light, sweet crude fell $1.81, or 2%, to $87.24 a barrel.  Wholesale RBOB gasoline dipped 11 cents, or 2.1%, to $2.77 a gallon.
Gold rose $2.00, or 0.11%, to $1,860 a troy ounce.
President Barack Obama unveiled his plan to boost the ailing U.S. labor market before a joint session of Congress on Thursday evening.  The plan, which is expected to provide roughly $447 billion in spending increases and tax cuts, was larger than the $300 billion many analysts had expected.
A key component of the plan is a cut of payroll taxes paid by employees in 2012. The purpose of the cuts, according to a research note published by Barclays Capital, is to "offer an incentive to employers to either raise wages or hire new workers." In total, tax cuts will equate to $253 billion of the package, with the other part made of of spending increases, according to an analysis by economists at Goldman Sachs.
The President, who has yet to lay out the specifics of the plan, said repeatedly it would be paid for by making other offsets elsewhere. However, analysts that follow developments in Washington have noted that the plan may be face significant political challenges in a very much divided Congress.  In particular, the spending increases are expected to face a high level of political scrutiny during a time where many lawmakers believe the country should focus on deficit reduction.
Also on the jobs front, Bank of America (NYSE:BAC) is considering slashing as many as 40,000 jobs as part of its restructuring efforts, according to a report by The Wall Street Journal. The biggest U.S. bank by assets, which has seen its stock plunge 46% this year, has been trying to operate more efficiently and shed excess costs.
The Federal Reserve has also been a major focus on Wall Street.  Federal Reserve Chairman Ben Bernanke made a speech on Thursday, coming short of suggesting the central bank will provide another round of quantitative easing, but setting up the case for further easing.  The Fed's policymaking board will have a two-day meeting starting on September 21, in which members of the Federal Open Market Committee are expected to discuss unconventional methods of quantitative easing.
The Fed is in a challenging position because short-term interest rates, its usual policymaking tool, are already essentially at 0% -- as low as they can go.  Many economists at large investment banks expect the Fed will reinvest proceeds from short-term bonds on its balance sheets into longer-term assets, a method of stimulus the central bank has never before used.
The only major economic release on tap for Friday is wholesale inventories.  Inventories are expected to have ticked higher by 0.8% in July, after climbing 0.6% the prior month.
Foreign Markets
The English FTSE 100 fell 2.4% to 5,215, the French CAC 40 slid 3.6% to 2,795 and the German DAX slumped 4% to 5,190.
In Asia, the Japanese Nikkei 225 dipped 0.63% to 8,738 and the Chinese Hang Seng slipped 0.23% to 19,866.