French far-right leader says party's bank shut its accounts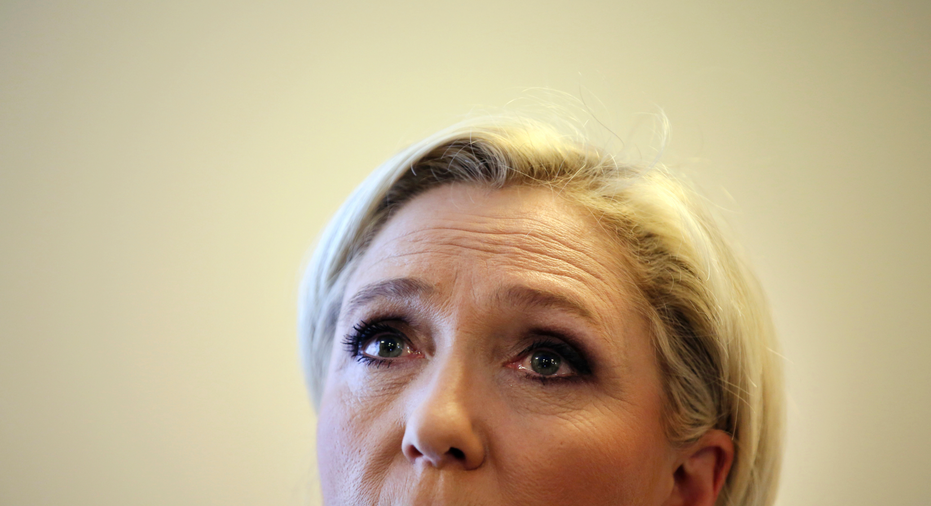 Marine Le Pen, head of France's far-right National Front, said Wednesday that the party's long-time bank, Societe Generale, has closed its accounts in what she said amounts to a "banking fatwa" to suffocate the party.
Le Pen claimed at a news conference Wednesday that the move is purely political and endangers the democratic process. She said a legal complaint would be filed against Societe Generale, one of France's largest banks, as well as against HSBC, her personal bank, which also allegedly shut her out.
Societe Generale denied in a statement that the closing of National Front accounts was political, saying such moves "depend purely on banking reasons." It gave no reason for the closing of the party account and related accounts.
Le Pen refused to disclose how much money was in the accounts, which she said included those of about 15 National Front federations around France.
What Le Pen called the "banishment" of her party from the banking system is the latest in a multitude of financial, judicial and political woes for the National Front, which was refused loans for campaigning for French and legislative elections this year.
Le Pen lost the May presidential election to centrist Emmanuel Macron, with whom she raised the banking issue during a meeting this week as he received party leaders.
The National Front was able to reopen an old account at Credit du Nord bank, a subsidiary of Societe Generale. However, it is deprived of check books, members and supporters are unable to pay dues or donations on the party site and it cannot make automatic withdrawals, such as to pay officials, Le Pen said.
Such measures have upset "the normal functioning of a party ...," Le Pen said. "We are in the presence of an attempted suffocation of an opposition movement."
The National Front was sharply criticized for seeking foreign loans, notably in Russia, this year as Le Pen campaigned, after receiving a 9 million euro (currently $10.6 million) loan in 2014 from a Czech-Russian bank that ultimately collapsed.
Le Pen and others in the party also are under investigation for allegedly misusing wages of aides at the European Parliament. Other investigations involving party funds are closing in around a knot of National Front officials.
Le Pen's profile has diminished on the political front after once being the front-runner in the presidential race. Her party failed to garner enough lawmakers in the June legislative race to form a group, meaning its eight deputies — including Le Pen — have little weight.
Le Pen claimed on Wednesday that the National Front was being persecuted and that, more broadly, "financial oligarchies" could become decisive in politics.
If the nation grows used to "banking fatwas," she said, they can be used "to pressure parties, companies, or elected officials. Then, French democracy is finished."