Freeport McMoRan: Just Getting Started After a Whopping $3.6 Billion in Asset Sales?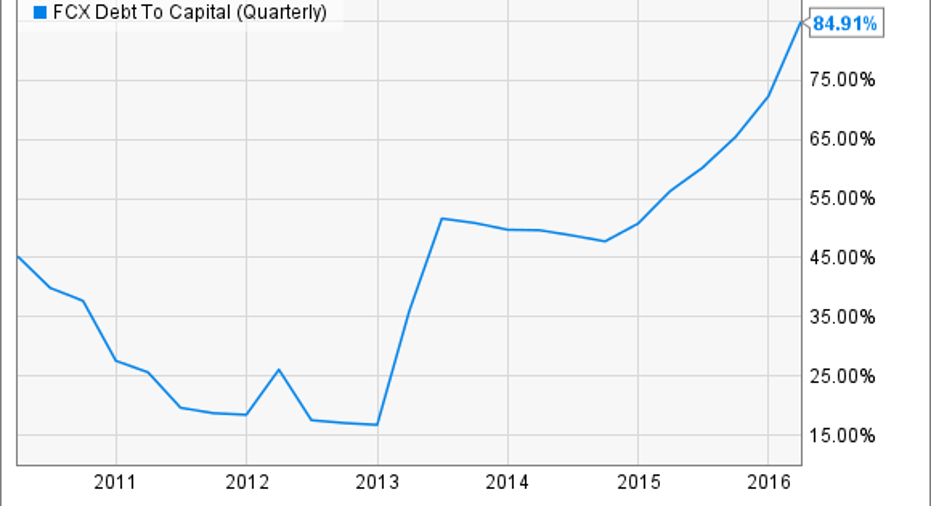 Image source: Freeport McMoRan.
Freeport McMoRan Inc. made an ill-timed investment a few years ago that is still haunting it today. The fix has been long in the making and very, very slow to show results. In fact, the $3.6 billion in asset sales it lined up or completed in May alone still aren't enough to extricate it from the hole it's dug.
The bad call
Some three years ago now, Freeport decided to expand into the oil and gas business by acquiring McMoRan Exploration Co. and Plains Exploration. The cost for these two companies was around $9 billion in cash and the assumption of $11 billion worth of debt. (It also issued 50 million worth of shares, too, adding dilution to the list of negatives from the oil decision.) Freeport's debt went from roughly $3.5 billion to $20 billion in a year. At the end of the first quarter of 2016, debt remained at about the same level, going from a modest 15% or so of the capital structure before the deal to nearly 85% at the end of March, a far more onerous level for a commodity business.
A portion of the debt problem stems from non-cash charges taken to write down the value of its oil assets because of low oil prices. It's pretty clear that debt has become a serious problem for the company. Compounding the issue is that oil prices are still much lower then they were in mid-2014 even after the year-to-date price gains.
FCX Total Long Term Debt (Annual) data by YCharts
That's where the company's push to reduce debt comes in. In May alone it inked an agreement to sell its stake in TF Holdings Limited to China Molybdenum Co. for $2.65 billion and completed a $1 billion deal in which it sold a 13% interest in the Morenci Mine to Sumitomo Metal Mining Co. Put together, those two deals raise $3.65 billion in cash. Assuming all of that goes to trim the debt, it would cut Freeport's long-term debt by around 19% or so.
Still more work to do
The thing is, that's nice, but it's not enough to solve the problem. For example, even if the entire $3.65 billion were used to reduce long-term debt, long-term debt would still be roughly $16 billion. That means it would make up about 81% of the capital structure. The debt overhang is so large and the shareholder equity figure so small at this point that it's going to take a lot more work to bring debt back down to reasonable levels.
The other problem in all of this is what Freeport sold. TF Holdings Limited, which owns an interest in the Tenke Fungurume mine, and Morenci Mine are both mining operations, not oil and gas businesses. That's not to suggest that Freeport was wrong to make these moves, only that mining is the core of the company and oil is the real reason for the current problems it faces.
FCX Debt To Capital (Quarterly) data by YCharts
The company has been trying to find a way out from under the oil assets it owns for some time, but it simply hasn't found one yet. Obviously, selling mining assets has been the easier alternative. But there's a lot more work to be done to deal with the debt overhang, so Freeport looks like it's only just getting started. The question is, how much can it do with its mining assets before it has no choice but to consider more aggressive alternatives for oil?
A turnaround in the works
Freeport McMoRan is not an investment for conservative investors. It's clearly a turnaround story that dates back to the ill-timed bet on oil. That problem still looms large even though management has been taking aggressive actions to get the company back on track, only there's a lot more to do before Freeport gets to the other side of this. The bigger story is still oil, which the current asset sales don't fully address. For even the most aggressive investors, there is still a lot of uncertainty in this stock.
The article Freeport McMoRan: Just Getting Started After a Whopping $3.6 Billion in Asset Sales? originally appeared on Fool.com.
Reuben Brewer has no position in any stocks mentioned. The Motley Fool owns shares of Freeport-McMoRan Copper and Gold. Try any of our Foolish newsletter services free for 30 days. We Fools may not all hold the same opinions, but we all believe that considering a diverse range of insights makes us better investors. The Motley Fool has a disclosure policy.
Copyright 1995 - 2016 The Motley Fool, LLC. All rights reserved. The Motley Fool has a disclosure policy.