Freeport-McMoRan Inc. Gained 95% in 2016. Is There Room to Run in 2017?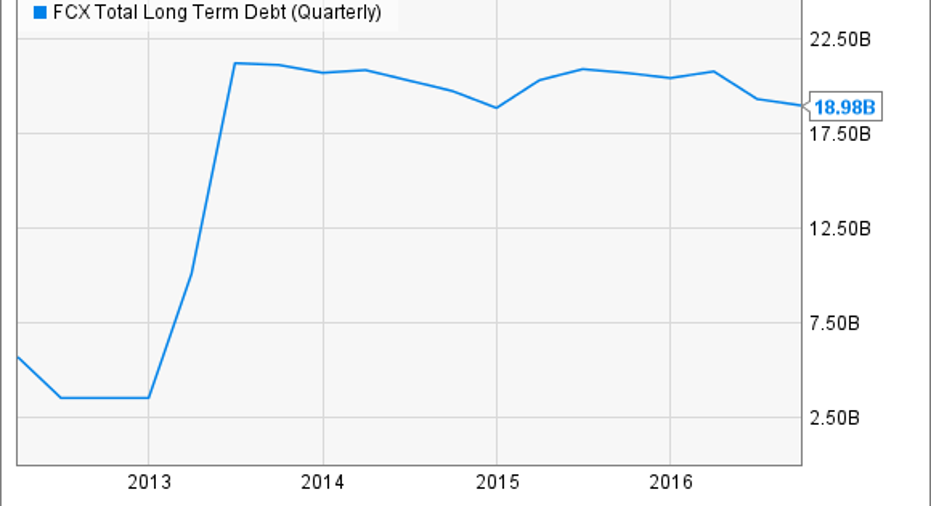 The price of gold rose around 8.5% in 2016, but it was a wild ride. At one point the precious metal was up abound 30% before turning lower again around the middle of the year. So it's no wonder that Freeport-McMoRan Inc. (NYSE: FCX) investors were on a stock-price roller coaster last year, with shares up about 130% at one point before ending the year with a still-impressive gain of just under 95%. But that's only one of the many stories that Freeport will build on in 2017.
Image source: Freeport-McMoRan.
Much more than gold
Gold is just one of the commodities that Freeport produces. Copper, the company's main business, and oil are the two other big ones. Like gold, copper had a huge run last year. The difference was that the most notable advance happened between late October and early December. That helps explain why Freeport's price peak occurred in late November. Oil, meanwhile, bounced around $50 a barrel throughout most of 2016 -- but that was well off the early year lows below $30.
So it would be impossible to explain Freeport's nearly 100% price advance without mentioning the prices of the commodities it produces. But that's not the full story at Freeport. To understand what was really going on in 2016, and the positives backing 2017, you need a little history.
An ugly lesson
In 2013 Freeport bought into the oil industry with the acquisition of McMoRan Exploration Co. and Plains Exploration. The move cost around $9 billion in cash and the assumption of $11 billion of debt. Freeport also issued 50 million shares to help fund the deal. That added shareholder dilution to the list of negatives from what proved to be an ill-timed investment after oil prices started to tumble in mid-2014.
FCX Total Long Term Debt (Quarterly) data by YCharts.
With copper and gold prices weak at the time, Freeport's business was already retrenching. The addition of falling oil prices made things look even worse. But the biggest lingering effect was Freeport's debt, which went from roughly $3.5 billion to $20 billion in a year and stayed at about that level until early 2016.
Long-term debt went from a modest 15% or so of the capital structure before the deal to nearly 85% early last year, a far more onerous level for a commodity business. Freeport has basically been trying to dig itself out of this deep self-imposed hole ever since oil hit the skids.
The beginning of a turnaround
Last year, however, proved to be a turning point. For starters, Freeport entered the year with a new management team in place, with co-founder James Moffett announcing that he would be stepping down from the board of directors in late 2015. Although the company was already moving aggressively to cut costs and get out from under the oil business, Moffett's resignation was an important psychological shift.
And then the good news started to pile up. As noted above, gold, oil, and then copper prices began moving higher again, boosting the top and bottom lines of the miner. But it was the underlying business where the real work started to show. For example, Freeport was able to sell non-core assets and used the proceeds to pay down debt. By the third quarter debt had declined around 8%, or by roughly $1.6 billion.
Freeport's debt reduction plans in 2017. Image source: Freeport-McMoRan.
Additional asset sales were completed in the fourth quarter, too, with a good portion of the proceeds earmarked for even more debt paydowns. In fact, the company is hoping it can reduce debt by as much as 50% this year from 2015 levels if commodity prices cooperate in 2017.
A key piece of the asset sale story, however, is what was being sold. In this case, it was a mix of non-core mining assets and parts of the oil business. With oil prices picking up in 2016, Freeport was finally able to extract itself from oil assets that it didn't want to own. So the story beyond commodity prices in 2016 was incremental progress on the operating front, backed by material progress on the balance sheet and an improving asset portfolio.
A different company
The end result of all of this is that Freeport-McMoRan is entering 2017 in vastly better shape than it entered 2016. There's really no longer a question -- Freeport will survive its oil mistake. What you need to think about now is how much more progress it can make on the turnaround. And it has a huge head start on the year, since many of the largest asset sales took place in late 2016. Keep watching Freeport; there's more good news to come from the business as it continues to deleverage and, ultimately, turn itself around after a nearly disastrous mistake.
10 stocks we like better than Freeport-McMoRan Copper and Gold When investing geniuses David and Tom Gardner have a stock tip, it can pay to listen. After all, the newsletter they have run for over a decade, Motley Fool Stock Advisor, has tripled the market.*
David and Tom just revealed what they believe are the 10 best stocks for investors to buy right now... and Freeport-McMoRan Copper and Gold wasn't one of them! That's right -- they think these 10 stocks are even better buys.
Click here to learn about these picks!
*Stock Advisor returns as of January 4, 2017
Reuben Brewer has no position in any stocks mentioned. The Motley Fool owns shares of Freeport-McMoRan Copper and Gold. The Motley Fool has a disclosure policy.