Free market vs subsidies at heart of Brazil truckers' strike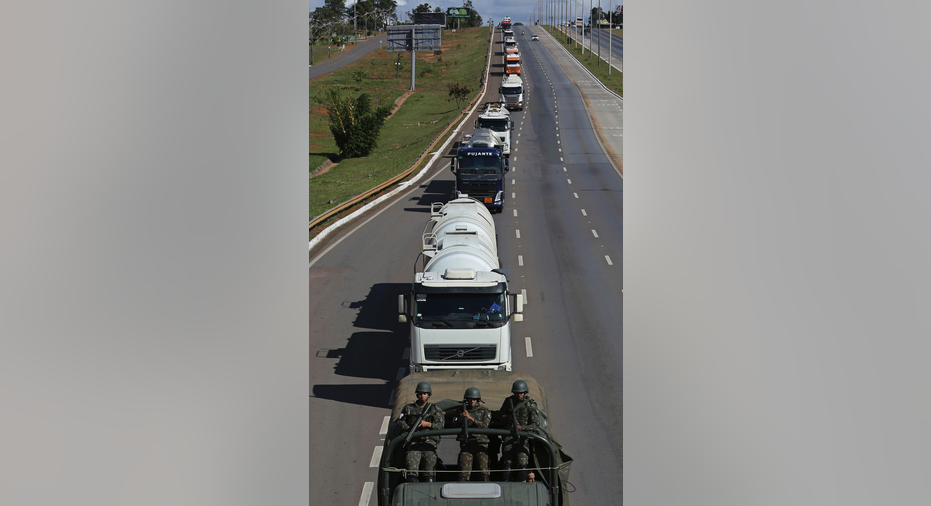 Brazilian cabinet ministers on Monday called on truckers to end a crippling eight-day strike that has led to major shortages and disruptions in Latin America's largest nation, saying the government had gone as far as it could to meet their demands.
The ministers spoke in Brasilia hours after President Michel Temer announced a series of measures aimed at getting truckers back to work. Late Sunday, Temer said the government would subsidize a 10 percent drop in diesel prices for 60 days. He also said measures were being crafted to cut tolls for truckers and establish minimum freight rates, both key demands.
"We are at the limit of what we can do to normalize the situation," said Finance Minister Eduardo Guardia.
It wasn't immediately clear how many truckers would accept the government's stance. Several unions said Monday they would start demobilizing their blockades but needed a few days to talk to members. Other unions remained mum.
A supposed agreement reached between several unions and the government last week was ignored by thousands of truckers, who continued striking.
On Monday, as in previous days, thousands of schools remained shuttered, many flights were canceled and many supermarket shelves were empty.
Wendel Campos, a trucker in Rio de Janeiro who vowed to keep protesting, said he would not accept the measures because he believed prices would go back up in a few months.
"We will stay here as long as necessary," he said.
At the heart of the impasse is a fight over the future of the economy, particularly as it relates to state oil company Petrobas.
Temer's predecessor, President Dilma Rousseff, implemented price controls that worked as de facto subsidies, keeping prices relatively low regardless of what was happening in the world oil markets.
However, beginning in 2014, the so-called "Car Wash" investigation uncovered a massive kickback scheme for construction contracts coming from Petrobras. The probe, which continues, has led to the jailing of several of the country's elite, from politicians like former President Luiz Inacio da Silva to Petrobras directors.
In 2016, Temer, then vice president, took over for Rousseff when she was impeached and removed from office for illegally managing the federal budget. As part of a series of reforms aimed at pulling Brazil from a deep recession, Temer's administration said there would no longer be interference in Petrobras pricing.
The company recovered and grew, and market prices worked fine in the economy while world oil prices were low. But lately, the combination of rising prices and a sharp devaluation of the Brazilian real against the U.S. dollar has caused prices to jump.
This was acutely felt by truckers, who move the majority of goods in the commodity-rich nation over a territory slightly larger than the continental United States.
Gilberto Braga, a finance professor Ibmec university in Rio de Janeiro, said the strike and its aftermath could cut gross domestic product by at least half a percent.
"This is not an isolated event. The truckers' strike will have repercussions in just about every part of the economy," he said.
On Monday, Guardia, the finance minister, and Temer's chief-of-staff Eliseu Padilha repeatedly said that the subsidies were short-term, would be covered by the government and did not represent a policy change for Petrobras.
The market has not been convinced.
When Petrobras announced last Wednesday it would cut prices by 10 percent for two weeks to help ease the crisis, shares plunged 20 percent. Monday afternoon, shares were trading 11 percent below the closing price on Friday.
"When the 60 days of the agreement pass, will the government return to the previous policy of market prices?" said Andre Prefeito, chief economist at Spinelli CVMC, a Sao Paulo-based investment firm. "Probably not, and then it will be time to assume the economic consequences."
____
Video journalists Mario Lobao and Diarlei Rodrigues in Rio de Janeiro contributed to this report.