France wants a stop to sexist stereotypes in advertising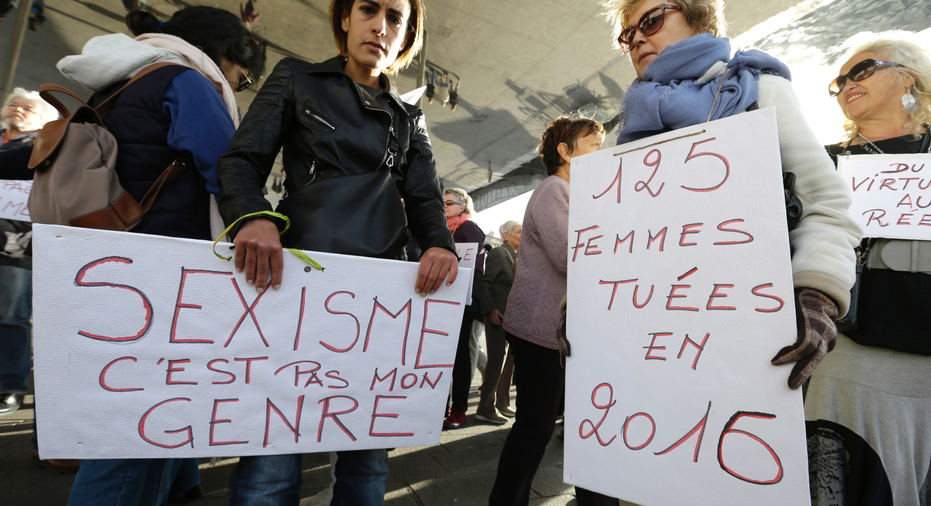 Leading French advertisers and the country's broadcast watchdog launched a nationwide plan Tuesday to fight sexist stereotypes in ads — from half-naked women selling vacuum cleaners to violent video games marketed to boys.
France is seeing an upsurge in such moves in favor of women's rights, notably in the wake of sexual abuse revelations in Hollywood that raised awareness of sexual violence and harassment around the world.
Some, however, worry that things are going too far. At Paris Fashion Week, attendees questioned whether the advertising crackdown would infringe on artistic or sexual freedoms held dear by many in France.
The head of France's advertising regulator sought to allay those fears.
"Nudity can be acceptable" in advertising for bathtubs and body creams, for example — "but not to sell a car," Stephane Martin told The Associated Press.
He was among those who signed a charter Tuesday pledging to police advertising to abolish "sexist or sexualized stereotypes" of men, women, girls and boys.
The idea is to name and shame companies that rely on sexist clichés such as associating a product with a particular gender or using sex gratuitously. Broadcasters and advertisers will submit a report on their efforts to fight sexism, and will face sanctions for any ads deemed "excessive."
"These stereotypes play a role in women's choices in their lives," said Celine Calvez, a centrist lawmaker supporting the advertising charter.
But Martin conceded that such stereotypes also sell products.
"The cash register speaks," Martin said. Advertisers target ads to those buying their product, such as grandmothers buying dolls for their granddaughters, he said.
"Sometimes advertisers want to be more equal, but self-censor themselves ... because society is sexist," he said.
France's influential fashion industry is likely to come under increasing scrutiny.
At a Chanel show Tuesday, Geraldine Chaplin, daughter of the silent movie star Charlie Chaplin, welcomed protests against sexism and demands for equal pay. But asked about ending sexist advertising, she asked, "What are the barriers? Don't kill beauty and don't kill sex."
Sylvie Pierre-Brossolette of broadcast watchdog CSA called the charter part of the larger fight against violence and aggression against women.
The Paris public transport authority launched a campaign this week against groping, and President Emmanuel Macron's government is preparing a bill outlawing harassment in the street and setting an age for sexual consent for the first time.
___
Thomas Adamson in Paris contributed to this report.
___
This story has corrected a typographical error in the Celine Calvez quote to "play," not "pay."