Fossil Takes a Licking After Sales Stop Ticking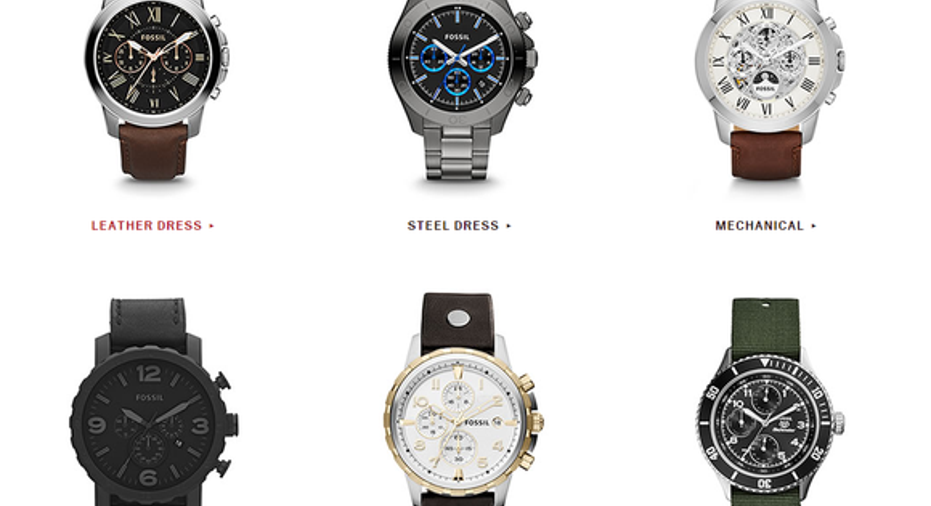 Image source: Fossil Group.
The high-end retail market has struggled lately, and Fossil Group has faced significant challenges in dealing with changing conditions in that market. Coming into Wednesday's first-quarter financial report, Fossil investors were expecting a sizable drop in earnings and revenue, but the watchmaker's actual results reflected a much greater amount of difficulty in achieving success during the quarter. Moreover, Fossil's confidence in its future for the rest of the year is now in question. Let's take a closer look at the latest from Fossil Group and whether the stock can bounce back from its setback.
Fossil blows out expectations
Fossil Group's first-quarter results justified at least some disappointment among investors, although it's hard to argue that the share price response was appropriate in size. Net revenue dropped 9% to $660 million, which was less than the $667 million consensus forecast among investors. Net income for the quarter came in at $5.8 million, which was 85% less than the year-ago figure. That translated to earnings of $0.12 per share, missing investors' expectations for $0.15 per share.
A closer look at Fossil's results serves to explain at least some of the poor performance. The watchmaker was quick to blame the U.S. dollar's strength, holding back sales by $16.4 million and cutting earnings by $0.08 per share. Yet even on a constant currency basis, sales were down 7%. Global retail comparable sales were down 3%, as weakness in the Americas and Asia held back growth in Europe. Gross margin fell 2.5 percentage points to 52.8%, as higher markdowns and promotional activity weighed on profitability.
Geographically, Fossil's results were fairly consistent, although currency impacts had different impacts. Asia did the best with a 4% decline in local currency terms, corresponding to an 8% segment sales decline. Revenue from the Americas fell 8% with a single percentage point hit from currencies, and Europe brought up the rear with a 10% dollar-denominated revenue drop that worked out to 8% on a constant currency basis.
Where there was a lot of disparity was in the product lines that Fossil has. The leathers line once again led the company, with flat sales in dollar terms that were up 2% on a constant-currency basis. Yet the jewelry segment suffered a 13% drop in dollar-denominated revenue, and the key watch segment posted 10% sales declines.
CEO Kosta Kartsotis explained some of the challenges. "While our financial results were in line with our expectations," said Kartsotis, "they were below last year, given the persistent headwinds pressuring the traditional watch category and the challenging retail environment, particularly in our wholesale channel." The CEO praised solid performance internationally in the Fossil and Skagen brands, urging a longer-term strategic vision from shareholders.
What's ahead for Fossil?
Unfortunately, Fossil doesn't see things getting better soon. As Kartsotis explained, "We are disappointed that those headwinds have intensified, which will impact this year's expectations, despite our further expense management."
Indeed, Fossil's new guidance made cuts to previous expectations. For the second quarter, Fossil sales will fall between 8% and 10%, with expected earnings between flat and $0.15 per share. That's far short of the nearly $0.60 per share that investors were looking to see. Similarly, the retailer lowered its expected sales range for the full 2016 fiscal year, projecting declines of 1.5% to 5% compared to a previous range of -3.5% to +1%. New earnings calls for $1.80 to $2.80 per share are between $0.80 and $1 per share lower than the company was expecting last quarter.
In response, Fossil shares crashed, falling more than 30% in the Wednesday morning session following the announcement. In order for shareholders to recoup their losses, Fossil will have to take greater steps toward bolstering growth, integrating the newly acquired Misfit business, and waiting out tough times in the industry in order to get buyers back in the door.
The article Fossil Takes a Licking After Sales Stop Ticking originally appeared on Fool.com.
Dan Caplinger has no position in any stocks mentioned. The Motley Fool recommends Fossil. Try any of our Foolish newsletter services free for 30 days. We Fools may not all hold the same opinions, but we all believe that considering a diverse range of insights makes us better investors. The Motley Fool has a disclosure policy.
Copyright 1995 - 2016 The Motley Fool, LLC. All rights reserved. The Motley Fool has a disclosure policy.