Fossil Looks to Wearables to Reverse Sales Declines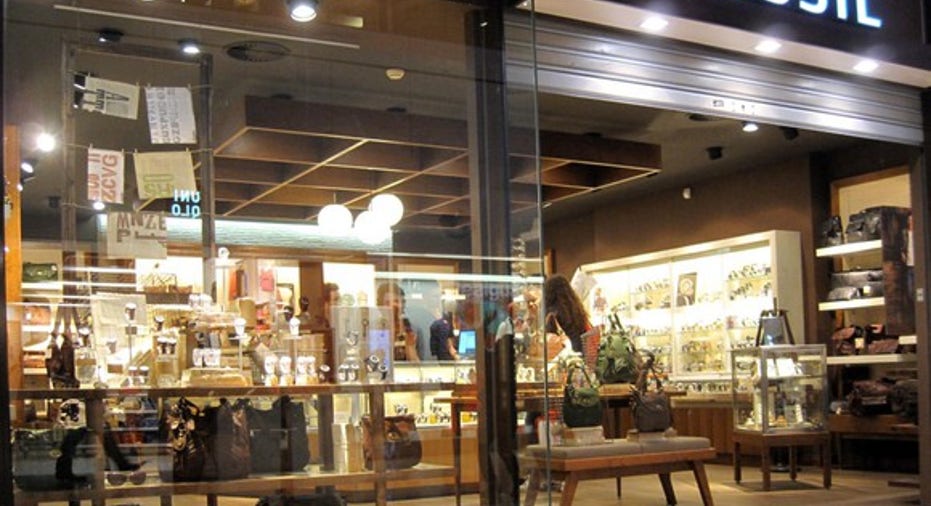 Fossil Group (NASDAQ: FOSL) has suffered from the challenges facing the high-end retail market lately, and despite its strong reputation among consumers, the company hasn't been able to produce the sales success that investors have wanted to see. Already, many retailers have reported tough conditions over the most recent holiday season.
Coming into Tuesday's fourth-quarter financial report, Fossil investors hoped that declines in sales would be modest, and that the company could overcome pressure on its bottom line. Yet what's more important is where the watchmaker sees its future, and increasingly, Fossil is banking on the wearable technology business to drive sales gains in 2017 and beyond.
Let's look more closely at Fossil Group to see how it did, and what it expects to happen down the road.
Image source: Fossil Group.
Fossil deals with sluggish sales
Fossil Group's fourth-quarter results didn't live up to all of the expectations that investors had for the company. Net revenue fell 3%, to $959 million, which was about twice the rate of decline that those following the stock had expected to see. Net income fell almost 30%, to $49.7 million, producing earnings of $1.03 per share. That was well below the consensus forecast for $1.17 per share, although it wasn't clear to what extent that forecast took into account various restructuring charges, purchase-accounting costs, and negative currency impacts that added up to $0.33 per share, in total.
Looking more closely at the report, Fossil tried to recast the discussion with respect to the impact of currency risk on its financials. The company said that sales fell 2% on a constant-currency basis, with the biggest impact coming from Europe. Yet the company attributed $0.22 per share in downward earnings pressure -- more than a fifth of its reported total -- to currency-related items. In doing so, Fossil included not only direct costs, but also the foreign-currency hedging strategies that it uses to control currency risk.
Still, Fossil's comparable sales figures were ugly. Overall, global comps were down 7%, with declines in all of its product categories. Europe and the Americas were particularly weak, outweighing positive comparable figures in Asia. In terms of overall sales, the Americas performed the poorest, posting a 7% drop on poor results in the U.S. market. Europe fell 4%, due largely to declines in the U.K. and Germany, while Asia jumped 13% on particular strength in India, China, and Australia.
Yet Fossil had to deal with a highly promotional retail environment during the holiday quarter. The result was a drop of 2 percentage points in gross margin, which came in at 51%. In addition to promotional activity, Fossil said that customers tended to buy products that had lower margins, and currency impacts also played a negative role. Operationally, higher marketing costs and restructuring expenses offset savings from lower store and infrastructure costs.
On a category basis, watches again were the most successful, suffering a drop of just over 2% in revenue. Sales of leather products fell 6%, and jewelry brought up the rear with an 8% decline.
CEO Kosta Kartsotis cut to the chase in expressing his views on the quarter. "The fourth quarter of 2016 was pivotal for Fossil Group," said Kartsotis, "with our wearables launches demonstrating they could be the catalyst to drive growth in the watch category." The CEO also pointed to the evolution of the company's restructuring plans to close poorly performing stores, and become more efficient, generally.
Can Fossil rebound in 2017?
In addition, Fossil Group sees 2017 as being instrumental, with Kartsotis describing its mission to "build upon the early success of wearables and execute against our New World Fossil initiative." The watchmaker expects a huge number of new product releases, with an aim toward mixing style and function by using the power of the brands that Fossil itself owns.
Yet Fossil's guidance for the first quarter and for the full 2017 fiscal year was pretty ugly. For the first quarter, Fossil believes that sales will fall 9.5%, to 13%, resulting in an adjusted loss of $0.10 to $0.25 per share. Fossil also anticipates sales pressure lasting throughout the year, with full-year results resulting in top-line performance of flat to down 6.5%. Even after accounting for extraordinary items, adjusted earnings of $1 to $1.70 per share would be down from 2016 figures and less than what investors had hoped to see from the watchmaker.
Fossil investors responded terribly to the news, and the stock plunged 13% in after-hours trading following the announcement. Downbeat guidance is not what any investor wants to see. To regain shareholder confidence, Fossil will have to prove that its efforts to produce a turnaround in its fundamental business can indeed bear fruit sooner rather than later.
10 stocks we like better than FossilWhen investing geniuses David and Tom Gardner have a stock tip, it can pay to listen. After all, the newsletter they have run for over a decade, Motley Fool Stock Advisor, has tripled the market.*
David and Tom just revealed what they believe are the 10 best stocks for investors to buy right now... and Fossil wasn't one of them! That's right -- they think these 10 stocks are even better buys.
Click here to learn about these picks!
*Stock Advisor returns as of February 6, 2017
Dan Caplinger has no position in any stocks mentioned. The Motley Fool recommends Fossil. The Motley Fool has a disclosure policy.