Former Malaysian leader arrested, to be charged with graft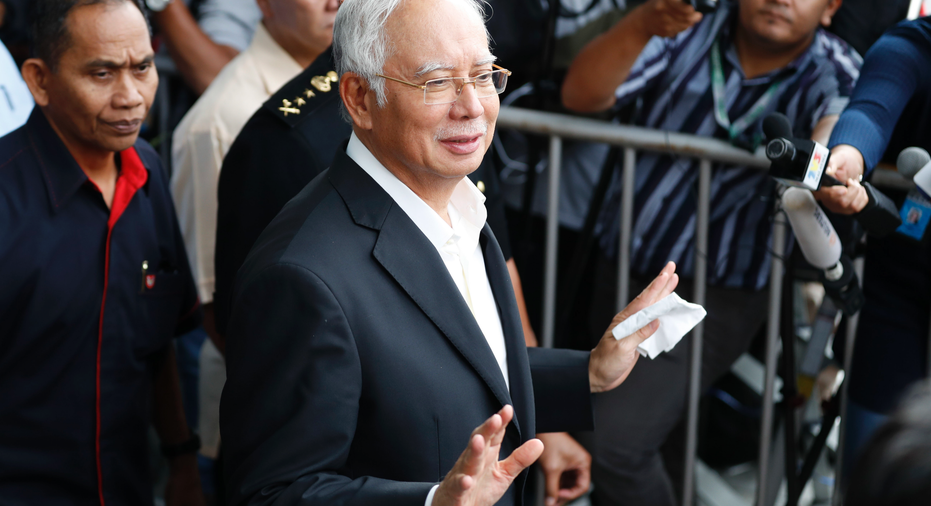 Former Malaysian Prime Minister Najib Razak was arrested Tuesday by anti-graft investigators and will be charged over his alleged role in the multibillion-dollar looting of a state investment fund, officials said.
A government task force probing alleged theft and money laundering at the 1MDB state investment fund said Najib's arrest was linked to the suspicious transfer of 42 million ringgit ($10.6 million) into his bank account from SRC International, a former 1MDB unit, using multiple intermediary companies.
It said in a brief statement that Najib will be brought to court on Wednesday to be charged, but didn't give details of the charges against him.
Najib's arrest comes nearly two months after his coalition's stunning rejection by voters in a May 9 general election.
In a pre-recorded video posted on social media hours after his arrest, Najib apologized to Malaysians but remained defiant.
"I have done my best, but I realized it is not enough. I admit there are many weaknesses.... as a normal human being, I am not perfect but believe me, that the accusations against me and my family are not all true," he said. "I will face it with perseverance. Truly, Allah knows."
The new government has reopened investigations into 1MDB that were stifled under Najib's rule. Najib and his wife, who have been questioned over the SRC issue by the anti-graft agency, have been barred from leaving the country. Police have also seized jewelry and valuables valued at more than 1.1 billion ringgit ($272 million) from properties linked to Najib, who has denied any wrongdoing.
Najib is expected to face more than 10 counts of committing criminal breach of trust linked to SRC International, Malaysia's Bernama news agency reported. It said Malaysia's new attorney general, Tommy Thomas, will head the prosecution in the case.
"This was the inevitable outcome when Najib lost the election and lost his political immunity," Bridget Welsh, a political science professor at John Cabot University in Rome, said in an email. "It shows the resolve of the new government to address previous abuses of power. It has been done judiciously so far and speaks to a needed reckoning for Malaysia and a key step toward a cleaner governance."
Najib's daughter, Nooryana Najwa, praised her father as "kind, loving and gentle" and said he was emotionally and mentally strong.
"Even in the face of adversary today, he smiled, laughed and gave us all a hug ... worried more for the family than himself," she wrote on Instagram. "You can paint a man black but Allah knows. Allah is not sleeping."
A statement by a spokesman for Najib, sent to the media and posted on social media, said his arrest was expected as the new government had "delivered the guilty verdict" against him in public. It slammed the charges to be made against Najib as "politically motivated and the result of political vengeance" by new Prime Minister Mahathir Mohamad.
Mahathir, who was premier for 22 years until 2003, was spurred out of retirement by the 1MDB saga.
Earlier Tuesday, the anti-corruption agency questioned Riza Aziz, Najib's stepson and a Hollywood film producer, as it stepped up its probe on 1MDB. Riza was solemn as he arrived at the anti-graft office and didn't speak to reporters.
U.S. investigators say Riza's company, Red Granite Pictures Inc., used money stolen from 1MDB to finance Hollywood films including the Martin Scorsese-directed "The Wolf of Wall Street." Red Granite in March agreed to pay the U.S. government $60 million to settle claims that it benefited from the 1MDB scandal.
The civil suit against Red Granite was part of an effort to recover some of the $4.5 billion that U.S. prosecutors say was stolen from 1MDB. They say hundreds of millions from 1MDB landed in Najib's bank accounts.
The 1MDB government task force this week said 408 bank accounts involving funds of nearly 1.1 billion ringgit had been frozen. It said the accounts, belonging to 81 people and 55 companies, are thought to have received funds from 1MDB between 2011 and 2015.