Forget What I Said About Volkswagen Group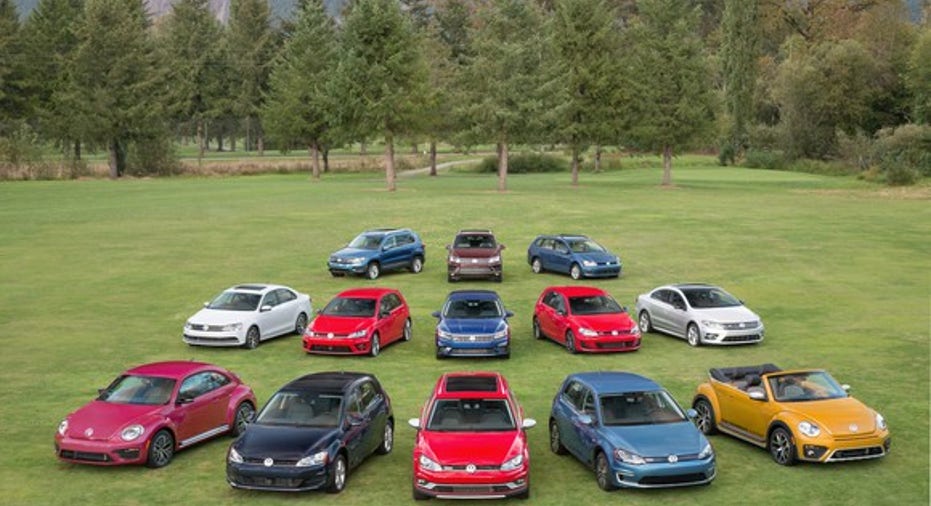 Volkswagen's 2017 model lineup. Image source: Volkswagen Group.
It wasn't long ago -- the beginning of April, to be more specific -- that I opined that Volkswagen Group (NASDAQOTH: VLKAY) could be a rebound candidate for value investors. My reasoning was that Volkswagen had been surging in the years leading up to the diesel-emissions scandal that rocked the company, and that when it fixed the issue and paid the consequences, it could resume its surge in the global automotive market.
In the months since, it appears the only thing Volkswagen can do is dig itself a deeper hole. Finally, after two recent incidents, I take back what I said about Volkswagen being an attractive stock for investors.
Don't buy the spin
Just last week, Volkswagen had a facepalm-worthy moment when referring to its defeat devices.
"The software contained in vehicles with a EA-189 engine in the view of Volkswagen represents no unlawful defeat device under European law," VW said on Thursday in emailed comments to Reuters."The efficiency of the emissions cleanup system will not be reduced in those vehicles which however would be a prerequisite for the existence of an unlawful defeat device in the legal sense."
By my interpretation, that's essentially VW claiming it's not an illegal device because it doesn't make the emissions system less efficient, rather it forces the car to operate in a way that produces lower emissions during a test. Which is obviously silly, because if the car operated as it would under normal driving conditions, it wouldn't pass the test.
Moreover, this claim comes despite having admitted to having used "cheating" devices on roughly 11 million vehicles across the globe and facing a $15 billion settlement in the U.S. and further criminal charges in other countries.
Maybe this is simply a desperate stance by an automaker whose management has few remaining options, or perhaps it's a sign that investors should keep their dollars away from a company with such management. Either way, despite the automaker's claims of legality based on how the cheat device actually operated, nobody is buying it.
Keep on digging
While this next story is still in the early innings, it doesn't hint at good things for Volkswagen. As reported in Forbes,California regulator CARB recently found another previously unreported defeat device, according to Germany's Bild am Sonntag.
The implications could be huge. For one thing, the device was found in a vehicle from Audi, which had previously admitted to one defeat device but had largely escaped the heat placed on its parent company's namesake Volkswagen brand. That's a much bigger deal because despite Audi representing a fraction of the company's auto sales, it generates the most profit -- Audi's success is absolutely critical for Volkswagen's financial health.
That's not the only financial impact this development could have, either. It comes at an inopportune moment as the company is still trying to handle fines and settlements in multiple countries. There's no question that could put a halt to those negotiations if investigations show VW hasn't reported all of its defeat devices or has been otherwise deceptive.
Originally, Volkswagen appeared poised to be the latest automaker to suffer a large setback before quickly returning to its outperforming ways. Toyota accomplished this after its "unintended acceleration" pedal issue. General Motors also rebounded quickly, and impressively, to generate record profits after its unfortunate, deadly, and massive ignition switch debacle. Who knows how this latest development will turn out or impact VW's current Dieselgate woes. But for investors, this should be the straw that broke the camel's back. I want no part of Volkswagen in my portfolio going forward.
10 stocks we like better than Volkswagen AG (ADR) When investing geniuses David and Tom Gardner have a stock tip, it can pay to listen. After all, the newsletter they have run for over a decade, Motley Fool Stock Advisor, has tripled the market.*
David and Tom just revealed what they believe are the ten best stocks for investors to buy right now... and Volkswagen AG (ADR) wasn't one of them! That's right -- they think these 10 stocks are even better buys.
Click here to learn about these picks!
*Stock Advisor returns as of November 7, 2016
Daniel Miller owns shares of General Motors. The Motley Fool recommends General Motors. Try any of our Foolish newsletter services free for 30 days. We Fools may not all hold the same opinions, but we all believe that considering a diverse range of insights makes us better investors. The Motley Fool has a disclosure policy.