Forget TransEnterix Inc: This is The Company That Intuitive Surgical Investors Should Fear Most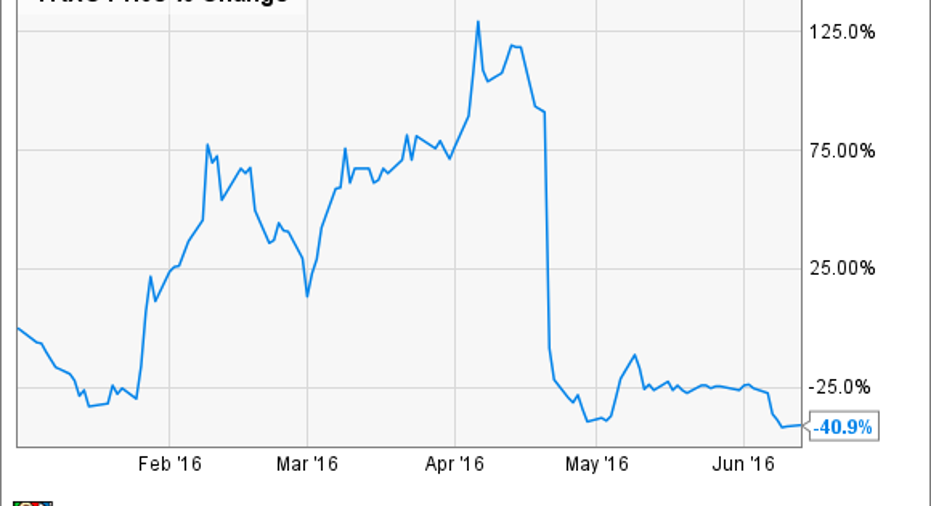 Image source: Intuitive Surgical
Investors in robotic surgery pioneer Intuitive Surgical have been on a wildly successful ride. The company's da Vinci system has managed to gainmainstreamadoption from the surgical community, and so far the company hasn't had to face any seriouscompetition. That fact has turned Intuitive Surgical into afinancial powerhouse, and analysts believe that the company will produce more than$2.6 billion in revenue this year. Better yet, with some industry experts calling for the robotic surgery market to reach$20 billion in annual sales by 2021, the company's future is looking bright.
Of course, a market opportunity that large has naturally attracted competition.One of the more interesting companies that is attempting to dislodge Intuitive Surgical for its top-dog position isTransEnterix , a robotic surgery upstart. TransEnterix had developed its own surgical system called the SurgiBot, which promised an upfront cost that was less than half of that of the da Vinci system.
TransEnterix submitted its SurgiBot system to the FDA in the middle of last year, putting it on pace for a go/no go decision in early 2016.Investors were feeling good about TransEnterix's chances of market success and bid up shares in anticipation of regulatory approval.
Unfortunately, investors' hopes were dashed in April after news broke that FDA had rejected the company's 510(k) submission, stating that the system did not meet the criteria for "substantial equivalence" to an already legally approved medical device.
Understandably, shares tanked when the news broke.
In the wake of the bummer news, TransEnterix's management team has decided to put development of its SurgiBot system on hold and will instead put all of the the company's resources behind its other surgical system, called the ALF-X.
This strategy shift came as a shock to some investors, and many now doubt the company's chances of success. After all, the ALF-X systemhas already been on the market for several years in Europe and has failed to gain market adoption.
Image source: TransEnterix
Competition is still out there
With the odds looking good that TransEnterix will not be much of a competitive threat, the markets have bid up shares of Intuitive Surgical to new highs on the belief that it will continue to have the robotic surgery market largely to itself. While I wholly agree with that assessment -- and have invested my capital accordingly -- that doesn't mean Intuitive Surgical's investors have nothing to worry about.
One potential potential threat that is brewing on the horizon is a company called Verb Surgical. This relatively new robotic surgery company was formed as a partnership between the tech giantAlphabet and the healthcare king Johnson & Johnson . The thought was that by combining Alphabet's high-tech capabilities with J&J's medical device background, this new company could do amazing things to transform the face of robotic surgery.
Image source: Verb Surgical
Understandably, the company hasn't been very forthcoming with what it is working on just yet, but what we do know already should pique the interest of Intuitive Surgical's shareholders.
First, with the combined financial backing of Alphabet and Johnson & Johnson, Verb Surgical will potentially have access to breathtaking amount of capital. That stands as a stark difference to upstarts like TransEnterix, who have a near constant need to tap the equity markets for fresh capital to keep its doors open.
Next, we know that this company will likely have no trouble attracting top talent. After all, Alphabet holds a legendary status for treating its employees well, which might make recruiting industry veterans to jump ship and join Verb Surgical an easy sell. It also doesn't hurt that Verb Surgical has decided to set up shop in Mountain View, California, which is just a stone's throw away from Intuitive Surgical's Sunnyvale, California headquarters.
It's worth pointing out that Verb Surgical has already done a great job at attracting top talent. The company's current CEO isScott Huennekens, a 20-year industry veteran who previously headed up Volcano Corporation, a medical device company that was acquired in February 2015 by Royal Philips for $1.2 billion.
Finally, while patients and physicians around the world might not yet know the name Verb Surgical, they do already know and trust the names Google and Johnson & Johnson.
No reason to panic yet
Although Verb Surgical looks like it could turn into a major competitor down the road, I don't think Intuitive Surgical's investors need to panic just yet. After all, developing a robotic system from scratch will likely take years, and even if everything goes perfectly it will still take time to get regulators to sign off and get insurers on board. That gives Intuitive Surgical plenty of time to continue to up its game to make its da Vinci system an even more integral part of the operating room.
This is still Intuitive Surgical's market to lose, and I wouldn't have made the company into one of my biggest personal holdings if I had serious doubts about its future -- but I'll certainly be keeping my eye on Verb, and I suggest you do the same.
The article Forget TransEnterix Inc: This is The Company That Intuitive Surgical Investors Should Fear Most originally appeared on Fool.com.
Suzanne Frey, an executive at Alphabet, is a member of The Motley Fool's board of directors. Brian Feroldi owns shares of Alphabet (A shares), Alphabet (C shares), and Intuitive Surgical.Like this article? Follow him onTwitter where he goes by the handle@Longtermmind-setor connect with him on LinkedIn to see more articles like this.The Motley Fool owns shares of and recommends Alphabet (A shares), Alphabet (C shares), Intuitive Surgical, and Johnson & Johnson. Try any of our Foolish newsletter services free for 30 days. We Fools may not all hold the same opinions, but we all believe that considering a diverse range of insights makes us better investors. The Motley Fool has a disclosure policy.
Copyright 1995 - 2016 The Motley Fool, LLC. All rights reserved. The Motley Fool has a disclosure policy.