Forget the Distractions: Bristol-Myers Squibb Is a Bargain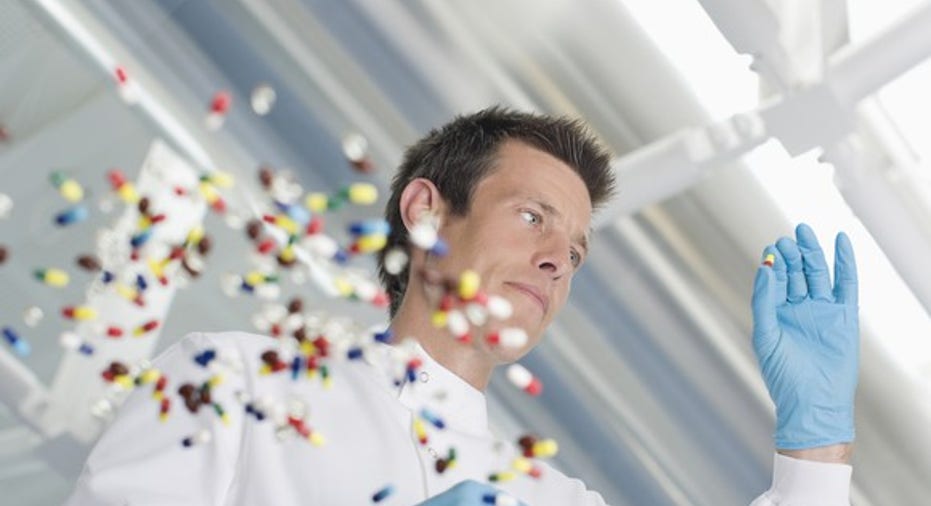 What will Carl Icahn do? Will Bristol-Myers Squibb (NYSE: BMY) be acquired? How will Opdivo fare against Merck's (NYSE: MRK) Keytruda?
There are plenty of unanswered questions swirling around about Bristol-Myers Squibb (BMS) these days. But as I listened to the company's CEO speak at the Cowen and Company global healthcare conference, I was reminded of something investors shouldn't miss: This stock is a bargain, despite all the current distractions. Here's why.
Image source: Getty Images.
First-line lung cancer treatment isn't a lost cause
It's true that Merck achieved a solid success with its late-stage study evaluating Keytruda as a first-line treatment of lung cancer while BMS' Opdivo study disappointed. It's also true that Bristol-Myers Squibb will be playing defense against Merck for a while in the U.S. lung cancer market. However, the first-line lung cancer indication isn't a lost cause for BMS by any means.
BMS CEO Giovanni Caforio stated at the Cowen conference that his company has the most comprehensive strategy for first-line non-small-cell lung cancer. He's right.
There are currently five pharmaceutical companies with potential first-line lung cancer treatments either approved or in registrational studies. Merck, of course, already obtained approval for Keytruda as a monotherapy for patients whose tumors have high PD-L1 expression. The company is also awaiting regulatory approval for Keytruda in combination with chemotherapy in the first-line indication.
Roche (NASDAQOTH: RHHBY) expects to submit Tecentriq for approval as a monotherapy and in combination with chemotherapy as a first-linetreatment for lung cancer next year. Pfizer (NYSE: PFE) has its anti-PD-L1 inhibitor, avelumab,in late-stage testing in the front-line indication. Results from this study should be announced in the first half of 2018.
AstraZeneca (NYSE: AZN) hopes to submit durvalumab for approval as a monotherapy later this year. The drugmaker also has a durvalumab/chemotherapy combo in late-stage testing, along with a combo with another immuno-oncology (I-O) candidate, tremelimumab.
Only Bristol-Myers Squibb, however, can check off all the boxes. There's still potential for Opdivo as a monotherapy in first-line lung cancer, since one arm of the CheckMate-227 study continues. The company also has an I-O/I-O combo with Opdivo and Yervoy, an Opdivo/chemotherapy combo, and an Opdivo/Yervoy/chemotherapy combo in testing.
There's a lot more in store
Bristol-Myers Squibb has plenty of news on the way outside of the lung cancer indications. The company expects 10 data readouts within the next two years from phase 2 and phase 3 studies evaluating Opdivo/Yervoy in other types of cancer.
Anticoagulant drug Eliquis and autoimmune disease drug Orencia are experiencing solid sales growth. BMS hopes to augment its success in the two therapeutic areas with several mid-stage pipeline assets.In addition, the company is looking to expand its presence in the fibrotic-diseases space.
An acquisition isn't a one-way street
With Carl Icahn reportedly buying a stake in Bristol-Myers Squibb, there has been a lot of talk about the company being a buyout target. It's important to remember, though, that acquisitions can go both ways. I suspect the chances of BMS making its own acquisition are much higher than it being bought by another company.
Bristol-Myers Squibb already partners with several smaller biotechs. The company claims a strong balance sheet with roughly $9 billion in cash and cash equivalents. An acquisition of a biotech with a product that fits well with Opdivo could make sense.
Relative bargain
Among the major players in the lung cancer market, Pfizer appears to be the most attractively valued based on forward earnings multiple. Bristol-Myers Squibb is the most expensive using that metric.However, when you factor in Bristol-Myers Squibb's growth prospects, the stock trades at a much more attractive valuation than its peer group.
There's also another nice plus: BMS has steadily raised its dividend for the last eight years. The company spends less than 58% of earnings to fund the dividend program, so more dividend increases could be on the way.
Forget the distractions. Bristol-Myers Squibb is a bargain. I doubt the stock will remain this good of a deal for too much longer.
10 stocks we like better than Bristol-Myers SquibbWhen investing geniuses David and Tom Gardner have a stock tip, it can pay to listen. After all, the newsletter they have run for over a decade, Motley Fool Stock Advisor, has tripled the market.*
David and Tom just revealed what they believe are the 10 best stocks for investors to buy right now... and Bristol-Myers Squibb wasn't one of them! That's right -- they think these 10 stocks are even better buys.
Click here to learn about these picks!
*Stock Advisor returns as of February 6, 2017
Keith Speights owns shares of Pfizer. The Motley Fool has no position in any of the stocks mentioned. The Motley Fool has a disclosure policy.