Forget Tesla: Here's 1 Company That's Really Pushing Driverless Tech Forward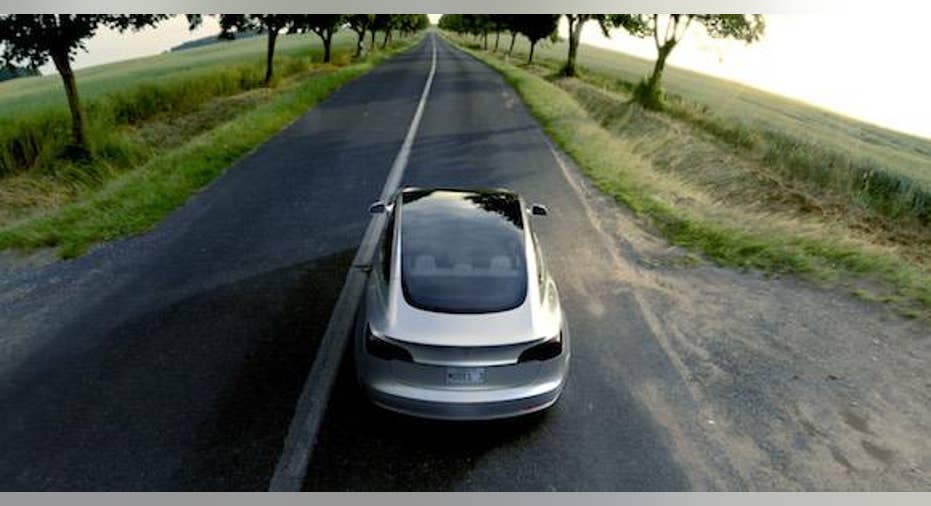 Image source: Tesla.
Tesla Motors gets a lot of attention these days for Autopilot, its semi-autonomous driving system -- as it should. The electric carmaker's system is one of the best in the automotive industry right now, and Tesla's CEO Elon Musk is 100% committed to expanding the future of driverless automobiles (while at the same time creating vehicles that are insanely funto drive).
Tesla should be applauded for its driverless pursuits, but China-based search giant Baidu is doing more to make driverless cars ubiquitous.
Eliminating all of the driverless blindspotsTesla says its Autopilot is a combination of "cameras, radar, ultrasonic sensors and data to automatically steer down the highway, change lanes, and adjust speed in response to traffic." The car can also be summoned by its driver and parallel park by itself.
That's some impressive technology, and recently, Autopilot showed off its strengths when it successfullymaneuvered around a truck that had cut off a Model S driver.
Baidu's technology is just as impressive, though. One of the tech giant's driverless autos has already successfully driven in Beijing.The car merged with other vehicles and successfully overtook ones it wanted to pass.
And it's not stopping there. Baidu aims to bring fully autonomous shuttles to Chinese roads by the end of 2018. The vehicles would drive a pre-set route that would be expanded over time.
The tech giant is also lobbying both the Chinese and U.S. governments for improved driverless auto regulation.Baidu was part of a U.S. Senate Commerce Committee a few months ago -- along with Google and General Motors-- advocating for looser autonomous vehicle regulations. The company is trying to pave the way for its own driverless car testing in the U.S.
By contrast, the Chinese government appears much more open to autonomous cars than even the U.S. is right now. That's helped Baidu come close to realizing its fully autonomous car dreams, and it's at least partially why the company is ahead of Tesla and other carmakers in the driverless space.
Baidu is also building a trove of autonomous car patents as it researches the technology, and it has focused much of its attention on the need for driverless cars to use artificial intelligence (AI).
Baidu's CEORobin Li recently said, "Artificial intelligence will continue to be an unceasing core for Baidu innovations." And to get there, the company hiredAndrew Ng, formerly at Google, to be its chief scientist. Ng and his team work in the U.S., helping to create artificially intelligent systems for Baidu's cars.
Foolish thoughtsDon't get me wrong -- I'm a huge fan of Tesla's cars, its all-electric goals, and its semi-autonomous driving pursuits. There's no denying the carmaker is pushing U.S. automakers to expand not just their electric car capabilities, but also their driverless ones.
But if investors are looking for a company that's not just using driverless tech, but also creating its own technology, earning patents, investing in AI, and influencing governments to adopt fully autonomous cars, China-based Baidu is winning that race hands down.
The article Forget Tesla: Here's 1 Company That's Really Pushing Driverless Tech Forward originally appeared on Fool.com.
Chris Neiger has no position in any stocks mentioned. The Motley Fool owns shares of and recommends Baidu and Tesla Motors. The Motley Fool recommends General Motors. Try any of our Foolish newsletter services free for 30 days. We Fools may not all hold the same opinions, but we all believe that considering a diverse range of insights makes us better investors. The Motley Fool has a disclosure policy.
Copyright 1995 - 2016 The Motley Fool, LLC. All rights reserved. The Motley Fool has a disclosure policy.