Forget PayPal Holdings, Inc: These 2 Stocks Are Better Buys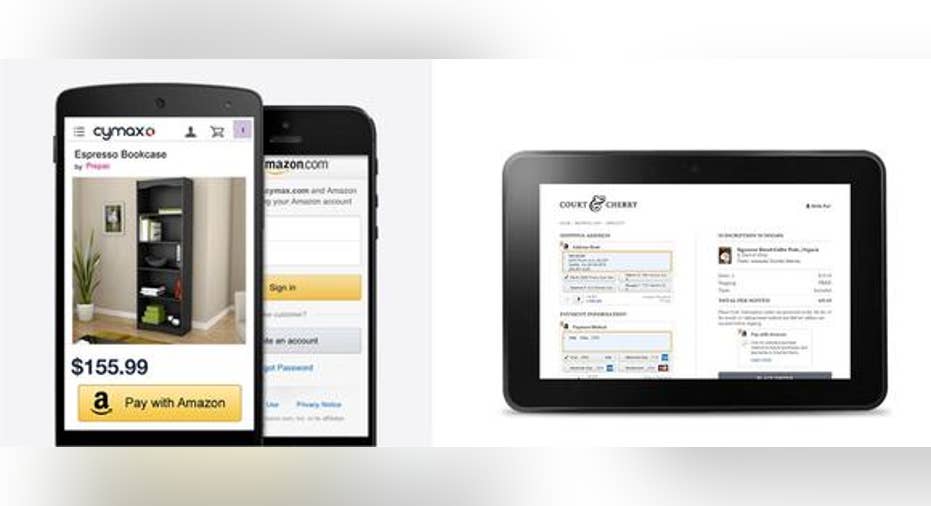 PayPal is one of the largest digital payment companies in the world, but its stock has recently been weighed down by concerns regarding its valuation and Apple 's plans to launch in-browser and peer-to-peer mobile payments.
PayPal stock currently trades at 22 times forward earnings, which is considerably higher than its projected earnings growth rate of 15% for this year. Its 5-year PEG ratio of 1.4 also indicates that the stock isn't cheap relative to its long-term earnings growth rate. Meanwhile, Piper Jaffray believes that Apple's introduction of in-browser and social payments will hurt PayPal, which processed at least 20% of its payments on iOS devices last year.
PayPal's mobile app. Image source: iTunes.
Those high valuations and Apple's aggression indicate that PayPal probably isn't the best play on the growing mobile payments market. Square , its closest direct competitor, alsoisn't a reliable play dueto its smaller user base, lower payment volume, and lack of profitability. Instead, investors should focus on two other companies which offer mobile payments but aren't completely dependent on their success -- Apple and Amazon .
Why Apple is a better buyLast quarter, 68% of Apple's sales came from the iPhone, 9% came from the iPad, and another 9% came from the Mac. But only iPhone sales grew year-over-year, rising by just 1%, while iPad and Mac sales both declined. Analysts expect iPhone sales to fall this year due to market saturation and competition, while iPad sales have already fallen annually for eight consecutive quarters.
Yet growth in Apple's "Services" and "Other Products" revenue helped offset those hardware declines last quarter. Revenue from the Services unit -- which includes iTunes, AppleCare, Apple Pay, Apple Music, and other services -- rose 26% annually and accounted for 8% of Apple's top line. Revenue from the Other Products unit -- which includes the Apple Watch, Apple TV, iPods, Beats products, and other accessories -- surged 62% and accounted for 6% of Apple's top line.
Apple Pay. Image source: Apple.
Apple doesn't disclose the revenue breakdown of these two units, but Piper Jaffray previously forecast that Apple Pay revenue could jump 163% annually to $310 million in 2016. That would represent just 0.1% of Apple's projected revenues this year, but its weight might increase if Apple can maintain that triple-digit growth. Stronger sales of the Apple Watch, consistent sales of new Apple Pay-enabled iPhones, and in-browser and P2P payments will likely support that growth. Major shareholder Carl Icahn claimed last year that Apple Pay could potentially generate $3.3 billion in revenues by 2017.
Apple Pay won't likely become a major source of revenue for Apple this year, but its business is well-diversified and its stock remains cheaper than PayPal's at 11 times forward earnings. Analysts currently expect Apple to grow its annual earnings by 12% over the next five years, which gives it a 5-year PEG ratio of just 1.05. It also pays a forward annual dividend of 1.9%.
Why Amazon is a better buyAmazon has challenged PayPal in in-browser and mobile payments before. It launched PayPal-like "Pay With Amazon" buttons ondomestic websites in 2013, then expanded them to overseas sites and mobile apps last year. Those buttons use an Amazon customer's saved billing information to expedite the checkout process on third-party sites and apps.
In early April, Amazon revealed plans to integrate that platform into other companies' e-commerce storefronts, which could expand its reach among smaller retailers and merchants. Amazon also previously offered Register, a card-reading dongle designed to compete against PayPal and Square's similar devices, but it shut it down last year to streamline its mobile payment platforms.
Pay With Amazon. Image Source: Amazon.
Amazon's consolidation of mobile payments with its e-commerce ecosystem could be bad news for PayPal. Amazon has 304 million accounts, while PayPal finished last quarter with 179 million active accounts. That larger footprint, combined with Amazon's prisoner-taking Prime ecosystem of delivery and streaming services, means that Amazon's gains could cause pain for PayPal. Amazon can also feed customer data through its AWS cloud platform to offer AI-powered business predictions for companies.
Like Apple, Amazon doesn't rely on mobile payments for meaningful revenue. But a streamlined payment platform could glue Amazon's core marketplace and cloud businesses together while locking in customers. Analysts currently expect Amazon to grow its annual earnings by 44% over the next five years, which gives it a 5-year PEG ratio of 2.8. While that ratio makes the stock look pricey, its trailing EV/FCF ratio of 36 -- which is more relevant for growing companies like Amazon -- hovers just above a multi-year low.
The bottom lineIn my opinion, "pure play" payments companies like PayPal and Square are simply too risky for most investors. Their businesses rely on taking a 2% to 3% cut of each merchant's transaction, and if a linked credit card is used, they must pay the card issuer a 1% to 3% interchange fee before pocketing the difference.
That business model can remain stable as long as other payment platforms play by the same rules, but bigger companies like Apple and Amazon can afford to undercut PayPal to expand their ecosystems. These threats will multiply as the mobile payments market expands, which could make it tough for companies like PayPal to continue growing.
The article Forget PayPal Holdings, Inc: These 2 Stocks Are Better Buys originally appeared on Fool.com.
Leo Sun owns shares of Amazon.com. The Motley Fool owns shares of and recommends Amazon.com, Apple, and PayPal Holdings. Try any of our Foolish newsletter services free for 30 days. We Fools may not all hold the same opinions, but we all believe that considering a diverse range of insights makes us better investors. The Motley Fool has a disclosure policy.
Copyright 1995 - 2016 The Motley Fool, LLC. All rights reserved. The Motley Fool has a disclosure policy.