Forget NVIDIA: Here Are 3 Alternative Driverless Car Plays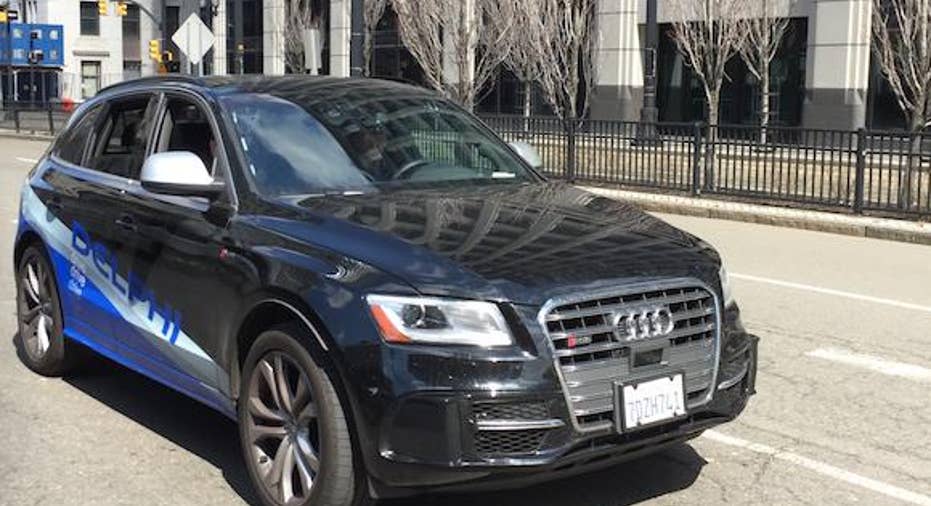 Image source: Delphi.
While NVIDA is quickly becoming one of the best driverless tech plays outside of Google, there are plenty of other companies betting on this $42 billion market (by 2025), as well. NVIDIA's already on its second generation of its Drive PX autonomous car platform, and recently announced its new DGX-1 supercomputer. Both of these are putting artificial intelligence and cloud computing at the forefront of the company's driverless systems, and are keeping the company steps ahead of most of NVIDIA's competitors.
There are also dedicated automotive suppliers that are pushing their own driverless technology to the automotive market. Harman International Industries ,Delphi Automotive , and tech company MobilEye N.V. have already forged strong relationships with car companies, and each could become a major player in the driverless space, as well.
MobilEyeIsrael-based MobilEye is a major camera-and-sensor supplier to about 90% of the automotive industry. Nearly 270 vehicle models will have its technology in their vehicles this year, and about one-third of the automotive industry uses the company's mapping services.
And that's exactly where the company plans on competing in the driverless car space. MobilEye is using its cameras and sensors to collect mapping data from cars, upload it to the cloud, and then crowdsource it to other vehicles.
MobilEye calls the system Road Experience Management (REM), and it can collect 10 kilobytes of landmark or road data every kilometer. It then matches it up with other map data in the cloud, so that cars know where they are, and make decisions based on their location.
The company calls its driverless car system an "everywhere" approach, where its technology allows cars to drive semi-autonomously everywhere, while Google's technology allows cars to drive fully autonomously in only some places. The company is currently collecting mapping data and plans on lunching the full system in 2018, and expects revenues from it in 2020.
Delphi AutomotiveDelphi is one the oldest automotive suppliers in the industry, and some of its state-of-the-art tech can be found in BMW's gesture-controlled infotainment systems, and General Motors' upcoming vehicle-to-vehicle communication systems. But Delphi's made some major inroads to driverless technology over the past few years, as well. At the 2015 Consumer Electronics Show (CES), its autonomous car technology drove itself 3,400 miles about 99% of the time without human intervention.
At this year's CES, the company showed off its vehicle-to-everything (V2E), in which the car can gather information from, and communicate with, things like street lights, and know if your friend is around the corner, communicating with other cars. The technology can even receive messages from smartphones that alert a car if someone is walking through an intersection when they shouldn't be. The company's combination of driverless car tech with its V2E system could bring about some of the most-advanced autonomous systems on the market.
Harman InternationalHarman is also a major supplier of automotive technology to car companies, and has even created advanced gesture-controlled infotainment systems for BMW. The company has a lot of experience in the connected-car business, including infotainment software, navigation systems, andtechnology that allows drivers to tether their smartphones to cars.
Similar to Delphi, Harman is focusing its attention on vehicle-to-everything systems that will give driverless cars an in-depth look at what's happening on the roads around them. The company's LIVS Connected Car Compute Platform allows connected vehicles to receive messages from other cars, traffic lights, and road infrastructure, to alert the vehicle about current road conditions.
For example, the LIVS system could essentially peek around a tractor trailer and know that there's a disabled car in the intersection ahead. Systems like this could eventually be used to make semi-autonomous and autonomous vehicles even safer.
But the company's biggest play in driverless vehicles may be in securing them. Harman purchased Red Bend Software last year, which allows the company to easily update autonomous cars' software and firmware to keep them safe from hackers.
You might remember that Fiat Chrysler had to recall 1.4 million cars last year after a hacking vulnerability, and that wasn't even for a semi-autonomous vehicle. As more controls are handed over to vehicles, the need for Harman's type of security will only increase.
Foolish final thoughtsEach of the companies above are making their own inroads into driverless car tech, but the one thing they have in common is that they're already knee-deep in the auto-supplier market. That gives them a partial advantage over chipmaker NVIDIA.
NVIDIA might become the dominant force in driverless technology systems, but it's clear that Harman, Delphi, and MobilEye certainly won't let that happen without a fight.
The article Forget NVIDIA: Here Are 3 Alternative Driverless Car Plays originally appeared on Fool.com.
Chris Neiger has no position in any stocks mentioned. The Motley Fool owns shares of and recommends Nvidia. The Motley Fool recommends BMW. Try any of our Foolish newsletter services free for 30 days. We Fools may not all hold the same opinions, but we all believe that considering a diverse range of insights makes us better investors. The Motley Fool has a disclosure policy.
Copyright 1995 - 2016 The Motley Fool, LLC. All rights reserved. The Motley Fool has a disclosure policy.