Forget Kinder Morgan, Inc.: Here Are 3 Better Dividend Stocks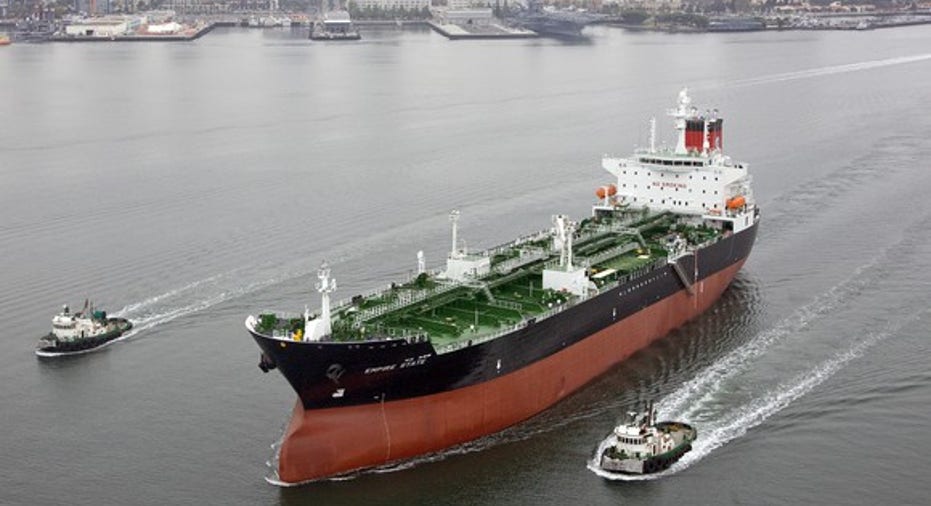 Image source: Kinder Morgan.
In Aug. 2014,Kinder Morgan (NYSE: KMI) announced a more than $70 billion transaction to consolidate all of its publicly traded entities under one umbrella. The purpose of that deal was to create a premier company with a goal of delivering 10% annual dividend growth through 2020.
Unfortunately, that transaction has not worked out as planned, due in part to the company's decision to take on some incremental debt to fund the cash portion of these deals. As a result, instead of growing the payout by double digits, the company had no choice but to reduce it by 75% two years later. It might also not be able to increase the payout until2018.
While Kinder Morgan is still a great company, it is no longer the dividend growth stock it once was. Because of that, investors needing income growth have to look elsewhere for the time being. Luckily, they have three excellent options in Enbridge (NYSE: ENB), TransCanada (NYSE: TRP), and Enterprise Products Partners (NYSE: EPD).
Building an energy infrastructure superpower
Canadian oil pipeline giant Enbridge is building the largest energy infrastructure company in North America. The first step is to close its $28 billion mergerwith U.S. natural gas pipeline giant Spectra Energy (NYSE: SE). Not only will that transaction diversify its asset base into gas pipelines, but it provides Enbridge with a tremendous growth platform. The combined company will have $20 billion of primarily fee-based growth projects under development, along with an inventory of $37 billion of projects to drive the next phase of future growth.
Enbridge expects the Spectra Energy merger to close early next year, which will enable it to boost the dividend by 15%. Meanwhile, the combined current backlog supports 12% to 14% growth in available cash flow from operations through 2019, while its massive project inventory should lead to robust cash flow growth in future years. This outlook gives Enbridge the confidence that it can grow the dividend by 10% to 12% per year through 2024, which is the best forecast in the pipeline sector at the moment.
A strong outlook with plenty of upside
TransCanada also recently bolstered its project pipeline via an acquisition. The company purchased U.S. natural gas pipeline company Columbia Pipeline Group for $13 billion and subsequently followed that up with an offer to buy out the rest of affiliated master limited partnershipColumbia Pipeline Partners (NYSE: CPPL) that it did not own for $915 million.
The Columbia acquisition increased TransCanada's near-term capital backlog up to 25.4 billion Canadian dollars, which supports the company's forecast that it can deliver 8% to 10% annual dividend growth through 2020.
While that is not nearly as robust a growth rate as Enbridge's, there's plenty of upside to TransCanada's plan. The company has four transformational projects under development, which when combined with other potential projects provides the company with up to CA$45 billion in future investment opportunities. These projects include a possible reboot of the Keystone XL pipeline, the massive Energy East oil pipeline project across Canada, and two large-scale gas pipeline projects to support proposed LNG export projects along Canada's West Coast. These transformational projects could take TransCanada's dividend to a whole new level next decade should it complete all four.
Image source: TransCanada.
Slow and steady wins the race
Enterprise Products Partners (NYSE: EPD) does not offer the impressive long-term growth forecasts of its Canadian counterparts. However, with a current yield of 6.4%, it offers investors more cash flow today than TransCanada (3.7% current yield), Enbridge (3.7% current yield), and Kinder Morgan (2.4% current yield). Meanwhile, it provides investors with very consistent income growth, having increased the distribution 49 straight quarters and 58 times since going public in 1998.
Furthermore, Enterprise Products Partners has plenty of growth left in the tank. The company currently has $5.3 billion of growth projects under construction, which should keep the payout heading higher through 2018. In addition to that, it has several compelling projects under development, which could begin construction in the near future. Needless to say, Enterprise should continue to supply investors with a growing stream of income for years to come.
Investor takeaway
While Kinder Morgan should once again become a dividend growth stock, investors might have to wait a year or more before that happens. That is why dividend growth investors might want to forget about Kinder Morgan right now and instead focus on Enbridge, TransCanada, and Enterprise Products Partners, which all offer clearly visible income growth for the next several years.
10 stocks we like better than Enbridge When investing geniuses David and Tom Gardner have a stock tip, it can pay to listen. After all, the newsletter they have run for over a decade, Motley Fool Stock Advisor, has tripled the market.*
David and Tom just revealed what they believe are the 10 best stocks for investors to buy right now... and Enbridge wasn't one of them! That's right -- they think these 10 stocks are even better buys.
Click here to learn about these picks!
*Stock Advisor returns as of Nov. 7, 2016
Matt DiLallo owns shares of Enterprise Products Partners and Kinder Morgan and has the following options: short January 2018 $30 puts on Kinder Morgan and long January 2018 $30 calls on Kinder Morgan. The Motley Fool owns shares of and recommends Kinder Morgan and Spectra Energy. The Motley Fool recommends Enterprise Products Partners. Try any of our Foolish newsletter services free for 30 days. We Fools may not all hold the same opinions, but we all believe that considering a diverse range of insights makes us better investors. The Motley Fool has a disclosure policy.