Forget Harley-Davidson: Here Are 2 Better Dividend Stocks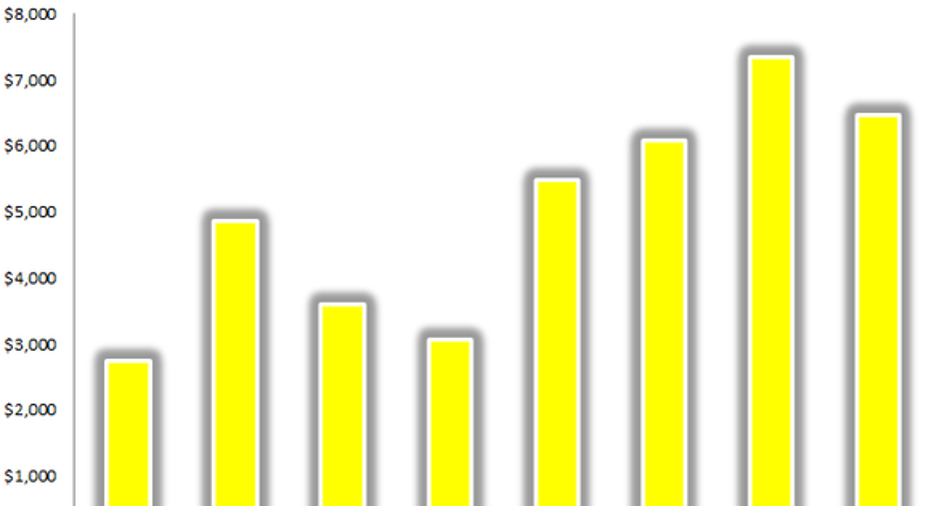 Harley-Davidson has quite a few things that investors look for in a market-beating stock. It has over a century of manufacturing experience, which is knowledge not easily gained or copied. It also has an incredible brand image, loyal following, and a strong dealership network that, in my opinion, gives the company a competitive advantage for now. Sadly, with all of that said, its current demographic is aging, andit has thus far struggled to attract a younger consumer. If you own Harley-Davidson largely because of its dividend, here are two better dividend stocks to consider.
Cats have nine lives Over the past quarter, I've slowly begun to change my tune on Caterpillar, but only in certain circumstances. This is one such circumstance. While I wouldn't recommend purchasing the company hoping there's a quick cyclical rebound and easy money over the next year, because that's highly unlikely, management has made it clear its dividend is a high priority.
A glimpse at a Caterpillar product floor. Image source: Caterpillar.
"I am pleased to announce we are maintaining Caterpillar's quarterly dividend. Our balance sheet is strong, allowing us to reward stockholders through the cycles. Paying a dividend in times of business and economic uncertainty and throughout business cycles is a priority for use of our cash,"said Caterpillar Chairman and CEO Doug Oberhelman in a press release.
In addition to Caterpillar's dividend yield being nearly twice that of Harley-Davidson's -- 3.96% compared to 2.07%, as of this writing -- it also has a more certain long-term future. As an investor, it seems more concerning that Harley-Davidson is struggling to bring in younger consumers to the brand to build its future bloodline. Caterpillar, on the other hand, despite having a very tough couple of years, will eventually see its cyclical business rebound.
In the meantime, Caterpillar has been diligent in restructuring and cost-cutting, which will certainly mean better days once the business turns around. Caterpillar plans on cutting between 4,000 and 5,000 salaried and management positions by the end of this year, as well as closing or consolidating 20 production facilities. While the latter of those two developments has sent restructuring costs higher, the moves are expected to reduce annual operating costs by as much as $1.5 billion when fully implemented, with about half of that total expected in 2016.
In the end, Caterpillar's consumers are mainly businesses of all sizes, almost guaranteed to come back over the long term instead of aging out of a sales cycle like Harley-Davidson's baby boomer demographic. And it offers a better dividend yield to boot. Lastly, for those concerned that Caterpillar's dividend is in jeopardy, it isn't. Despite a rough few years, the company's cash and short-term investments have remained very strong.
Chart by author. Information source: Caterpillar's annual earnings press releases.
Not your dad's FordIt's been quite a transformation at Ford Motor Company since the troubling days of the past recession, when former CEO Alan Mulally and his team secured a massive loan to pave the way for the company's future. While the automotive industry may be peaking in the U.S., this country should be able to maintain a very strong level of sales going forward, and automakers now have much lower breakeven costs than in prior years, perhaps even decades.
In addition to the Explorer, the Mustang has also been key to attracting young consumers. Image source: Ford Motor Company.
But what's interesting about Ford is that the company has done a much, much better job of understanding and attracting millennials for its future sales bloodline, unlike Harley-Davidson. One example is Ford's Explorer.
The Ford Explorer is the company's most popular SUV with millennial buyers, between the ages of 25 to 34, according to the company's analysis of IHS Automotive registration data, which helped the vehicle maintain its best-selling midsize SUV in the country. Also, the Explorer has become a hot commodity with women. Ford's Explorer is the most preferred midsize SUV among women buyers, according to IHS Automotive's personal registration data.
The good news is that sales of SUVs are very profitable, and that doesn't appear to be changing anytime soon.
"As members of the 80-million-strong millennial age group enter their prime child-rearing years, a leading indicator of more SUV sales, nearly 80 million aging baby boomers continue to prefer their SUVs," said Mark LaNeve, Ford Motor Company vice president of marketing, sales, and service, in a press release. "It's a demographic double whammy and it all points to one thing -- more SUVs for the foreseeable future."
Another factor to consider is Ford's supplemental dividend, which will essentially give the company flexibility for its dividend payout. Ford plans to distribute its regular quarterly dividend, and when the cash is flowing it will dish out a supplemental dividend to bring its payout ratio to between 40% and 50% of the prior year's net income. Currently, Ford's regular quarterly dividend is already a valuable 4.68% yield, but that doesn't mean the company won't face hurdles.
The automotive industry is on the cusp of changing rapidly with shared vehicles, ridesharing companies, more people moving to cities with mass transit available, and the potential of driverless cars. If Ford can figure out how to internally develop a new revenue stream, which its smart mobility projects are aiming to do, investors could be getting a future winner for sure. And at the very least, its prospects as a dividend stock, to me, appear better than Harley-Davidson's.
The article Forget Harley-Davidson: Here Are 2 Better Dividend Stocks originally appeared on Fool.com.
Daniel Miller owns shares of Ford. The Motley Fool owns shares of and recommends Ford. Try any of our Foolish newsletter services free for 30 days. We Fools may not all hold the same opinions, but we all believe that considering a diverse range of insights makes us better investors. The Motley Fool has a disclosure policy.
Copyright 1995 - 2016 The Motley Fool, LLC. All rights reserved. The Motley Fool has a disclosure policy.