Forget Gilead Sciences Inc.: These 2 Stocks Doubled Last Year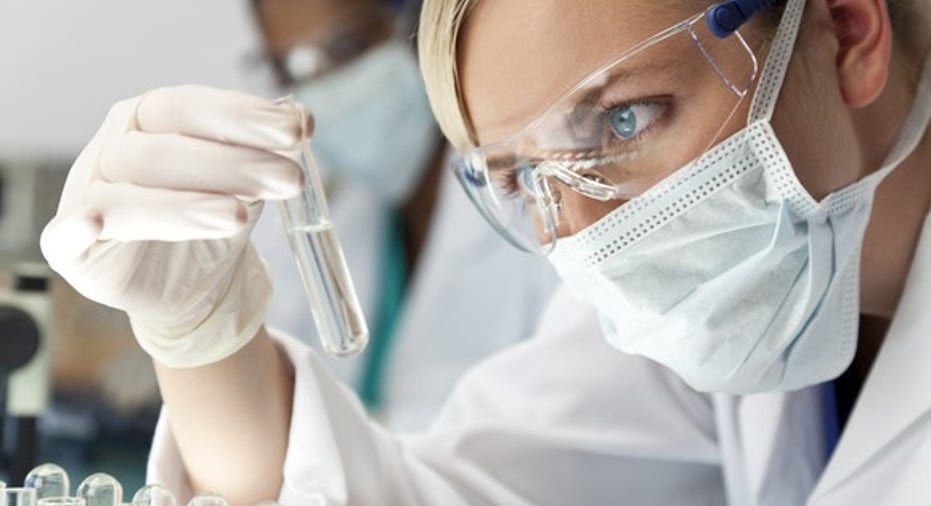 Long-term holders of Gilead Sciences (NASDAQ: GILD) enjoyed some market-thumping gains in years past, but concern over sagging hepatitis-C antiviral sales caused the stock to slide about 26.5% in 2016. Despite a generally bleak year for Gilead, and for biotech stocks in general, shares of Exelixis, Inc. (NASDAQ: EXEL) and TESARO Inc. (NASDAQ: TSRO) have skyrocketed.
Image source: Getty Images.
Can these biotechs continue climbing throughout the new year and beyond, or are they about to sputter and run out of fuel? Let's look at what's propelling them upward to see why they might be better picks than Gilead Sciences.
Exelixis, Inc.: exceeding expectations
A string of good news for Exelixis' lead cancer drug made this one of the best-performing biotech stocks of 2016. The stock's 165% rise can partly be attributed to low expectations for a drug that until recently failed to impress.
In January 2013, Exelixis launched cabozantinib, under the brand name Cometriq, for treatment of a rare form of thyroid cancer. From its launch through the end of 2015, it generated just $74.3 million in revenue -- far less than the company spent developing the drug for larger indications. One costly expansion attempt for prostate cancer failed to impress during clinical trials, and the stock was subsequently hammered and largely ignored.
Investors continued to yawn when the same drug earned an FDA approval in April to treat the most common form of kidney cancer, under the brand name Cabometyx. Although Cabometyx is somewhat limited to patients with disease progression following previous therapy, the drug exceeded expectations and is expected to gain a 20% market share in the second-line setting and a 35% share in the third-line setting. That finally piqued the market's interest -- driving the stock much higher.
Another expansion could keep Exelixis stock climbing in 2017 and beyond. Sutent, from Pfizer, generates roughly $1 billion annually as a standard treatment for newly diagnosed advanced kidney-cancer patients, but Cabometyx could bring its reign to an end. In a mid-stage study, the Exelixis drug shrank tumors in 46% of patients, versus just 18% for those treated with Sutent. Cabometyx patients also benefited from a 31% reduction in the risk of disease progression or death.
Exelixis intends to submit an application for expansion to the first-line setting, supported by the results of a 157-patient head-to-head study, although there's a chance regulators will insist on more data. The stock may have risen about 177% in 2016, but an official announcement of the submission's acceptance from the FDA could send it higher still.
TESARO Inc: another expander
TESARO gained gained an remarkable 153% in 2016, and it has a shot at further gains in the new year and beyond. The market cheered when niraparib became the first of an exciting new class of cancer-therapy candidates to succeed in a phase 3 trial.
The PARP inhibitor makes it hard for certain types of cancer cells to repair damage to their DNA, and the results among three well-defined groups -- specifically, ovarian-cancer patients with disease progression following standard chemotherapy -- suggest it could become a powerful new weapon in oncologists' arsenals. Some genetically defined groups have worse prognoses than others, but across the groups in the study, those treated with niraparib went 2.4 times to 3.8 times longer without disease progression or death than patients receiving placebos.
Image source: Getty Images.
The FDA agreed to give niraparib a speedy review, with a decision expected by the end of June. An approval and a successful launch for the treatment of ovarian-cancer patients who have progressed after standard chemo could help the stock continue its climb. Larger potential catalysts lie a bit further ahead. The drug is also in the middle of late-stage studies that could help expand its use to untreated ovarian-cancer patients, as well as a huge genetically defined breast-cancer population. In partnership with Johnson & Johnson, TESARO is also exploring niraparib's potential in another gigantic indication: prostate cancer.
An approval for the second-line ovarian-cancer setting alone could lead to peak annual sales of around $1 billion, but that would be peanuts compared to an expansion into breast or prostate cancer. TESARO's recent market cap of about $7.1 billion suggests that success in ovarian cancer is already expected, but hints of possible expansion into much larger populations could help the stock continue its impressive climb.
10 stocks we like better than Tesaro When investing geniuses David and Tom Gardner have a stock tip, it can pay to listen. After all, the newsletter they have run for over a decade, Motley Fool Stock Advisor, has tripled the market.*
David and Tom just revealed what they believe are the 10 best stocks for investors to buy right now... and Tesaro wasn't one of them! That's right -- they think these 10 stocks are even better buys.
Click here to learn about these picks!
*Stock Advisor returns as of Nov. 7, 2016
Cory Renauer owns shares of Gilead Sciences and Johnson and Johnson. You can follow Cory on Twitter @coryrenauer or LinkedIn for more biopharma investing insight.
The Motley Fool owns shares of and recommends Exelixis and Gilead Sciences. The Motley Fool recommends Johnson and Johnson. Try any of our Foolish newsletter services free for 30 days. We Fools may not all hold the same opinions, but we all believe that considering a diverse range of insights makes us better investors. The Motley Fool has a disclosure policy.