Forget Caterpillar Inc.: Here are 3 Better Dividend Stocks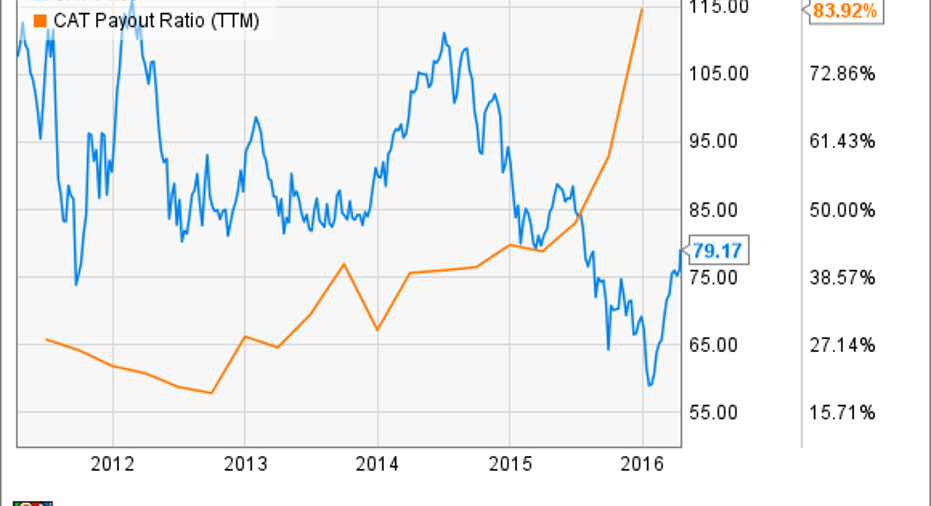 Image source: Caterpillar.
Caterpillar has one of those initially attractive dividends in a business that's been around for a long time. But that doesn't mean that it's a safe dividend.
Below, you can see that Caterpillar's payout ratio, or the portion of earnings paid out as a dividend, has risen sharply over the past year. Weak demand in mining is hurting earnings, and there's no end in sight to that weak demand -- which means investors should look elsewhere for great dividend stocks.
Emerson Electric Caterpillar's business is suffering from a decline in mining demand, and I don't see a recovery in that business on the horizon. But electric components from Emerson Electric , from automation to heating and cooling, aren't becoming less important to the economy long-term. And even with the decline in revenue recently, driven by falling oil prices, Emerson Electric is in a strong position to grow its core business long-term (after spinoffs).
The dividend yield of 3.5% and the payout have been increasing for 59 straightyears as well, which is among the best on the market. Unless there's a falling need for companies automating manufacturing or installing climate-control solutions, this company is in good shape, and so is its dividend.
Pentair You may not have heard of Pentair , but you've definitely used products it makes in one way or another. Pentair makes everything from food & beverage processing equipment to crop spraying equipment and industrial valves and controls. In short, it's an industrial supplier that helps make the things you consume everyday.
The acquisition of Tyco's flow control business gave a big boost to revenue and cash flow starting in 2013, as you can see below.
PNR Revenue (TTM) data by YCharts
The drop in demand from oil and gas companies has hurt demand of late, but the dividend is still intact. And with 40 consecutive years of increasing dividends and a yield of 2.4%, I think this is a stock to own for years to come.
Image source: SunPower.
8point3 Energy Partners As the energy industry has been shattered by falling oil and gas prices, the solar industry has been dragged down with it. Among the worst hurt have been yieldcos, the MLP-type entities formed recently to own renewable energy projects and pay cash flow out in the form of dividends. Despite being a conservatively run company with projects that have an average contract life of 21.3 years, 8point3 Energy Partners has been thrown out with the bathwater as well.
The stock now yields 6.2%, and management says it has enough project pipeline to increase its dividend 10%-15% on an annual basis through 2017. And if the stock recovers to a level where issuing new shares may lead to accretive acquisitions, that dividend growth could continue for many years to come.
While most energy and industrial dividends are reliant on commodity prices or economic growth, 8point3 Energy Partners has a rock solid dividend for decades relying only on the consistency of sunshine. And that's a resource that isn't going anywhere.
Better dividends than Caterpillar Emerson Electric, Pentair, and 8point3 Energy Partners may not have higher dividend yields than Caterpillar, but they have more consistent businesses, and that's what makes their dividends better buys today. I don't see a recovery in commodity prices on the horizon, and with that outlook these are better dividends than Caterpillar today.
The article Forget Caterpillar Inc.: Here are 3 Better Dividend Stocks originally appeared on Fool.com.
Travis Hoium owns shares of 8point3 Energy Partners LP. The Motley Fool recommends Emerson Electric. Try any of our Foolish newsletter services free for 30 days. We Fools may not all hold the same opinions, but we all believe that considering a diverse range of insights makes us better investors. The Motley Fool has a disclosure policy.
Copyright 1995 - 2016 The Motley Fool, LLC. All rights reserved. The Motley Fool has a disclosure policy.