Forget Bank of America Corporation: Here Are 4 Better Dividend Stocks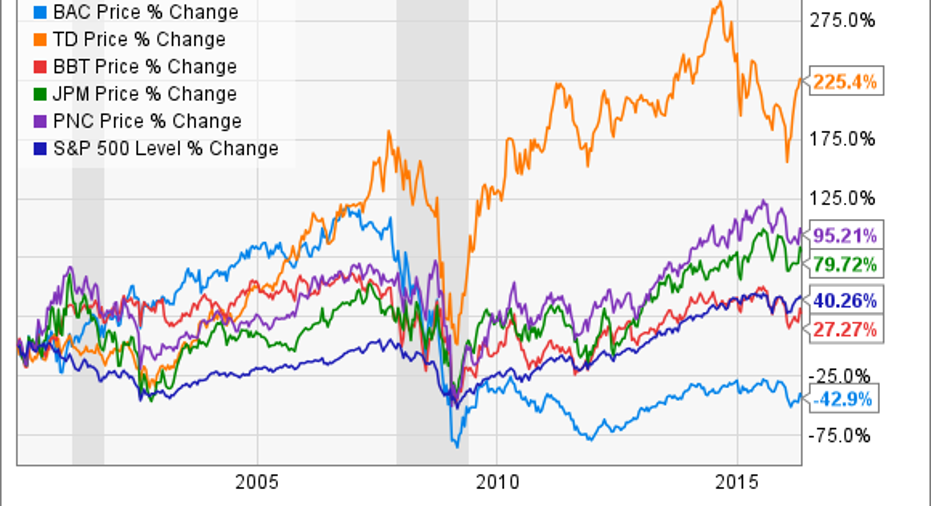 The qualities of a top-notch bank stock dividend aren't all that complicated. Investors just need a decent yield, a bank with a strong capital base, good earnings, and a realistic payout ratio. And for large banks, the strong hand of the regulators largely takes care of the capital base and payout ratio concerns.
Yet despite such a simple formula, many banks fall short, among them Charlotte, N.C.-based Bank of America (NYSE: BAC). Bank of America's dividend yield today is just 1.32%. On a trailing-12-month basis, the bank's return on equity is just 6.65%, well below the industry average and its national peers. Its capital position is strong today, but it's hard to forget that today's capital was built via massive shareholder dilution during the financial crisis.
All is not lost, however. There are plenty of suitable bank stocks with excellent dividends to round out your portfolio, each that meet all of our requirements. TD Bank (NYSE: TD) and its 3.52% dividend yield is one, for example. So is JPMorgan Chase (NYSE: JPM) and it's 2.78% yield. There are even large regional banks that could be the good fit for you, like the 3.17% and 2.32% yields available from BB&T (NYSE: BBT) and PNC Financial Services Group (NYSE: PNC), respectively.
Four banks with a better dividend profile than Bank of America To start, each of these bank stock dividends are supported by better earnings than Bank of America with healthy payout ratios. Here's a chart of the trailing-12-month return on equity for each bank, including laggard Bank of America.
BAC Return on Equity (TTM) data by YCharts
Higher returns on equity are important for these dividends because it indicates strong earnings relative to the bank's capital. If a bank has weak earnings, it won't have as much capital available to distribute as dividends. That reality is enforced with heavy hands by regulators who must approve the capital plans of large banks thanks to post-financial crisis regulations. We'll take a deeper dive into the role regulators play in just a moment, but for now, understand that with a higher return on equity, a bank can afford to pay shareholders a strong dividend while still building a fortress balance sheet. That's a scenario even the most prudent regulator can support.
With a rock-solid capital base on the balance sheet, banks can then start ratcheting up dividend payout ratios to shareholders. Because banks must navigate the multiple stress tests, regulatory examinations, and audits, a higher dividend payout ratio is only possible if those third parties agree that the bank's foundation is strong enough to handle distributing earnings instead of keeping them in the company.
It makes sense then that TD Bank would have the highest payout ratio among these banks given its strong return on equity. BB&T and PNC's payout ratios are within acceptable ranges based on the rest of the industry -- as are their returns on equity. JPMorgan's payout ratio is more likely to stay toward the bottom end of the industry range because it is subject to increased regulatory scrutiny and capital requirements as a global systemically important financial institution.
| Bank | Payout Ratio (TTM) |
| --- | --- |
| Bank of America | 23.4% |
| TD Bank | 45.3% |
| JPMorgan Chase | 33.5% |
| BB&T | 45.9% |
| PNC | 30.6% |
Data source: YCharts
The significance of regulators can't be overlookedThe regulatory role in bank dividends is driven by the annual CCAR and DFAST stress tests. These tests gauge how well regulators project big banks will manage through a potential future financial crisis. The objective of the stress tests is to ensure that banks have adequate liquidity, capital, and risk controls in place to avoid a tax payer bailout and repeat of the financial crisis. The implications for bank dividends are huge.
If regulators crunch the numbers and think that a bank's capital or liquidity foundation is too weak, then the bank could be required to reduce or even eliminate its dividend. In 2014, for example, B of A was required to suspend its dividend and share buyback plans while it resubmitted its capital plan after incorrectly calculating one capital ratio.
In other words, one miscalculation of just a few basis points forced the bank to suspend plans to distribute billions to shareholders. Banks simply have no room for error.
The 2016 stress test results won't be released until June, and until then investors won't know with certainty how each bank will be affected. Predicting the results is impossible, but based improved capital bases, liquidity positions, and past performance in the stress tests, it's not unrealistic to expect our four dividend options moving through the process without a major hiccup. But again, no one will know for sure until June.
One final consideration before you buy -- consistency is key Being consistent is critical in the risk business. In banking, that starts with the discipline to make high-quality loans in any economic environment. Bad loans are fastest way to losses, dividend cuts, and potentially even worse. One proxy for measuring consistency is watching the bank's stock price move over time. A more consistent stock performance is indicative of strong fundamental performance over time without major setbacks -- like unexpected or large loan losses -- hindering the trend higher.
All these four bank stocks have put up better stock market returns than B of A since the turn of the century, with all but BB&T beating the S&P 500 over the same period.
To include the impact of dividends over time, we can use the total return price metric, which includes each stock's reinvested dividends along with stock price appreciation through the years. Again, all of these stocks handily outperform Bank of America, which is actually down over 10% over this 16-plus-year period.
BAC Total Return Price data by YCharts
The best dividend's in the banking sector If you're considering a bank stock option to round out your dividend portfolio, then you have many very good options at your fingertips. Bank of America, unfortunately, is not one of these. Instead, I recommend you take a closer look at any of the other options here for their combination of better returns, consistency, and higher yields.
The article Forget Bank of America Corporation: Here Are 4 Better Dividend Stocks originally appeared on Fool.com.
Jay Jenkins has no position in any stocks mentioned. The Motley Fool recommends Bank of America. Try any of our Foolish newsletter services free for 30 days. We Fools may not all hold the same opinions, but we all believe that considering a diverse range of insights makes us better investors. The Motley Fool has a disclosure policy.
Copyright 1995 - 2016 The Motley Fool, LLC. All rights reserved. The Motley Fool has a disclosure policy.