Foresight Energy's Stock Declined 25% in November Thanks to a Weak Coal Market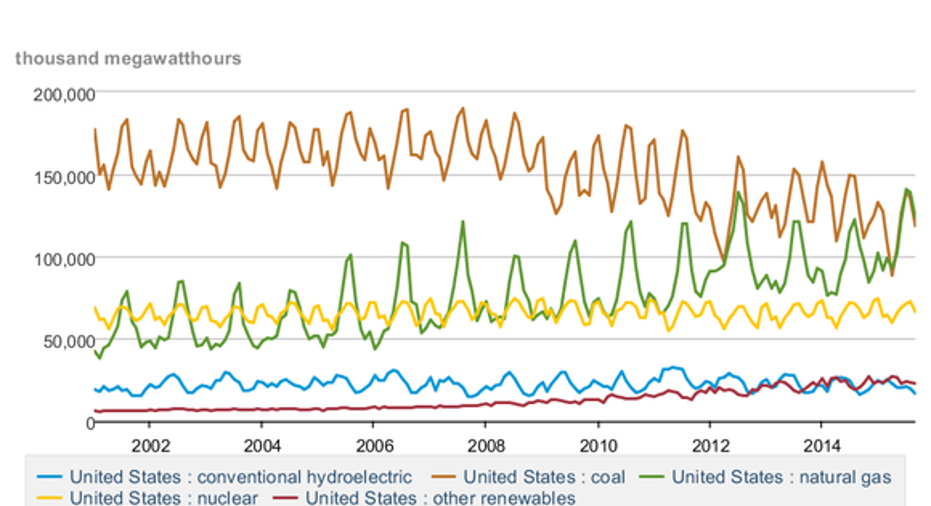 Image source: Foresight Energy.
What: Shares of Foresight Energy declined by 25% in the month of November. While there was no direct news from the company in the past month, continued pressure from cheap natural gas has weighed heavily on coal stocks.
So what: Many coal companies and investors point to environmental regulation as a problem facing the industry. While this does have an impact on decision-making for new electricity-generating facilities, it is not the biggest challenge. Rather, the declining cost of natural gas has made it a much more attractive option for power generation, and has captured a majority of the market share for electric power generation that coal has forfeited over the past several years.
Image source: US Energy Information Administration.
This structural decline has left many coal companies with unprofitable mines and lots of capital obligations they can't fill. Foresight has a better balance sheet than most in the sector, but so many of these unprofitable companies continue to produce rather than idle mines, which hurts the entire industry. Even companies that have recently filed for bankruptcy like Alpha Natural Resources continue to supply the market to pay off its outstanding obligations.
With so much excess supply, Foresight has been forced to scale back its production targets for this year despite its owning three of the four most profitable per ton mines in the country. Furthermore, the company was forced to cut its distribution to accommodate for the decline in distributable cash flow.
Now what: What Foresight Energy and many other coal companies need right now are two things: an increase in natural gas prices to slow the rate of changeover to natural gas-fired power plants and a major decline in coal supply. While Foresight's balance sheet is far from pristine, it is considerably better than those of many of its peers, so it should emerge from this recent slump. However, if unprofitable companies continue to produce to pay down debts and avoid mine closure costs, then this coal decline could continue to hurt Foresight Energy's finances and share price.
The article Foresight Energy's Stock Declined 25% in November Thanks to a Weak Coal Market originally appeared on Fool.com.
Tyler Crowe has no position in any stocks mentioned.You can follow him at Fool.comor on Twitter@TylerCroweFool.The Motley Fool has no position in any of the stocks mentioned. Try any of our Foolish newsletter services free for 30 days. We Fools may not all hold the same opinions, but we all believe that considering a diverse range of insights makes us better investors. The Motley Fool has a disclosure policy.
Copyright 1995 - 2015 The Motley Fool, LLC. All rights reserved. The Motley Fool has a disclosure policy.