Foreign Exchange Headwinds Continue to Blow Against Penske Automotive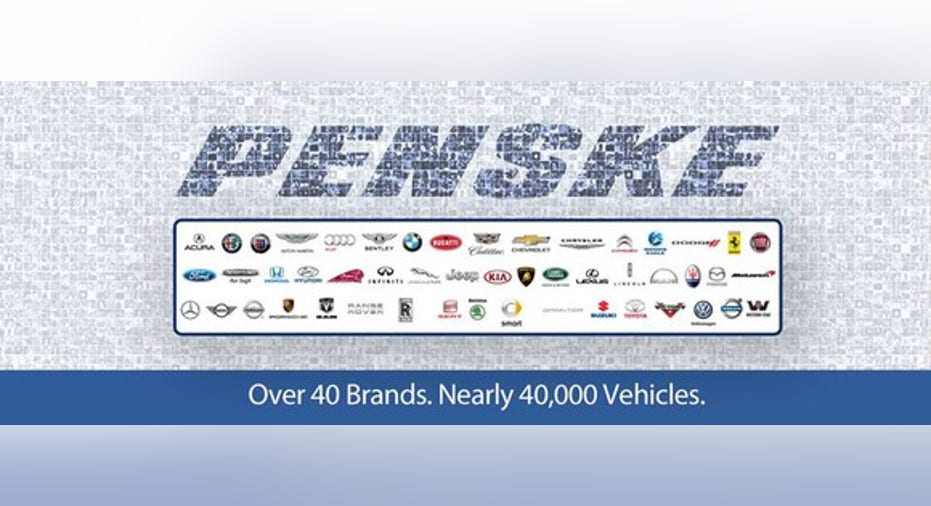 Penske Automotive Group (NYSE: PAG) is doing a bang-up job of doing business in a strong-dollar environment, as Tuesday's earnings results demonstrated. Reporting earnings for its fiscal fourth quarter and full-year 2016, Penske admitted to slowing revenue growth in the year's final quarter but a sizable improvement in profitability.
Here are the raw numbers for both time periods; I'll focus on the full-year results for the remainder of this article -- because fiscal year-end comes but once a year.
Penske results: The raw numbers
| Metrics | Q4 2016 | Q4 2015 | Growth (Year Over Year) |
| --- | --- | --- | --- |
| Sales | $4.89 billion | $4.92 billion | (0.7%) |
| Income from continuing operations | $82.6 million | $73.7 million | 12.1% |
| EPS | $0.97 | $0.78 | 24.4% |
Data source: Penske Automotive.
| Metrics | Full-Year 2016 | Full-Year 2015 | Growth(Year Over Year) |
| --- | --- | --- | --- |
| Sales | $20.12 billion | $19.28 billion | 4.3% |
| Income from continuing operations | $347.4 million | $333.9 million | 4% |
| EPS | $3.99 | $3.63 | 9.9% |
Image source: Penske Automotive.
What happened with Penske this year?
Penske continues to forge steadily ahead in a strong-dollar environment. In fact, the company's 4.3% revenue growth last year compares pretty favorably to 4.4% sales growth that U.S.-focused rival CarMaxreported for Q3 in December. (CarMax has not yet released its own Q4 or full-year numbers.) And unlike CarMax, which does business exclusively in the U.S., Penske has to deal with foreign exchange headwinds that affect the 39% of its business done outside U.S. borders.
How did foreign exchange rates affect Penske's business in 2016? Here are a few notes from its report:
Revenue growth of 4.3% in 2016 would have been twice that -- 8.6% -- excluding foreign exchange rates.
Same-store sales, which declined 0.6% year over year, would instead have grown 3.8% but for foreign exchange headwinds.
And earnings-per-share growth of 7.1% could have been nearly five full percentage points higher -- 12% -- again, excluding foreign exchange.
One way to get a clear picture of how well Penske is doing is to focus onautomotive units sold, rather than trying to convert those units' sales prices in pounds sterling, euros, and Australian dollars back into U.S. dollars. On that score, Penske did pretty well last year, with total automotive units retailed growing 5.8%.
What management had to say
All things considered, Chairman and CEO Roger S. Penske says 2016 was "the best in the history of our company." In addition to the unit sales growth, the chairman said he was "particularly pleased to see increases in new vehicle, used vehicle and finance and insurance gross profit per vehicle retailed" -- excluding foreign exchange, of course.
Looking forward
Penske didn't provide precise guidance for what to expect in the current year. It did note, though, that it has just closed on its acquisition of U.S. specialty used-car retailer CarSense and signed an agreement to buy leading U.K. used-car dealer CarShop, a deal that is also expected to close in Q1 2017. Together, Penske expects these acquisitions to add approximately $690 million in annual sales to its revenue stream, and anywhere from $0.14 to $0.18 per share to its bottom line.
10 stocks we like better than Penske Automotive GroupWhen investing geniuses David and Tom Gardner have a stock tip, it can pay to listen. After all, the newsletter they have run for over a decade, Motley Fool Stock Advisor, has tripled the market.*
David and Tom just revealed what they believe are the 10 best stocks for investors to buy right now...and Penske Automotive Group wasn't one of them! That's right -- they think these 10 stocks are even better buys.
Click here to learn about these picks!
*Stock Advisor returns as of February 6, 2017.
Rich Smith has no position in any stocks mentioned. The Motley Fool owns shares of and recommends CarMax. The Motley Fool recommends Penske Automotive Group. The Motley Fool has a disclosure policy.