Ford's Plan to Boost Profits in Europe Starts With the All-New 2018 Fiesta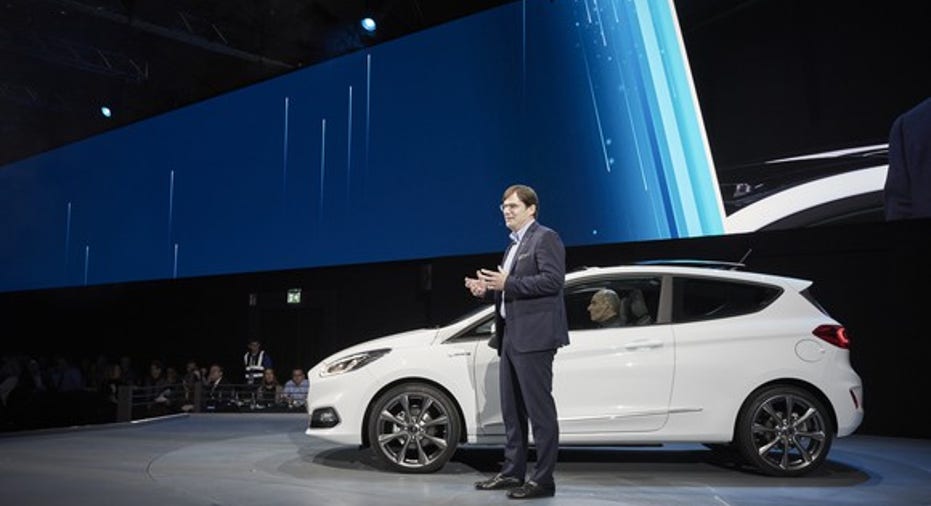 Ford Europe chief Jim Farley showed off the all-new Fiesta at an event in Germany this past week. Image source: Ford Motor Company.
Ford Motor Company (NYSE: F) took the wraps off of the European version of its all-new Fiesta subcompact this past week.
The new Fiesta is a refined, more upscale version of the small Ford that has been a best-seller in Europe and other global markets for many years. That refinement is part of a larger strategy: Ford is hoping that the new Fiesta will be more profitable than the outgoing model. That will make a big difference in Europe, where the Fiesta is Ford's best-selling model.
How will the U.S. model differ from this European Fiesta?
Ford hasn't shown the U.S.-market version of the all-new Fiesta yet. I expect it to look almost exactly like the European model, but there will be differences in the options available.
The thing to remember is that while the Fiesta is kind of an afterthought in the SUV-mad U.S. these days, it's one of the best-selling cars in Europe. Ford is offering the European Fiesta in four different versions and with a slew of options -- but it's likely that the Fiesta lineup will be greatly simplified for the U.S. in order to reduce manufacturing costs.
What's new about it?
A lot -- enough that we call it "all-new" -- but not everything. Like the current model, the new Fiesta is built on Ford's "Global B" vehicle architecture, so it's about the same size as the current car and shares some parts and engineering under the skin. But the new Fiesta's "touch points," the body and interior, are all new, and together give the impression of a more premium product.
The new Fiesta's shape is similar to the current car's, but a bit curvier, with some styling tricks (the horizontal taillights, for one) that make it look lower and more sleek. Ford has added finish details (tighter gaps between panels, hidden windshield-washer sprayers) that are subtle but together deliver a more upscale appearance.
Inside, the interior has been restyled. It's also more upscale-looking, with an 8-inch touchscreen system and (in the European models, at least) more personalization options. There's also more room in the back seat, a welcome improvement.
As with other recent new Fords, buyers of the new Fiesta will be offered a long list of high-tech safety and convenience features, including (again, at least in Europe) Ford's new Traffic Sign Recognition and Cross Traffic Alert systems.
And as I mentioned above, Ford is offering the Fiesta in four different flavors in Europe. In addition to the "regular" Fiesta, there are also luxurious (Vignale), crossover-ish (Active), and sporty-looking (ST-Line) variants.
From left to right, the Fiesta Active, Fiesta ST-Line, Fiesta Vignale, and regular Fiesta models. Image source: Ford Motor Company.
How will the new Fiesta boost Ford's profits?
We don't know for sure how the profitability of the new Fiesta will compare with the current model's. The profitability of any specific car model is a closely guarded secret. But we do know that Ford emphasized a premium feel with the new Fiesta, suggesting that it will seek a premium price. We also know that Ford has created new extra-cost options andupscale trim lines, both of which it hopes will tempt more buyers into selecting loaded models. (Generally, base-model versions have thin profit margins. Options are very profitable.)
And we know what CEO Mark Fields and other Ford executives have said recently about Ford's new small-vehicle strategy: It's likely that, despite the upgrades, the new Fiesta costs less to build than the outgoing car.
Add that up, and it should result in a more profitable Fiesta.
What's next for the new Fiesta?
Ford hasn't said exactly when the new Fiesta will arrive at European dealers -- and officially, it hasn't said anything at all about the timing of the U.S.-market version. My guess is that the new Fiesta will be available in the U.S. late next year as a 2018 model, but Ford hasn't confirmed that yet.
It's very likely that Ford will show the U.S. version of the all-new Fiesta at one of the major U.S. auto shows between now and spring. We'll know more when that happens.
10 stocks we like better than Ford When investing geniuses David and Tom Gardner have a stock tip, it can pay to listen. After all, the newsletter they have run for over a decade, Motley Fool Stock Advisor, has tripled the market.*
David and Tom just revealed what they believe are the 10 best stocks for investors to buy right now... and Ford wasn't one of them! That's right -- they think these 10 stocks are even better buys.
Click here to learn about these picks!
*Stock Advisor returns as of November 7, 2016
John Rosevear owns shares of Ford. The Motley Fool owns shares of and recommends Ford. Try any of our Foolish newsletter services free for 30 days. We Fools may not all hold the same opinions, but we all believe that considering a diverse range of insights makes us better investors. The Motley Fool has a disclosure policy.