Ford's Next Big Opportunity in China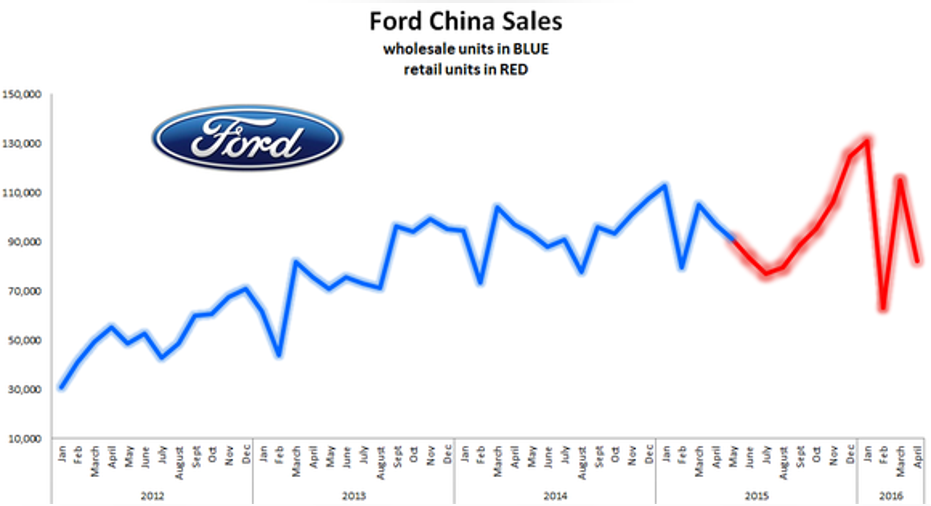 Ford executives at an automotive conference in Shanghai. Image source: Ford Motor Company.
China has been a primary reason to be bullish about global automakers in recent years. The nation has already become the world's largest automotive market, yet there is still plenty of room for annual sales there to grow. Both its sheer size and the changing trends among its consumers make market share in China an enticing prize for anybody in the vehicle production game.
For companies like Tesla, the Beijing government's continued focus on dramatically increasing the number of electric vehicles on the road is great news. For legacy players like Ford Motor Co. and General Motors , it's a huge deal that Chinese consumers are increasingly opting for SUVs instead of smaller cars. German luxury automakers can look forward to the fact that China is likely to overtake the U.S. as the largest market for luxury vehicles, sooner rather than later.
With all of that said, Ford has made up a lot of ground after entering China's market a few years behind its major competitors, and its progress has continued in 2016. Here's the latest data for investors, with an interesting opportunity as the icing on the cake.
April and YTD results Last month, Ford's China sales cooled off a little, compared to the prior year's April, with sales down 11%. That brought the Blue Oval's total down to 82,324 vehicles last month but, as you can see in the graph below, month-to-month sales results have been volatile thus far in 2016.
Chart by author. Information source: Ford China's press releases.
Based to those short-term oscillations, investors would be wise to zoom out and examine the year-to-date sales numbers. Ford's year-to-date sales in China are up 7% through April compared to 2015, with 391,294 vehicles sold.
Further, that's a solid 7% gain for those of you wondering about weaker comparisons coming into play. Weaker year-over-year comparisons will start soon, as it was about this time in 2015 (as you can see in the graph) when sales in China slowed down, prompting the government to slash the purchase tax in half on vehicles with smaller engines -- an incentive that drove sales much higher during the fourth quarter.
As mentioned before, Ford's portfolio of SUVs continues to hit a sweet spot with Chinese consumers. Sales of the Ecosport, Kuga (Escape), Edge, Explorer and Everest surpassed the 100,000 mark, reflecting a strong 27% increase compared to the same period of 2015. Another vehicle driving Ford's sales higher in China is the Escort, which has sold nearly 85,000 units year-to-date, a whopping 69% gain.
One interesting factor Investors know that full-size trucks generate massive profits for Detroit automakers, but investors also know those full-size truck sales are essentially limited to the U.S. market. That's what's interesting about Ford's recent move to sell the F-150 Raptor in China next year. Not only is it a full-size truck, it's a high-performance off-road version with a 3.5-liter EcoBoost twin-turbo V6.
It's an interesting gambit, but one worth trying. The Raptor will generate a higher price tag and likely better margins, which sets the stage for Ford to be able to send the truck overseas. Also, at a time when Chinese consumers are opting for larger SUVs, why not see if there is a surprising amount of demand for large pickups?
Put simply, if there's an off-chance that U.S.-style big trucks could catch on in China, even to a limited degree, it's too large an opportunity to ignore. This will be a story worth watching for investors, so keep your fingers crossed for good luck on this long shot, because selling trucks in China was (reasonably) left off analysts' bull thesis for Ford.
The article Ford's Next Big Opportunity in China originally appeared on Fool.com.
Daniel Miller owns shares of Ford and General Motors. The Motley Fool owns shares of and recommends Ford and Tesla Motors. The Motley Fool recommends General Motors. Try any of our Foolish newsletter services free for 30 days. We Fools may not all hold the same opinions, but we all believe that considering a diverse range of insights makes us better investors. The Motley Fool has a disclosure policy.
Copyright 1995 - 2016 The Motley Fool, LLC. All rights reserved. The Motley Fool has a disclosure policy.