Ford Still Isn't Ready to Bite the Bullet With a 200-Mile EV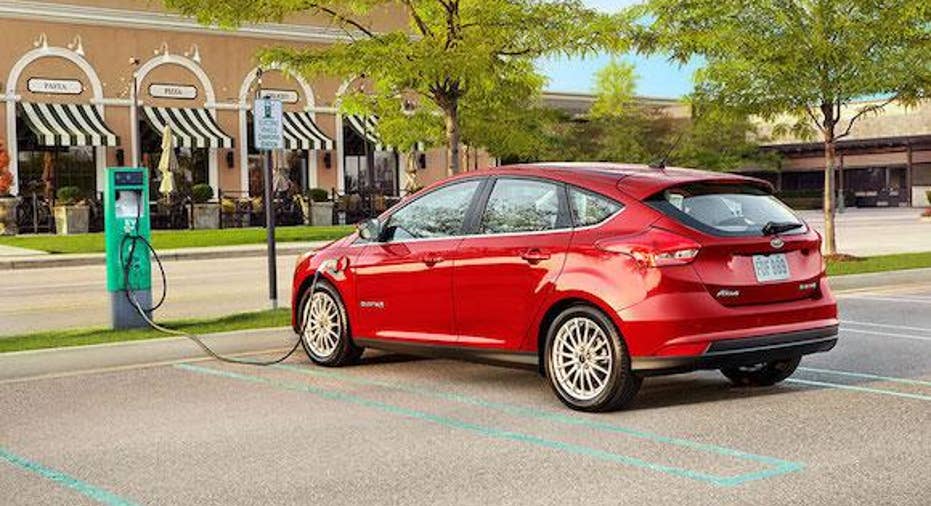 2016 Ford Focus Electric. Image source: Ford.
Virtually all major automakers are now talking up their EV programs while also investing heavily in future electric cars being developed. But sometimes, words speak louder than actions.
Ford continues to take a fairly conservative approach to EV development, despite the overwhelming consumer response for Tesla's Model 3. Meanwhile, General Motors' Chevy Bolt has already entered preproduction and is slated to launch later this year. Ford has said that it hopes to have electric versions of nearly half of its cars available by the end of the decade, and the company is preparing to launch the 2017 Focus Electric in a matter of months.
Just don't expect Ford to get very aggressive anytime soon, even as it announced in December that it was investing $4.5 billion into EVs.
100 miles is good enough. Or is it?At SAE World Congress last week, Ford Director of Electrified Powertrain Engineering Kevin Layden said that the Blue Oval isn't quite ready to release an EV that can go up to 200 miles on a single charge. Instead, the company will focus its efforts on the 2017 Focus Electric that has a range of 100 miles. The 2017 model will also include DC fast charging in the form of a CCS plug.
Layden says that a 100-mile range is perfectly sufficient to handle the average commute, and sticking with that range will help with the vehicle's weight and costs. Lithium-ion batteries weigh and cost a ton. But this type of thinking sort of misses the point.
Even if a 100-mile range is sufficient for the average consumer's daily commute, it's still not sufficient to relieve the average consumer's range anxiety. The key psychological threshold there is around 200 miles. So even if the 2017 Focus Electric is up for the task, not all consumers will think that it's up for the task.
To comply, or to not comply: That is the questionTo date, Ford hasn't made an earnest attempt at launching a compelling EV. The current Focus Electric is a compliance car through and through: an electrified variant of an existing nameplate only sold in a handful of states and only in order to meet regulatory requirements in those states. The outgoing 2016 model only has a range of 76 miles.
This is an important distinction because it shows you just how serious the automaker is about the product and its underlying technology. GM's upcoming Chevy Bolt is decidedly not a compliance car, as it will be sold in all 50 states in the U.S. Of course, Tesla would absolutely love to sell its vehicles in all 50 states, but that's a different battle altogether.
Back to the futureFord CEO Mark Fields recently sat down for an interview with The Verge, and while Fields emphasizes some important strategic initiatives that the company is pursuing (like becoming a software company and exploring the growing ride-sharing trend), you also get this sense of a lack of urgency when it comes to EVs.
For instance, Fields mostly brushes off Tesla as a toy for rich people:
That comment is an anachronism. It would have been absolutely true between 2008 and 2012 when Tesla only sold the $100,000 Roadster, a two-seater supercar. But the Model S, as a four-door sedan, is very much intended to be a person's primary vehicle and family hauler. Tesla certainly appeals to high-end consumers, but it's also quite good at attracting historically non-luxury buyers into the luxury segment, many of which come from the Toyota Prius.
Still, you can't deny that the auto industry is making progress with accepting the transition to EVs. Slowly, but surely, Ford will get there.
The article Ford Still Isn't Ready to Bite the Bullet With a 200-Mile EV originally appeared on Fool.com.
Evan Niu, CFA owns shares of Tesla Motors, andhas the following options: long January 2018 $180 calls on Tesla Motors. The Motley Fool owns shares of and recommends Ford and Tesla Motors. The Motley Fool recommends General Motors. Try any of our Foolish newsletter services free for 30 days. We Fools may not all hold the same opinions, but we all believe that considering a diverse range of insights makes us better investors. The Motley Fool has a disclosure policy.
Copyright 1995 - 2016 The Motley Fool, LLC. All rights reserved. The Motley Fool has a disclosure policy.