Ford Plans a Tesla-Fighting Electric Car: What We Know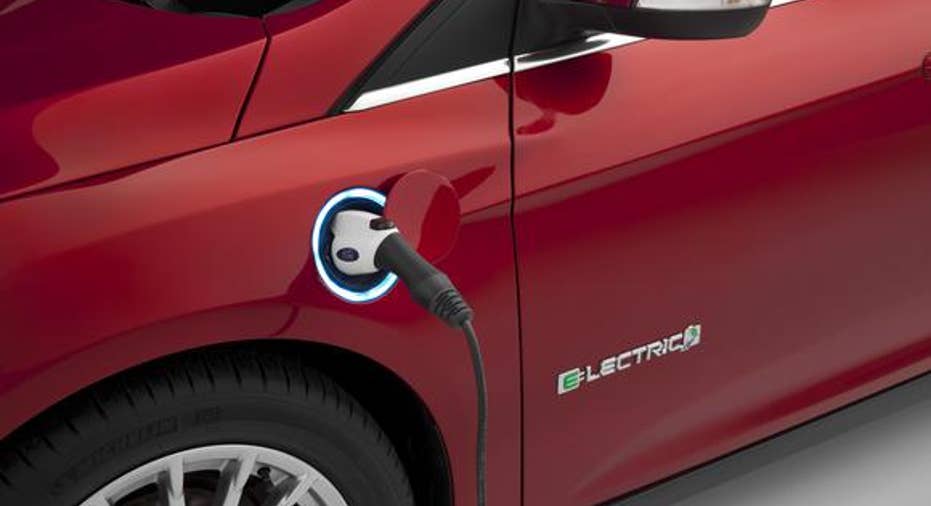 Ford's Focus Electric hasn't made much of a dent in the marketplace. But Ford's CEO says that a much more competitive battery-electric Ford is coming. Image source: Ford.
During last week's first-quarter earnings call, Ford Motor Company CEO Mark Fields let slip a surprise: The company is working on an electric car with at least 200 miles of range that will be competitive with the longer-range battery-electrics coming soon from General Motors and Tesla Motors .
But while it was surprising to hear Fields confirm it, Ford has been hinting at an upcoming new electric car for a while. We might even know what it'll be called.
We knew it was coming, and we might even know whenFord's global product chief, Raj Nair, told The Wall Street Journal in December that Ford would have a more direct competitor for the Bolt and Tesla's upcoming Model 3 by 2020. He didn't give specifics, but he did say that Ford "fully anticipates" introducing electric cars with "competitive range" by the end of the decade. And trade publicationAutomotive Newsreported recently that some analysts believe that car will be called the Model E, that it will come in hybrid and pure battery-electric versions, and that it will be built in a new factory in Mexico starting in 2019.
What Fields said last week didn't really add anything to what Nair said,except to emphasize that Ford will aim to match or beat the leaders in the segments it enters. "We want to make sure that we're either among the leaders or in a leadership position," Fields said. "When you look at some of the competitors and what they've announced, clearly [200 miles of range or more] is something we're developing for."
While Fields' remarks last week didn't really add to what (little) we know, they emphasize that Ford has made a significant shift in its EV efforts in recent months.
Ford's electric-car effort is a recent and significant shiftSome of the global automakers have been making visible efforts toward a mass-market electric car for years, notably GM and Nissan . More recently, prodded by Tesla's success, luxury-car brands like Audi and BMW have also made very visible efforts to show that they're serious about competing in the emerging electric-car market segments.
Until recently, Ford hadn't been among them. While Ford sells a lot of well-regarded hybrids, its current electric-car offering is nothing to write home about. The Ford Focus Electric gets solid reviews, but it sells in very tiny numbers and has just 76 miles of range.
While it'll get a bump to 100 miles of range later this year, the Focus Electric is obviously not in the running to compete with GM's new Chevy Bolt, which will have twice as much range. That's one reason why the Focus Electric is sometimes derided as a "compliance car", a model created to satisfy U.S. states that require automakers to sell a "zero emissions" vehicle.
Ford's plug-in hybrids have been solid contenders, but for a while, it seemed like Ford was content to hang back and let other automakers lead the charge toward pure electric cars. That attitude seemed to change in a big way late last year, when the Blue Oval announced that it would invest $4.5 billion in 13 new "electrified vehicles."
Most of those models are expected to be hybrid versions of existing Ford products. But we know that there's at least one pure battery-electric Ford under development, and now we know that Ford's CEO will make sure that it's a competitive one.
The article Ford Plans a Tesla-Fighting Electric Car: What We Know originally appeared on Fool.com.
John Rosevear owns shares of Ford and General Motors. The Motley Fool owns shares of and recommends Ford and Tesla Motors. The Motley Fool recommends BMW and General Motors. Try any of our Foolish newsletter services free for 30 days. We Fools may not all hold the same opinions, but we all believe that considering a diverse range of insights makes us better investors. The Motley Fool has a disclosure policy.
Copyright 1995 - 2016 The Motley Fool, LLC. All rights reserved. The Motley Fool has a disclosure policy.