Ford Motor Company's Focus on Safety Pays Off in a Big Way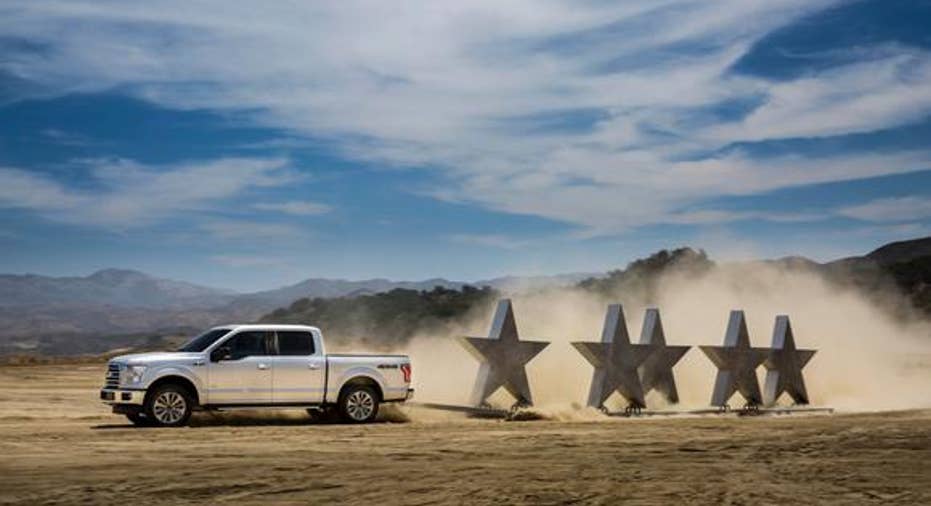 Ford will certainly tout the F-150's recent victory. Image source: Ford Motor Company.
What a difference a year can make. Last year Ford Motor Company was dealing with a slightly awkward situation when its F-150 SuperCrew aced crash tests by the Insurance Institute for Highway Safety (IIHS) but its F-150 SuperCab received a "marginal" rating in the small overlap front crash test. One reason for the SuperCab's lesser performance was that Ford had added steel to the larger F-150 to help it resist the crash damage, but that wasn't included in the SuperCab version. Right or wrong, it led to criticism.
"Ford added structural elements to the crew cab's front frame to earn a good small overlap rating and a TOP SAFETY PICK award but didn't do the same for the extended cab," IIHS' chief research officer, David Zuby, said in a statement. "That shortchanges buyers who might pick the extended cab thinking it offers the same protection in this type of crash as the crew cab. It doesn't."
But again, what a difference a year can make.
For the record, the small overlap crash test is considered by many to be the toughest test done by IIHS. It's also very new, only having been around since 2012. The crash test itself simulates hitting a pole or other object on one side of the front or the other. After some negative attention last year for Ford, the following chart is probably worth more than a thousand words to the company, its consumers, and its investors.
Image source: IIHS small overlap test press release.
All in all, Ford's 2016 F-150 is the only full-size, light-duty truck to earn the National Highway Traffic Safety Administration's highest rating, as well as a five-star overall vehicle score and five-star rating for driver/passenger in all crash-test modes and cab configurations -- SuperCrew, SuperCab, and Regular Cab -- which is a pretty impressive-sounding list of accolades.
"Ford is leading the way among large pickup manufacturers when it comes to protecting people in a range of crashes and offering technology to warn drivers of imminent frontal crashes," says Raul Arbelaez, vice president of the IIHS' Vehicle Research Center, in a press release. "We commend Ford for taking last year's test results to heart and upgrading protection for SuperCab occupants in small overlap crashes."
As for the rest of major truck producers, it played out about as you would expect, except for maybe one. It's reasonable to assume that Ford and General Motors would test near the top, as Detroit's two largest automakers are well known for producing SUVs and trucks. However, many would have guessed Fiat Chrysler Automobiles' Ram truck would also test well -- but that wasn't the case, as the Ram 1500 quad and crew cab both ranked near the bottom.
How much does it matter? The answer depends on whether you're an investor in these companies or a consumer. To consumers, safety remains a huge concern and a significant driver of purchase consideration. However, for investors, this is unlikely to move the needle in either direction. The Ram truck brand will almost certainly continue selling plenty of trucks alongsideFord's F-Series and GM's sister trucks.
That said, it's certainly a positive for Ford and its investors in the sense that this will serve as great marketing fuel at a time when auto sales are reaching highs and competition for sales is increasing. And one thing that Ford has proven excellent at in recent years is its ability to successfully brand, market, and advertise its product. For a great example of that, look no further than Ford's EcoBoost, which has competition through similar products at crosstown automakers, but is much more widely recognizable with consumers, in my opinion.
Ultimately, Ford's most profitable product just got safer and added an extra bullet in its marketing chamber, at a time when full-size truck sales are more competitive than they have been in a decade.
The article Ford Motor Company's Focus on Safety Pays Off in a Big Way originally appeared on Fool.com.
Daniel Miller owns shares of Ford and General Motors. The Motley Fool owns shares of and recommends Ford. The Motley Fool recommends General Motors. Try any of our Foolish newsletter services free for 30 days. We Fools may not all hold the same opinions, but we all believe that considering a diverse range of insights makes us better investors. The Motley Fool has a disclosure policy.
Copyright 1995 - 2016 The Motley Fool, LLC. All rights reserved. The Motley Fool has a disclosure policy.