Ford Motor Company Is About to Report an Earnings Plunge, but Don't Panic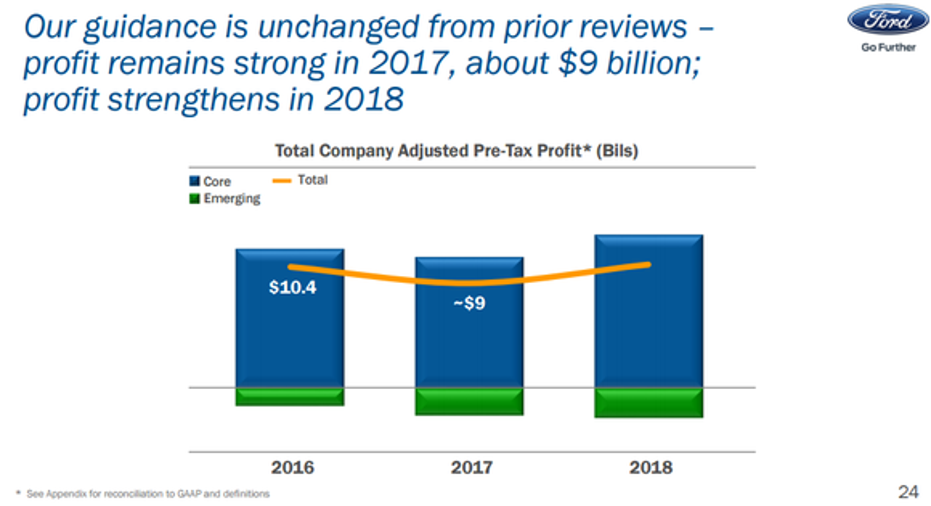 It's incredibly easy to lose the context of earnings amid a hectic season -- especially this week, which is filled with numerous earnings conference calls -- and simply glance at the headlines and big-number figures. That's a mistake that investors should be wary of making, especially in the case of Ford Motor Company (NYSE: F), which is about to face a brutal year-over-year comparison. Here's why.
A trip down memory lane
Investors might have forgotten just how wildly successful Ford's first quarter of 2016 was. The automaker's pre-tax profit of $3.8 billion was a massive $2.1 billion improvement from the first quarter of 2015. It was Ford's best-ever quarterly pre-tax result, and it helped generate a first-quarter record operating cash flow of $2.7 billion.
"The first quarter was an absolutely terrific start to the year -- an all-time record for the company, with very strong performance across the business. We're excited about our future and confident in our ability to deliver long-term growth and profitability, as we expand our business model to be both an auto and a mobility company," said Mark Fields, Ford's president and CEO, in a press release last April.
Ford's record first quarter of 2016 wasn't by chance, however, as the automaker rode a successful 2015 model-year launch of America's best-selling full-size truck: the F-150. Much of the costs and plant changeovers had happened prior to the first quarter, and the big bucks came flooding in one year ago. Also at the time, Ford Europe posted its best quarterly profit since 2008, which is going to be tough to replicate with near-term Brexit complications.
Unfortunately for this year, Ford's first quarter is going to pale in comparison to 2016's, and the full-year results are expected to take a step down before rising again in 2018.
Image source: Ford Motor Company's "Let's Chat" presentation, March 23, 2017.
How low is the bar?
In the first quarter of 2016, Ford blew analysts' consensus for $0.48 adjusted earnings per share out of the water when it posted an EPS of $0.68. Consensus estimates per Thomson Reuters call for Ford's first-quarter 2017 EPS to check in at $0.36, a massive 47% decline. Ford's management has guided for a weaker result, estimating the first-quarter adjusted EPS to check in between $0.30 and $0.35. That steep decline is sure to make waves on news feeds, but it should be taken with a grain of salt given the aforementioned context.
Ford Fusion Vignale in Europe. Image source: Ford Motor Company.
While the automaker's results will be driven by sales of full-size trucks and SUVs in North America, the results out of China and Europe could be what makes or breaks the first quarter. Consider that this might be Ford's best quarter out of Europe for the entire year, because the company's hedges against fluctuating currencies -- due to Brexit -- are set to run out during the first half of the year. Management expects a $600 million hit to Ford's pre-tax profits throughout the year. If those hedges remained throughout the first quarter, Ford is set up to have a strong earnings result,with sales up more than 9% through the first quarter until that negative impact begins to take place.
On the other hand, Ford's sales in China have absolutely slumped in the first quarter. A large part of that decline is due to the Chinese government's raising the purchase tax on vehicles from 5% to 7.5%, on the way to an eventual 10% tax rate for 2018. Ford's total sales in China are down 19%over the prior year during the first quarter, which is disappointing considering the industry's 4.6% gain.
Ultimately, investors shouldn't be alarmed by a massive decline in year-over-year pre-tax profits. Take the results with a grain of salt and surround them with appropriate context. If Ford salvaged a tough quarter in China, and Brexit implications haven't gained traction in Europe, the company could still beat estimates despite the tough comparison.
10 stocks we like better than FordWhen investing geniuses David and Tom Gardner have a stock tip, it can pay to listen. After all, the newsletter they have run for over a decade, Motley Fool Stock Advisor, has tripled the market.*
David and Tom just revealed what they believe are the 10 best stocks for investors to buy right now... and Ford wasn't one of them! That's right -- they think these 10 stocks are even better buys.
Click here to learn about these picks!
*Stock Advisor returns as of April 3, 2017
Daniel Miller owns shares of Ford. The Motley Fool owns shares of and recommends Ford. The Motley Fool has a disclosure policy.