Ford, Lockheed Martin CEOs Get More Trump Time at White House
The top executives of Ford (NYSE:F) and Lockheed Martin (NYSE:LMT) were among several notable CEOs who attended a meeting at the White House on Monday, a sign these executives want a less turbulent working relationship with the new administration.
Ford and Lockheed Martin, two of President Donald Trump's targets during the transition phase, have sought to smooth relations with Trump since his election victory. Trump frequently hit Ford over the automaker's plan to expand its manufacturing footprint in Mexico. Ford later scrapped those plans. As for Lockheed Martin, the largest supplier to the U.S. military, CEO Marillyn Hewson pledged to make the F-35 fighter jet less expensive for the Pentagon after Trump called out the company for cost overruns.
As he left the White House on Monday, Ford CEO Mark Fields voiced optimism over the administration's policy proposals.
"Walking out of the meeting today, I know I come out with a lot of confidence that the president is very, very serious on making sure that the United States economy is going to be strong, and they have policies—tax, regulatory or trade—to drive that. I think that encourages all of us as CEOs as we make decisions going forward," Fields said.
"It was a very, very positive meeting, and I think a very positive meeting for the United States of America and manufacturing in general."
Hewson said she looks forward to continue working with President Trump on business issues.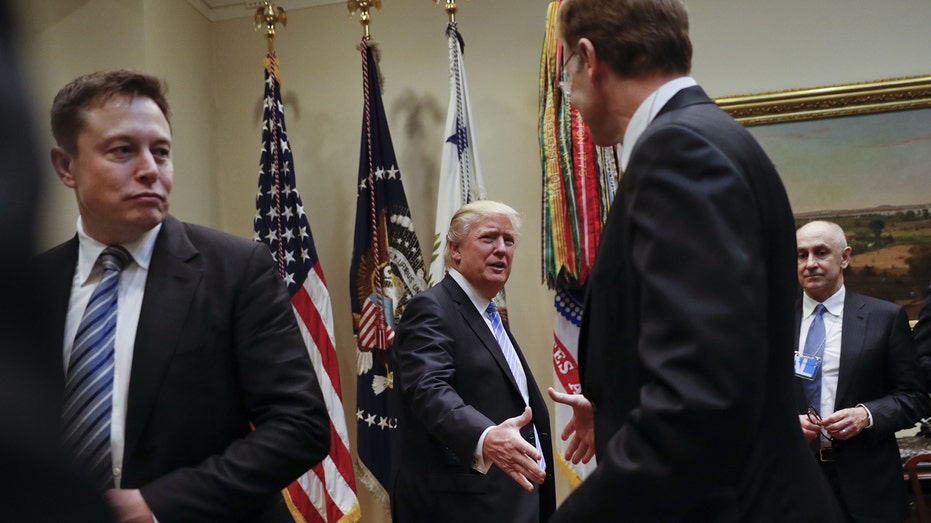 "I was encouraged by the president's commitment to reduce barriers to job creation, including targeted regulatory reform and long term budget planning," Hewson said in a statement.
The meeting was arranged by Dow Chemical (NYSE:DOW) CEO Andrew Liveris, the head of Trump's American Manufacturing Council. Dow is merging with DuPont (NYSE:DD) in a deal valuing the combined companies at around $130 billion.
The other attendees included Under Armour's (NYSE:UA) Kevin Plank, Dell's Michael Dell, Tesla's (NASDAQ:TSLA) Elon Musk and Johnson & Johnson's (NYSE:JNJ) Alex Gorsky.
Trump told CEOs at Monday's meeting that he will seek to cut business regulations by up to 75%, along with significant cuts to federal corporate taxes. The new administration is eyeing a rate of 15% to 20% for businesses, Trump said. During the campaign, Trump called for a 15% corporate tax rate, while Republicans in Congress are crafting a plan that includes a 20% rate versus the current 35%.
Trump also repeated his threat to pursue tariffs on products imported by the U.S., saying the administration wants to bring manufacturers back to America.
Throughout the campaign and after the election, Trump often criticized Ford and other automakers for shipping cars from Mexico to the U.S. In response, Ford ceased construction of a new factory south of the border. Rival Fiat Chrysler Automobiles (NYSE:FCAU) said it would consider moving production of heavy-duty Ram pickup trucks back to the U.S. from Mexico, while General Motors (NYSE:GM) announced new domestic investments and production plans of its own.
"I want to thank Mark and Ford, because you've been great," Trump told the group on Monday.
After the meeting, Trump signed an executive order officially withdrawing the U.S. from the Trans-Pacific Partnership (TPP), a trade pact that was awaiting congressional approval.
The White House also released a statement saying it will open negotiations to rework the North American Free Trade Agreement (NAFTA).