Ford CEO: We'll Bring Driverless Cars to the Masses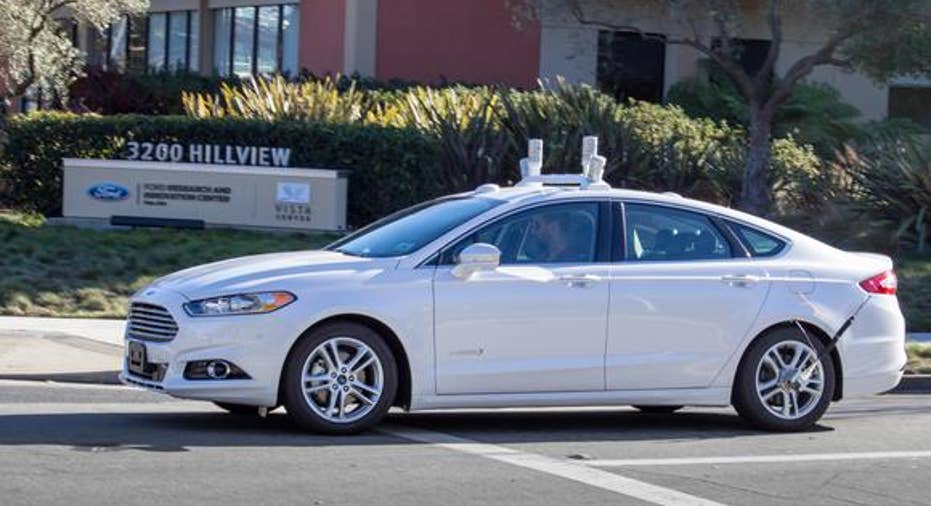 Ford chief technology officer Raj Nair joined CEO Mark Fields as Fields gave a sweeping presentation on Ford's technology initiatives on Tuesday. Image source: Ford Motor Company.
Ford CEO Mark Fields made a big splash with his keynote at the Consumer Electronics Show (CES) in Las Vegas on Tuesday morning.
In recent years, CES has become a key venue for automakers and auto-industry suppliers to announce their latest high-tech innovations and future plans. Ford has been a leader in that trend, and Fields outlined several key initiatives that the Blue Oval is working on as 2016 opens.
Ford is moving more aggressively into driverless cars Until recently, the Blue Oval hadn't said a whole lot about its work on self-driving technology. Former CEO Alan Mulally was said to be somewhat skeptical of the idea of a mass market for self-driving cars, and Ford seemed content to let key rivals like General Motors and the Silicon Valley giants lead the way.
For whatever reasons, Fields has shifted Ford's self-driving efforts into high gear. The company last month announced that it would begin testing self-driving Fusion sedans on public roads in California in 2016. Fields took that a step further on Tuesday, saying that Ford will add about 20 more self-driving hybrid Fusions to its test fleet (for a total of about 30 test vehicles.) Ford officials said later that it will be the largest autonomous-car test fleet in the auto industry.
When Ford launches its first driverless vehicle, it won't be a luxury productNearly all observers expect the first self-driving cars to be luxury vehicles. Mercedes-Benz was the first to bring (very limited) self-driving capabilities to market in 2014, followed by Tesla Motors with its "Autopilot" system last fall. GM's Cadillac brand, Audi, and Volvo are all expected to launch limited systems of their own within a year or so.
But Ford's self-driving car won't be a posh, high-priced Lincoln, Fields said. He reiterated that Ford will have a fully driverless car on the road by the end of the decade -- but added that it will be a mass-market product.
"It will not be just for those folks who can buy luxury vehicles," Fields said. "It will be designed to serve millions of users."
Ford has some advanced high-tech partnerships Fields showed off a new LIDAR sensor from a company called Velodyne that Ford is partnering with to develop driverless-car technologies. LIDAR is a technology that uses short pulses of laser light to scan the surrounding environment and precisely measure distances to other objects, millions of times per second. It allows a vehicle's computer to create a high-definition 3D model of everything around it that is updated in real time.
A prototype driverless Ford Fusion. Note the large LIDAR unit on its roof. Upcoming driverless Fusion test cars will have much smaller LIDAR units integrated into the side mirrors. Image source: Ford Motor Company.
Not all self-driving cars use LIDAR (Tesla hasn't, at least not yet). In part, that's because the existing LIDAR units have been big, cumbersome (and expensive) units that have to be mounted on a vehicle's roof. (See the photo above for an example.)
But Velodyne has developed a LIDAR unit that's about the size of two or three hockey pucks stacked up. It's small enough to be installed in a car's side-view mirrors. Ford will be using the smaller Velodyne units in its upcoming Fusion test vehicles.
Anything that helps a self-driving car look and feel more "normal" will help speed adoption of driverless technology. Smaller (and eventually, cheaper) LIDAR units like Velodyne's "puck" will help advance testing, and eventually aid commercialization of the technology.
Ford is working with ... Amazon?Ford recently launched the third iteration of its SYNC in-car "infotainment" system, and it's working on a number of new uses for it. As expected, Fields announced that 2017 Fords equipped with the latest SYNC 3 system will have Apple CarPlay and Android Auto installed for simpler integration with smartphones. (Owners of earlier SYNC 3 systems will be able to add the systems via an upgrade this fall, he said.)
But beyond that, Ford is also exploring ways to pair SYNC with a variety of home-automation products, including Amazon's voice-activated Echo system. The idea is that drivers could use a wireless link from SYNC to their at-home Echo system to access home systems such as lights, security systems, televisions, and (of course) garage door openers.
The big announcement that Fields didn't make One word was conspicuous by its absence from Fields' keynote address: "Google."
Several sources reported last month that Ford was deep in talks with the Google self-driving car unit about a comprehensive tie-up; one report said that Fields had even met with Alphabet co-founder Sergey Brin during a recent trip to California.
The reports suggested that the deal could be announced at CES. But Fields didn't mention it, and he apparently dodged Google-related questions after his speech.
It's possible that he will have something more to say at the North American International Auto Show in Detroit next week. It's also possible that there's just nothing to announce right now.
The article Ford CEO: We'll Bring Driverless Cars to the Masses originally appeared on Fool.com.
Suzanne Frey, an executive at Alphabet, is a member of The Motley Fool's board of directors. John Rosevear owns shares of Amazon.com, Apple, Ford, and General Motors. The Motley Fool owns shares of and recommends Alphabet (A shares), Alphabet (C shares), Amazon.com, Apple, and Tesla Motors. The Motley Fool recommends Ford and General Motors. Try any of our Foolish newsletter services free for 30 days. We Fools may not all hold the same opinions, but we all believe that considering a diverse range of insights makes us better investors. The Motley Fool has a disclosure policy.
Copyright 1995 - 2016 The Motley Fool, LLC. All rights reserved. The Motley Fool has a disclosure policy.