Ford: Buyers are Paying More for Our Vehicles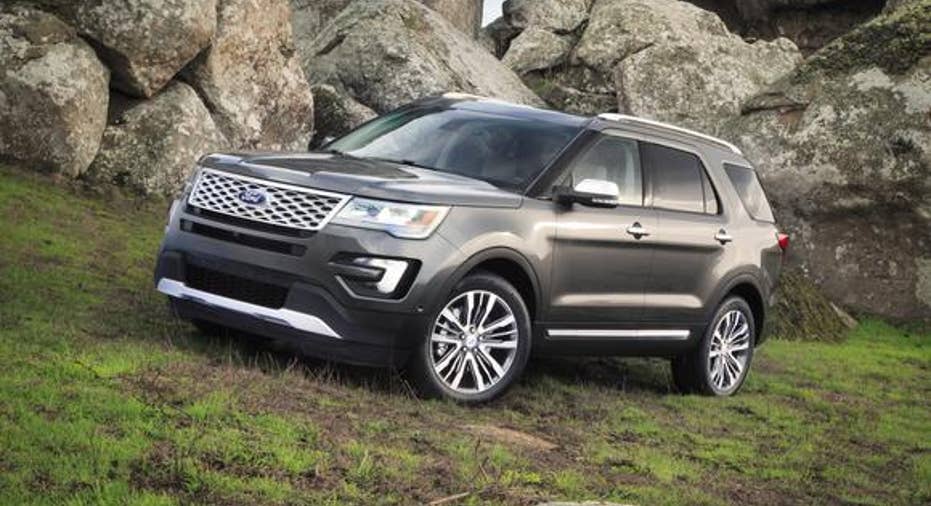 Strong sales of the loaded Ford Explorer Platinum helped boost Ford's average transaction prices last month. Image source: Ford
Ford said that its U.S. sales rose 0.4% in November, as good gains for its pickups and larger SUVs were offset to some extent by slumping car sales and a surprise year-over-year sales decline for the popular compact Escape. But its average transaction prices were up big, thanks to buyers' preference for larger, better-equipped models.
The key numbersHere's the biggest key number: Ford's average transaction prices were up by $3,800 in November versus a year ago. That jump is attributable to a few factors, but the biggest is probably the effect of Ford's newest models.
The new-for-2015 F-150 wasn't a factor in year-ago results, and average transaction prices are up versus the old models. Meanwhile, the Edge SUV is all-new this year, and the Explorer was significantly refreshed, and both are selling very quickly with fewer discounts.
As for the new F-150, it appears to be hitting its sales stride. F-Series retail sales (which includes the F-150 as well as its Super Duty siblings) rose 16% -- overall sales (including fleet) were up 10%, a good result.
Ford's car sales continue to look subdued, with all Ford-brand cars posting year-over-year sales declines in November. That reflects a larger industrywide trend, as more buyers are choosing car-based "crossover" SUVs (like Ford's Escape, Edge, and Explorer) over sedans.
Sales at the Lincoln brand were down slightly. Results were good for the midsize MKZ sedan (up 10.9%) and the new MKX SUV (up 17.5%), but declines in the compact MKC crossover (down 16.1%) and big Navigator SUV (down 33%) hurt overall totals.
A note about year-over-year comparisonsLast month had two fewer "selling days" than November 2014. "Selling days" exclude days like Sundays and holidays when new-car dealerships are typically closed. Ford's sales gains (and those of its rivals) may appear modest, but despite the small-looking percentage gains, Ford sold a lot of cars and trucks in November, at very strong prices.
About the Escape's surprise declineThe market for compact crossover SUVs has been white-hot, and in recent months Ford has given the impression that it is selling all of the Escapes it can make. But Escape sales hit a big bump in November, dropping a surprising 18.5%.
What was that about?
Ford officials said on Tuesday that the decline was attributable to the timing of some fleet deliveries. Fleet sales of the Escape were down nearly 50% versus November 2014, they said, and that accounted for much of the drop.
But LaNeve also noted that while the Friends and Neighbors promotion worked well for Ford's larger and more expensive models, it was less effective with the Escape, Fusion, Focus, and Fiesta. The hint was that because the larger vehicles had larger (in dollar amounts) discounts, they may have seemed like better deals to some buyers. If true, that effect might have contributed to the big jump in average transaction prices.
Ford's incentive spending was surprisingly modestDespite concerns about Ford's "Friends and Neighbors" promotion, it looks like the Blue Oval's incentive spending was quite restrained in November.
TrueCar estimates that Ford's per-vehicle incentive spending was just 9.5% of its average transaction price, down from last month (and a year ago). That's significantly lower than both of Ford's Detroit rivals.
The upshot for Ford investorsThere's nothing much here to worry about. Ford's most profitable models continue to post very good sales results, and November's big jump in pricing should give a boost to Ford's fourth-quarter profit margin in North America.And there are good reasons (low gas prices, low interest rates, the high average age of pickup trucks on the road in the U.S.) to think that demand for Ford's pickups and big SUVs will continue to be strong for some time to come.
The article Ford: Buyers are Paying More for Our Vehicles originally appeared on Fool.com.
John Rosevear owns shares of Ford. The Motley Fool recommends Ford and TrueCar. Try any of our Foolish newsletter services free for 30 days. We Fools may not all hold the same opinions, but we all believe that considering a diverse range of insights makes us better investors. The Motley Fool has a disclosure policy.
Copyright 1995 - 2015 The Motley Fool, LLC. All rights reserved. The Motley Fool has a disclosure policy.