For the First Time in 27 Years This Non-premium Car Brand Tops J.D. Power's Initial Quality Study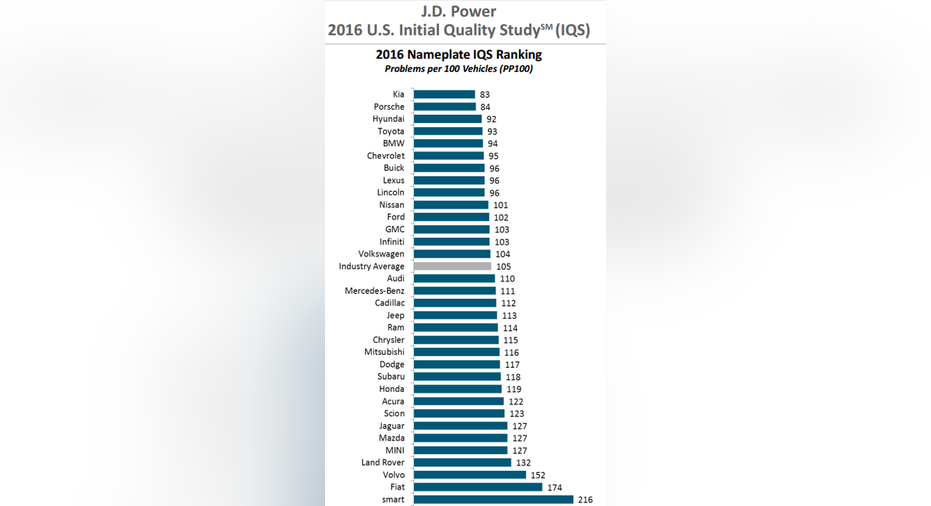 It may not come as a complete surprise for Kia investors or fans, as the South Korean automaker claimed last summer it would take the top spot in this year's J.D. Power quality survey, but the fact is it's incredibly rare for a non-premium brand to accomplish the feat. In fact, the last non-premium brand to find itself atop the quality rankings was Toyota Motors , all the way back in 1989. Here's a look at how the scoring works, how the rest of the rankings shaped up, and why it matters.
The devil is in the details
J.D. Power's U.S. new-vehicle quality is a study now in its 30th year and it examines problems consumers experience with their vehicle during the first 90 days of their ownership. The initial quality ratings are scored by boiling down the number of problems experienced per 100 vehicles, or PP100, with lower scores reflecting higher quality.
J.D. Power based the study's results on more than 80,000 responses from owners and lessees of 2016 model-year vehicles. From the 10,000 foot view, new-vehicle quality improved 6% across the industry which was double last year's improvement of 3% and the largest increase since 2009's initial quality study. In fact, 21 of the 33 brands included in the study improved their quality rating this year.
King of the hill
Making good on its promise was Kia, which ranked the highest among brands and simultaneously ending the 27 year drought for non-premium brands in the quality study by posting the lowest score of 83 PP100. Kia narrowly edged out Porsche's 84 PP100 which checked in alone at second place. Third, fourth and fifth place took a few steps back in score with Hyundai, Toyota and BMW respectively posting scores of 92 PP100, 93 PP100 and 94 PP100.
Graphic source: J.D. Power's 2016 IQS.
"Manufacturers are currently making some of the highest quality products we've ever seen," said Renee Stephens, vice president of U.S. automotive quality at J.D. Power, in a press release. "Tracking our data over the past several years, it has become clear that automakers are listening to the customer, identifying pain points and are focused on continuous improvement. Even as they add more content, including advanced technologies that have had a reputation for causing problems, overall quality continues to improve."
Surprisingly, for the first time since 2006, non-premium brands recorded fewer problems, at 104 PP100, than premium brands did at 108 PP100. Another oddity, which is a great sign for domestic auto investors, is that for just the second time in the 30-year history of J.D. Power's IQS domestic brands scored lower than their important counterparts combined. In fact, Detroit's "Big Three" combined to score 103 PP100 which was a significant 10% improvement from just last year, and double the improvement rate from their combined import competitors.
Finally, Fiat Chrysler Automobiles have a reason to cheer after multiple reports of poor quality over the years. Chrysler and Jeep were the two most improved brands and reduced their number of problems by 28 PP100 from last year's initial quality study. However, despite being the most improved both Jeep and Chrysler find themselves scoring below the industry average of 105 PP100, at 113 PP100 and 115 PP100, respectively.
Those two brands surrounded FCA's Ram brand which scored 114 PP100, but all were at least a huge distance ahead of Fiat which scored second to last with 174 PP100. While Fiat's score is pretty atrocious, it's fair to argue that the brand's score is likely skewed to some degree by a shallow vehicle portfolio and sample sizes.
Why it matters
Obviously consumers want to purchase vehicles that will give them the least amount of trouble, but for investors there is a little more to it. When it comes to market share even a fraction of a percentage point change can mean hundreds of millions of dollars in gained or lost revenue. And, as J.D. Power notes in the study, there's a correlation between the number of problems a customer has and the decisions they make during their next purchase. So, investors within the automotive industry would be wise to pay close attention to these quality results.
The article For the First Time in 27 Years This Non-premium Car Brand Tops J.D. Power's Initial Quality Study originally appeared on Fool.com.
Daniel Miller has no position in any stocks mentioned. The Motley Fool has no position in any of the stocks mentioned. Try any of our Foolish newsletter services free for 30 days. We Fools may not all hold the same opinions, but we all believe that considering a diverse range of insights makes us better investors. The Motley Fool has a disclosure policy.
Copyright 1995 - 2016 The Motley Fool, LLC. All rights reserved. The Motley Fool has a disclosure policy.