Follow that car! Toll-collecting bureaus step up enforcement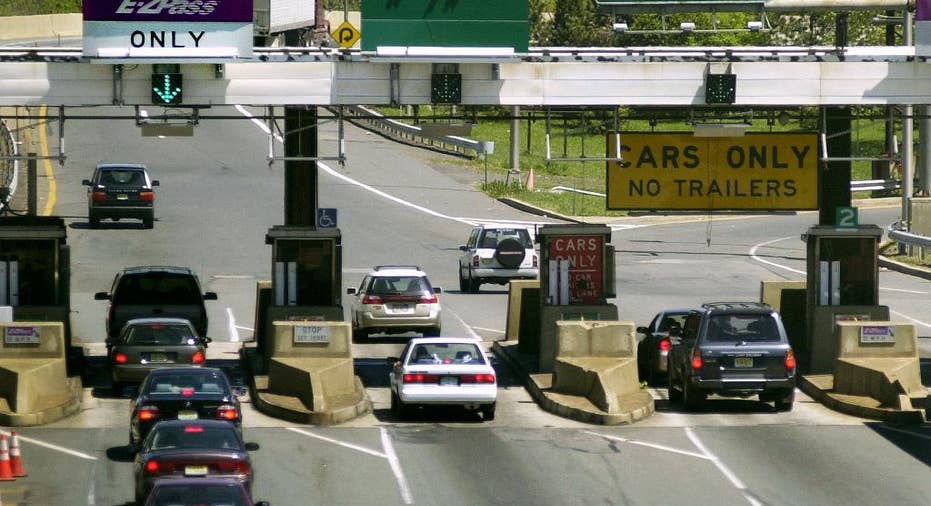 No one likes to pay tolls, some more so than others. And toll-collection agencies across the country are fed up.
Some drivers blatantly zip through toll gates without paying. Others get more creative, like the truck driver accused of using fishing line to flip his license plate to avoid capture, or the motorcyclist who used a toggle switch to retract his plate.
Agencies that operate highways, tunnels and bridges say they're losing millions of dollars annually to the scofflaws, and they're stepping up efforts to collect what's owed with a stronger police presence, partnerships between states and other stricter enforcement measures.
The Port Authority of New York and New Jersey's police force has arrested several drivers in recent weeks who had each racked up hundreds of toll violations and owed thousands of dollars — or much more — in unpaid tolls and fees. The toll evaders were charged with theft and other criminal charges.
Evaders cost the Port Authority about $31 million in unpaid tolls in 2015, the last year for which data are available. A recent audit showed the Pennsylvania Turnpike Commission lost about $37 million to toll violators.
"Toll evasion is costly for everyone, especially law-abiding drivers," said Joe Pentangelo, a spokesman for the Port Authority of New York and New Jersey police department. "Getting toll cheats is just one of the many things our officers do, but it's an important task. It's something we take very seriously."
___
BAGS OF TRICKS
Detecting and catching violators has become a high-stakes game of cat-and-mouse.
A truck driver was accused in March 2016 of using fishing line to flip his license plate to avoid paying tolls from New Jersey into New York City on the George Washington Bridge. Police found a fishing line rigged from the cab to a hinge on the front license plate. They say the line could flip the plate out of view going through the toll plaza, while the rear license plate was bent up to defeat security cameras.
A few months later, a man on a motorcycle used a retractable license plate to skip a toll at the Holland Tunnel in Jersey City. Authorities say the license plate was concealed as the motorcycle entered an E-ZPass lane, and an officer then saw the man use a toggle switch to return the license plate to its proper position.
The motorcyclist eventually pleaded guilty to a disorderly persons offense in municipal court.
In New York, the police department has had to police its own officers to make sure they aren't using a type of license-plate cover on personal vehicles that conceals the numbers. Spokesman Peter Donald told the New York Post that about a dozen officers were ticketed for having the improper covers.
Some people and businesses have accumulated debts totaling thousands of dollars — or higher.
Among them are the owner of a New Jersey trucking company accused of racking up more than $1 million in unpaid tolls and fees. The man was arrested last month at an airport while trying to board a flight to Aruba. Authorities say the company had 100 trucks going through tolls with a delinquent E-ZPass automatic payment account more than 100 times per day.
___
COST OF EVASION
While states can target residents who chronically skip tolls, getting payment from evaders who live in other states can be difficult. Many are looking into agreements with other states that would make it easier to collect.
Interstate agreements are on the rise, said J.J. Eden, president of the Alliance for Toll Interoperability, a Durham, North Carolina-based government organization that promotes toll industry standardization.
Loss caused by toll evasion "gets to be a financial hit for the toll agencies, so they see these high numbers and realize they have to do something," he said. "It's just basically a matter of fairness."
Scofflaws are often hit with fines and penalties that can add thousands to their bills, while states and agencies can also file lawsuits, use debt collection services and bar them from renewing a driver's license or vehicle registration until they settle up.
They also can have their vehicles impounded and often face theft charges over the unpaid tolls, though sometimes the matters are downgraded to lesser charges.
The Transportation Corridor Agencies, which oversees the operations of the 51 miles of toll roads in Orange County, California, said roughly 4 percent of the 300,000 daily transactions it sees result in a violation. The TCA partners with the California Highway Patrol for enforcement of toll payments, as well as pursuing the most egregious violators.
New York Gov. Andrew Cuomo, a Democrat, recently announced a new regulation allowing the state Department of Motor Vehicles to suspend the registration of motorists who fail to pay three or more toll violations within a five-year period. Previously, the DMV was allowed to suspend a registration when someone avoided five or more toll payments within 18 months.