Flowers Foods Rises on Dividend Hike Despite Falling Earnings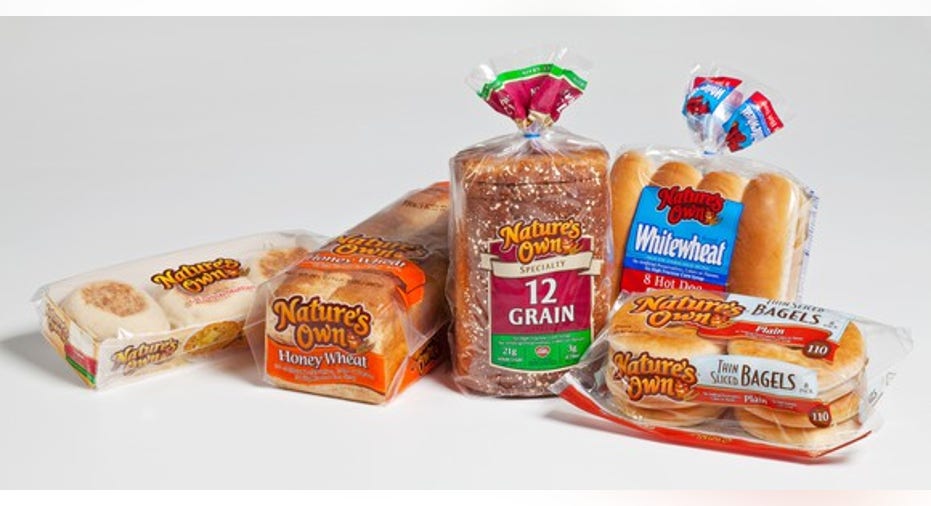 Image source: Flowers Foods.
Many people take the baked goods they get at the grocery store for granted, but for Flowers Foods , getting as much exposure on grocery shelves is a key to its success. Given how much competition there is in the highly fragmented industry, Flowers Foods has done a good job of growing to be a national force in bread and baked goods.
Coming into Wednesday's first-quarter financial report, Flowers investors were hoping to see modest gains in revenue and earnings, but the company was only able to deliver on half of that order. Nevertheless, investors were pleased with an announcement that they'll receive more income from their stock in the future. Let's take a closer look at the latest from Flowers Foods and what it says about the company's future.
Flowers Foods can't spring forward
Flowers' first-quarter results weren't as strong as most of those following the stock had expected. Sales rose 5% to $1.20 billion, reversing the fourth quarter's top-line decline, but falling short of the $1.22 billion that investors had wanted to see. Net income actually dropped 3% to $59.4 million, and that worked out to earnings of $0.28 per share. That was off a penny from last year's Q1, and also missed expectations for $0.29 per share.
Looking more closely at Flowers Foods' results, it's evident that it is struggling to find growth opportunities. All of its sales increase came from its acquisitions of Alpine Valley Bread and Dave's Killer Bread, contributing 5.3 percentage points to its total revenue. Organic growth was negative by a fraction of a percentage point during the quarter. Branded retail continued driving most of Flowers' revenue growth, rising 5% in the direct store delivery arena and 47% in the warehouse segment. Yet most of that was acquisition driven, with soft volume and less promotional activity taking their toll. The store-brand product line didn't post the same top-line strength, as sales fell slightly in direct store delivery and rose just 8% in the warehouse area. Non-retail and other revenue added modest contributions to Flowers' top line, with the company citing increases in volumes for food service.
From a profitability standpoint, Flowers' warehouse segment once again carried the day. Overall EBITDA rose 19% for the segment, and its EBITDA margin climbed by half a percentage point to 12.2%. By contrast, the direct store sales segment suffered a 4% drop in EBITDA, with the corresponding margin figure falling by a full percentage point from year-ago levels.
CEO Allen Shiver noted the countervailing factors affecting Flowers during the quarter. "We realized higher prices for our core white loaf and soft variety brad brands," he said, "and added production and distribution support to drive growth of our organic brands." Unseasonable weather and strong competition weighed on Flowers' results, however, andShiver also pointed to costs involved with the conversion of its Tuscaloosa bakery to allow organic food production.
What's ahead for Flowers Foods?
Flowers' management is hopeful that 2016 will go better. "We are focusing on margin expansion to drive earnings growth," Shiver said, noting that the company intends to keep "aggressively improving our promotional effectiveness and increasing consumer awareness of our brands" in order to achieve that goal.
Flowers Foods made some positive revisions to its guidance for the full year. Revenue projections remained unchanged at between $3.986 billion and $4.08 billion, but new earnings guidance for $1 to $1.06 per share was $0.02 greater than previously forecast. Flowers said that the boost came from its accelerated stock-repurchase program, which reduced outstanding share counts and raised per-share figures.
Flowers also gave investors good news on the dividend front. Going forward, the baker will pay $0.145 per share quarterly, representing a 9% increase. At current prices, the stock now yields 3%.
Despite the sluggish quarterly results, Flowers Foods' investors focused on the longer-term picture, sending the stock up 4% at midday. As long as the business can continue to grow and become more efficient, short-term impacts should eventually give way to more fundamental success for Flowers.
The article Flowers Foods Rises on Dividend Hike Despite Falling Earnings originally appeared on Fool.com.
Dan Caplinger has no position in any stocks mentioned. The Motley Fool recommends Flowers Foods. Try any of our Foolish newsletter services free for 30 days. We Fools may not all hold the same opinions, but we all believe that considering a diverse range of insights makes us better investors. The Motley Fool has a disclosure policy.
Copyright 1995 - 2016 The Motley Fool, LLC. All rights reserved. The Motley Fool has a disclosure policy.