Flash Crash? Symantec Plummets 11% in Seconds Before Recovering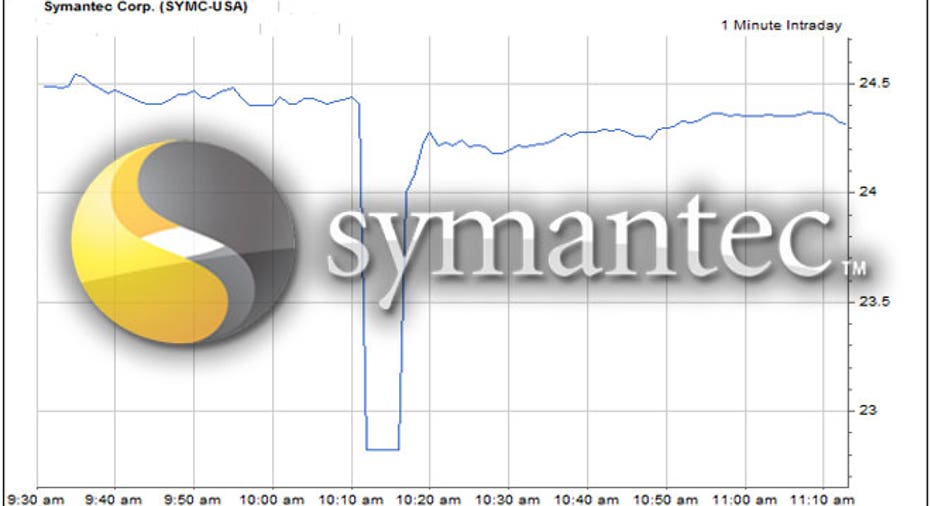 Shares of security software maker Symantec (NASDAQ:SYMC) mysteriously plummeted nearly 11% in just seconds on Tuesday, wiping out $1.7 billion in market value before triggering a single-stock circuit breaker and quickly recovering.
The fleeting selloff appeared to have been caused by an erroneous trade, a problem that from time to time impacts various stocks on major exchanges.
The steep tumble, which took place in just a three-second window, didn't coincide with any corporate announcements or major news reports.
Cris Paden, a spokesman from Symantec, said the company has been informed by Nasdaq Stock Market officials that the stock drop was caused by a large stock order that was erroneously filed without a limit on the sale price.
"That's why the stock took off and the circuit breakers kicked in," said Paden. "It was a really unusual incident and something that's never happened to us before."
According to Thomson Reuters, about 504,000 Symantec shares exchanged hands during the three-second window when the stock tumbled, with the heaviest volume on the Nasdaq.
"The market-wide, single-stock trading pause worked precisely as it was designed," Nasdaq OMX Group (NASDAQ:NDAQ) said in a statement.
Nasdaq said the five-minute pause was triggered by a price change of at least 10% and added that no traders were canceled.
After closing at $24.59 on Monday, Symantec plummeted as much as 10.8% to $21.93 at 10:12 a.m. ET on Tuesday, prompting the stock to be halted by Nasdaq. Given Symantec's $17 billion market capitalization, the drop erased about $1.7 billion in market value.
When trading resumed at 10:16 a.m. ET, Symantec shot back up north of $24.00 and was recently trading at $24.32, off just 1.08% on the day.
"Any sort of trade, no matter how erroneous, shouldn't take the stock down 10%," said Joe Saluzzi, author of Broken Markets. "It tells you how messed up the market is. In the old days this never would have happened."
Due to the stock reaction to the order mistake, Symantec investors who set a stop-loss order, which triggers an automatic sale at a predetermined price, may have lost their position and sold at an unfavorable price despite the fact that the stock quickly bounced back.
"People got hurt and people lost money here. I don't want anyone to say no one got hurt here because that's a lie," said Saluzzi, co-head of trading at Themis Trading.
Saluzzi said most trades won't be canceled because regulators typically only break trades that are 10% or more away from a reference price.
"This highlights the market structural issues," said Dennis Dick, a market structure consultant and proprietary trader at Bright Trading in Detroit. "We always say how much liquidity we have, but on issues like this sometimes we don't have as much as we think we do."
Since the May 2010 flash crash that took nearly 1,000 points off the Dow Industrials, the markets have been subject to a slew of smaller glitches, including the flubbed Facebook (NASDAQ:FB) initial public offering in 2012. Last week, CBOE Holdings (NASDAQ:CBOE) suffered a software bug that prevented investors from using key products, including the popular Volatility Index, or VIX.
Critics of the current system blame a market that has become increasingly fragmented and complex, especially given the rising influence of high-frequency trading.