Five Below Soars Above the Crowd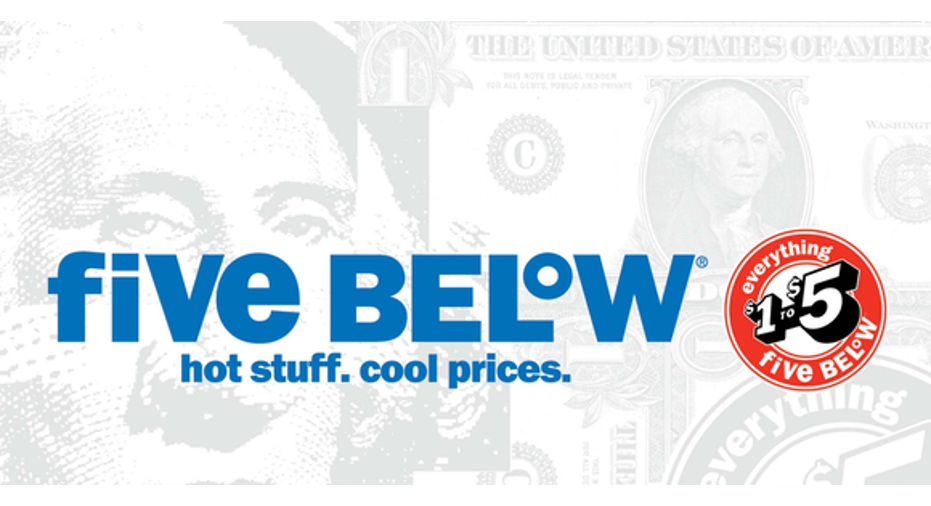 Retail has been a tough place in which to invest lately, and even stalwarts like discount teen retailer Five Below (NASDAQ: FIVE) have faced certain challenges. Yet over the long run, teens looking for inexpensive products have been a good place to find growth, and coming into Thursday's fiscal third-quarter financial report, Five Below shareholders were looking to see significant gains in revenue and net income.
Five Below ended up giving investors most of what they wanted to see, and its outlook for the holiday season and the coming year were strong, as well. Let's take a closer look at Five Below's results to look for the highlights of its business right now.
Image source: Five Below.
Five Below generates excitement
Five Below's fiscal third-quarter profit results were solid. Sales jumped almost 18%, to $199.5 million, which was actually a little bit less than the $201 million consensus figure among those following the stock. However, net income rose by roughly a quarter, to $5.4 million, and that produced earnings of $0.10 per share, up from $0.08 per share for the year-ago quarter.
Not all of Five Below's numbers were exceptional, however. Comparable sales were down 0.2% from the year-ago quarter, showing further deterioration in a manner consistent with the trend from the past several quarters. Operating income climbed 23%, and gross margin edged upward by a fraction of a percentage point from the previous period.
Five Below kept on using its expansion approach to drive growth. The retail chain opened 26 new stores during the quarter, finishing the quarter with 517 locations. That's up 19% over the past year alone, and it indicates the potential that Five Below sees in further extending its network. The retailer now reaches 31 different states.
CEO Joel Anderson celebrated the news. "Our track record of outstanding new store performance continued," Anderson said, "and despite being up against a strong third quarter last year, we delivered solid sales growth, expanded operating margins, and increased [earnings per share]."
Can Five Below thrive?
Five Below sees even better times ahead. In Anderson's words, "As we look to the all-important fourth quarter, we believe we are well-positioned to wow our customers with our compelling holiday assortment accompanied by exciting marketing plans, including our new and expanded TV campaign." If promotional activity works well, then the retailer aims to become the place to go for teens seeking gifts and stocking stuffers.
Five Below's future guidance was also consistent with the high expectations that investors had. The teen retail specialist believes that revenue for the fourth quarter will come in between $391 million and $397 million, with a return to positive comps growth of about 2% to 3%. Earnings of $0.89 to $0.92 per share would also be consistent with consensus forecasts among investors.
The company also boosted its full-year guidance slightly. Five Below now believes that sales will be between $1.003 billion and $1.009 billion, with the bottom end of that range rising $3 million. Earnings of $1.29 to $1.32 per share kicked the lower end of the previous guidance range upward by $0.01. Comparable-store sales for the year are expected to rise roughly 2.3% to 2.7%, with 85 net new stores throughout the 12-month period.
Five Below shareholders were ecstatic about the financial results, sending the stock soaring by almost 11% in the first hour of after-hours trading following the announcement. With so much going for it entering into the key holiday shopping season, Five Below seems to be regaining its positive momentum and showing that it still has what it takes to appeal to sometimes fickle teen shoppers over the long haul.
10 stocks we like better than Five Below When investing geniuses David and Tom Gardner have a stock tip, it can pay to listen. After all, the newsletter they have run for over a decade, Motley Fool Stock Advisor, has tripled the market.*
David and Tom just revealed what they believe are the 10 best stocks for investors to buy right now... and Five Below wasn't one of them! That's right -- they think these 10 stocks are even better buys.
Click here to learn about these picks!
*Stock Advisor returns as of November 7, 2016
Dan Caplinger has no position in any stocks mentioned. The Motley Fool recommends Five Below. Try any of our Foolish newsletter services free for 30 days. We Fools may not all hold the same opinions, but we all believe that considering a diverse range of insights makes us better investors. The Motley Fool has a disclosure policy.