Fitbits Down, But With its Active User Community, its Not Out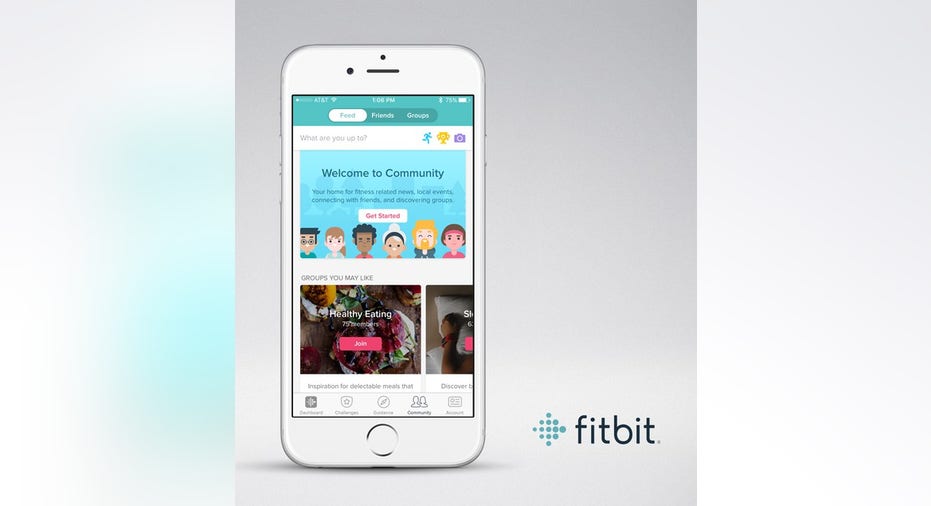 Following itsfourth quarter pre-release of earnings, Fitbit (NYSE: FIT) has its stock and investor confidence sitting at all-time lows. But the company's growing community of active users is an underappreciated asset that investors are overlooking, and recent comments from management make it clear that Fitbit is investing to strengthen the offering to those super-engaged customers.
Image source: Fitbit.com
Fitbit's community is huge
Since 2009, Fitbit has sold over 60 million devices, more than double its nearest competitor. Over that time, the company has also sponsored a Fitbit community for users, allowing individuals to link up with family and friends that have a Fitbit to share their fitness results, create step challenges and cheer or taunt others in their network as healthy motivation.In the recent fourth quarter preliminary results announcement, Fitbit reported that its community has grown to 23.2 million active users.
Image source: Chart by author, data from Fitbit's earnings releases.
While the number of devices sold doesn't always translate into active users, Fitbit has created one of the largest fitness social networks in the world. Fitbit doesn't take this network for granted and understands the value this community brings to its brand. In the most recent earnings call, CEO and founder James Park said:
It's clear Fitbit's management understands the pull of the network effect, and is doing its best to bring it to its offering. As more people use the community platform, it becomes "stickier" for users and the use-case becomes more compelling to non-users. Given that potential, it's no surprise that Fitbit chose to make improvements to the company's community features.
Fitbit doubles down on community
Fitbit's recent community enhancements revolve around three areas: feed, friends, and groups. The feed feature allows users to share successes, read content from Fitbit experts and discover and attend workouts. The friends feature allows you to easily connect with your friends and family, create step challenges, direct message and cheer or taunt your connected network. Lastly, groups let you discover, join or create groups of like-minded individuals to help encourage you as you work on your fitness goals.
When users are engaged with friends on the Fitbit platform, they are more active. Having more active Fitbit users in the community helps increase the chance you might have friends or family to engage with. Two key data points from the company's recent announcement emphasize these points.
Fitbit users who have one or more friends [on the platform] take 700 more steps per day on average than users without friends.
Over the past year, Fitbit saw a 98% increase in the number of users who have at least one friend on the Fitbit platform with overall Fitbit users averaging more than six friends.
The data makes it clear that an engaged community member is a good thing for the company. While Fitbit is a ways from the critical mass necessary to truly enjoy the network effect,the pieces are there -- the company has a commanding share of the wearables market and significant active user base. Their recent community experience enhancements are the next step in building the platform and base of long-term loyal customers.
10 stocks we like better than Fitbit When investing geniuses David and Tom Gardner have a stock tip, it can pay to listen. After all, the newsletter they have run for over a decade, Motley Fool Stock Advisor, has tripled the market.*
David and Tom just revealed what they believe are the 10 best stocks for investors to buy right now... and Fitbit wasn't one of them! That's right -- they think these 10 stocks are even better buys.
Click here to learn about these picks!
*Stock Advisor returns as of January 4, 2017
Brian Withers owns shares of Fitbit. The Motley Fool owns shares of and recommends Facebook and Fitbit. The Motley Fool has a disclosure policy.