First Solar, Inc. Plunged in 2016, and 2017 May Not Bring a Recovery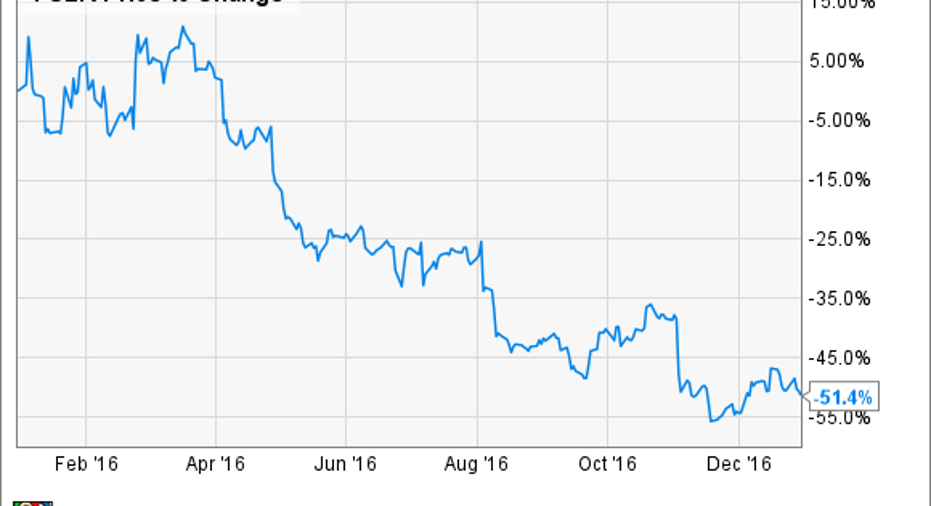 Image source: Getty Images.
2016 was a year to forget for First Solar, Inc. (NASDAQ: FSLR) investors, who watched the stock plunge 51% as the utility solar market crumbled around it. And late in the year, management's announcement the company would go through a major retooling to upgrade from Series 4 solar panels to Series 6 -- a more efficient panel and plant design -- took the market off guard. Here's a look at what went wrong last year and what may be ahead for this solar giant.
How a good year went bad
Last year was supposed to be a great year for the solar industry. The investment tax credit (ITC) was extended shortly before the end of 2015, giving some visibility to developers bidding on solar projects in the U.S. And the falling cost of solar was making the energy source more attractive all over the world. Everything was looking up.
What investors didn't see coming was that the ITC extension had a side effect of there being very little demand for new projects beyond what utilities had contracted for 2016. Most utilities have met renewable energy standards, and there's not much demand growth to meet. So, even though 2016 was a decent year for U.S. utility solar, 2017 will be terrible unless the market begins to recover.
Internationally, demand was led by China, where nearly one-third of all solar installations outside the U.S. occurred in 2016. But most of China's demand was in the first half of the year, before it cut the feed-in tariff rate for solar projects. Demand started to shrink in the second half of the year.
Broadly, the industry was characterized by strong demand in the first half of 2016, with demand falling throughout the year and uncertainty growing about potentially more weakness in 2017. On top of that, manufacturers went through a major capacity expansion last year, resulting in an oversupply. This led to a 25% reduction in the price of solar panels in the third quarter alone, which isn't a good sign for solar overall.
Image source: First Solar.
The decision facing First Solar
With solar panel prices falling and demand for utility projects waning, First Solar had to decide how it was going to approach the next few years. It had planned a slow upgrade from Series 4 solar modules to Series 5 and eventually Series 6. But given the market conditions, management decided to accelerate the plan and begin upgrades now.
Over the next three years, First Solar will spend around $1 billion upgrading equipment to make Series 6 modules, with over 3 GW of production expected by 2019. The theory is that First Solar might as well deal with the financial pain of the upgrades today and be ready for industry growth in 2018-2020. That's a long way out, but if the solar industry is growing consistently by then, the investments the company is making could pay off handsomely.
Is this the bottom for First Solar?
While I think First Solar is making the right moves upgrading to Series 6, we don't know what the market will look like when the upgrade is complete, or whether the company will maintain a technology lead, or where margins will stand. Solar costs have fallen a lot faster than most people predicted, so these upgrades may just allow the company to keep up with the competition rather than bring a competitive advantage.
What investors can fall back on for now is that management expects to end 2017 with $1.4 billion to $1.6 billion in net cash. A strong balance sheet has always been an advantage for First Solar, and it will give the company some leeway to make necessary upgrades over the next few years. But for that time frame, I don't see many catalysts that will drive the stock higher. Therefore, this may be a solar stock with little upside in 2017.
10 stocks we like better than First Solar When investing geniuses David and Tom Gardner have a stock tip, it can pay to listen. After all, the newsletter they have run for over a decade, Motley Fool Stock Advisor, has tripled the market.*
David and Tom just revealed what they believe are the 10 best stocks for investors to buy right now... and First Solar wasn't one of them! That's right -- they think these 10 stocks are even better buys.
Click here to learn about these picks!
*Stock Advisor returns as of January 4, 2017
Travis Hoium owns shares of First Solar. The Motley Fool has no position in any of the stocks mentioned. The Motley Fool has a disclosure policy.