First Solar and SunPower Make a Strategic Shift at Just the Right Time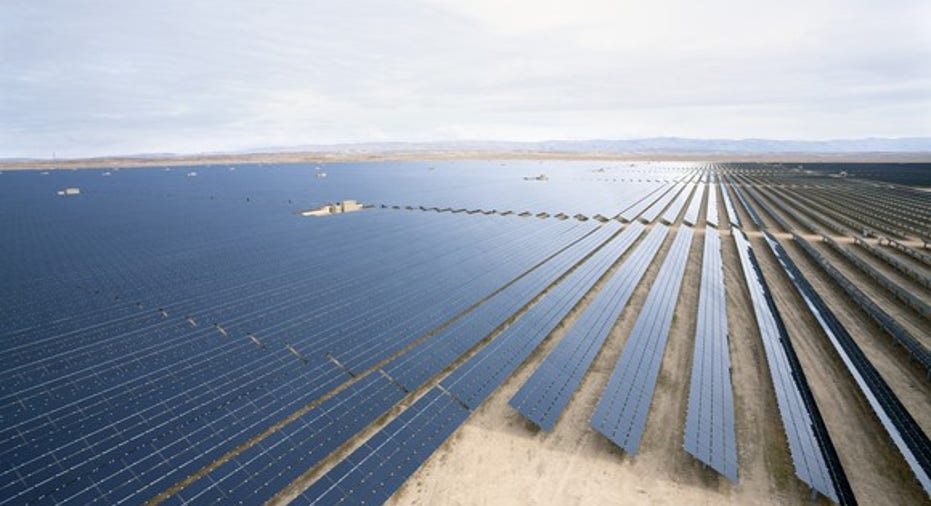 One of the biggest strategic changes both First Solar (NASDAQ: FSLR) and SunPower (NASDAQ: SPWR) made in 2016 was to move away from the project development business and into providing component solutions to customers. The development business had been highly lucrative from 2010 to 2015, but in recent years, as utilities moved into the market and the yieldco market declined, margins shrank. Moreover, the solar companies themselves didn't seem to bring much strategic advantage to the business. Worse yet, solar developers had essentially become competitors with the utilities they were trying to sell energy to, which wasn't a position they wanted to be in.
This explains the motivation behind their transition to offering more pre-engineered solutions to other project developers.First Solar and SunPower will offer racking, panels, inverters, and even energy storage to customers. And they may be making the move at just the right time.
Image source: First Solar.
Developing a differentiated solution
Both of these companies' foundations have long rested on their solar panels. First Solar's thin-film panel and SunPower's back-contact panel are what created their businesses, and eventually, those led them into large, utility-scale projects. Along the way, they got a lot of experience installing large solar power systems, building racking systems, integrating their systems into the grid, and dealing with the headaches that come with local permitting.
But for a variety of reasons, some of which I'll cover later, they no longer see the development business as a core part of their long-term future. Instead, they're taking what they've learned and offering solutions to customers who will act as developers and owners. For First Solar, it's their Series 6 product; SunPower is touting its Oasis utility-scale solar solution and its P-Series solar panels.
The idea is to move as much of the work of building a solar farm as possible to the factory, and to sell pre-engineered solutions that can be easily scaled, rather than designing each system individually. In SunPower's case, it can send up a drone to map out a piece of property, and then design an entire solar farm in a matter of minutes. Developers or utilities then essentially order the components off the shelf.
First Solar's Series 6 product is similar, and recent contracts it has signed have been for more of a component sale rather than contracting to sell energy to a utility. And there's a financial strategy behind this move.
Taking on a better set of risks
One of the side effects of being in the development business is that you take on risks -- and they're risks that don't necessarily make sense for a solar power system company. For example, if you develop a project that you think will be profitable at a 7% internal rate of return (IRR), but interest rates rise before you sell it and suddenly buyers are demanding a 9% IRR, you can wind up underwater. Utilities and banks, not solar developers,should be thinking about these interest rate risks, and with rates rising, both of these solar companies have seen the downside of interest rate exposure.
A move to providing solar components and solutions will allow First Solar and SunPower to focus on where they have discernible competitive advantages. When it comes to competing with solar panel manufacturing giants like Canadian Solar and JinkoSolar, being able to offer components beyond the panel can make theirsolutions more attractive to customers. Utilities and other developers may not want to become experts in designing and assembling solar systems; if they can lean on First Solar or SunPower for that expertise, they can focus on the areas where they excel, like financing.
For investors, long term, it's a positive that First Solar and SunPower are focusing on their core solar solutions rather than taking on risks of development. It should also create a situation where they are simply partnering with utilities and other developers, rather than attempting to walk the tightrope of being their customers' partners and competitors simultaneously. And with interest rates heading upward, and developers facing financial trouble, this may be a good time to exit the solar development business to focus on a core component product that has a great future.
10 stocks we like better than First SolarWhen investing geniuses David and Tom Gardner have a stock tip, it can pay to listen. After all, the newsletter they have run for over a decade, Motley Fool Stock Advisor, has tripled the market.*
David and Tom just revealed what they believe are the 10 best stocks for investors to buy right now... and First Solar wasn't one of them! That's right -- they think these 10 stocks are even better buys.
Click here to learn about these picks!
*Stock Advisor returns as of February 6, 2017
Travis Hoium owns shares of First Solar and SunPower. The Motley Fool has no position in any of the stocks mentioned. The Motley Fool has a disclosure policy.