First Class Seats Go on the Auction Block at Hawaiian Airlines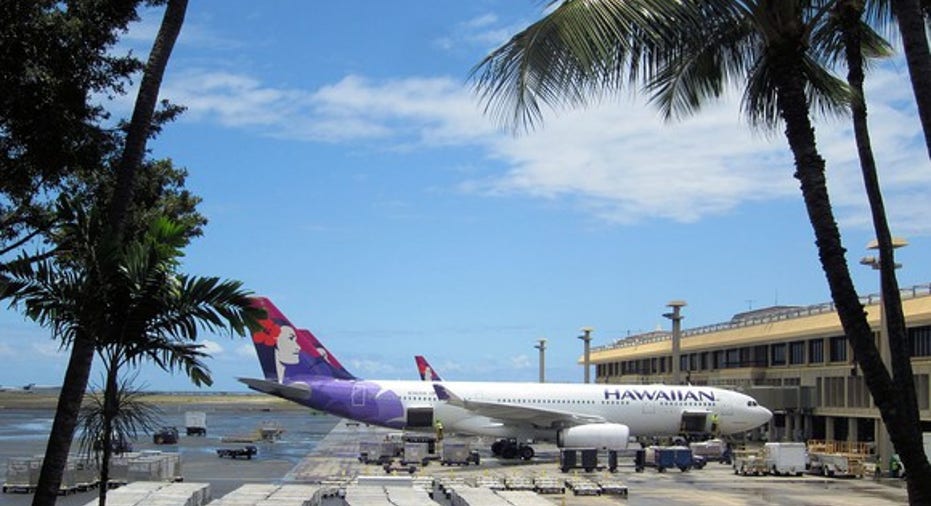 Apparently, Hawaiian Holdings is tired of leaving lots of first class seats unsold. Last week, the company announced that it will auction off first class upgrades on its mainland-Hawaii routes to main cabin customers.
Hawaiian Airlines will auction off unsold first class seats. Image source: Wikimedia Commons.
U.S. airlines, led by Delta Air Lines , are increasingly trying to boost revenue through better customer segmentation. In other words, they offer cheap tickets to entice price-sensitive travelers while encouraging customers to spend more for an upgraded experience. Hawaiian's new auction system fits into this trend and could represent a valuable ancillary revenue opportunity.
How it will work
Round-trip coach fares for Hawaiian Airlines' flights from the West Coast to Hawaii are typically $400 to $500 or more. First class fares are usually more than twice as expensive. That price gap means that Hawaiian Airlines sometimes can't sell all of its first-class seats, even when overall demand is strong.
Hawaiian Airlines' new "Bid Up" service will allow customers who buy coach tickets to bid on upgrades to first class. This new initiative will be managed by a company called Plusgrade that specializes in helping airlines maximize ancillary revenue.
Customers on eligible flights will receive an email roughly 10 days before their flight, offering them the opportunity to bid on a first class upgrade. The winners will be notified 48 hours before the flight takes off.
The average amount that Hawaiian Airlines will get from auctioning off first class seats will surely be lower than the first class fares published on its website. (Customers who are willing to pay that much would just buy first class tickets in the first place!) However, since the upgrade bidding process won't start until 10 days before departure, Hawaiian will only be auctioning off seats that it is unlikely to sell. From the company's perspective, it's essentially free money.
Will other airlines follow?
Hawaiian Airlines isn't the only company trying to squeeze more money out of its first class seats. Delta Air Lines has similar ambitions.
In 2013, Delta had a 45% paid load factor for its domestic first class seats. The rest of the seats were filled by customers getting free upgrades. By 2015, Delta had increased its domestic first class paid load factor to 57%. The company's goal is to improve that to 70% by 2018.
Instituting an auction system would allow Delta Air Lines to fill its first-class seats with paid upgrades even if there wasn't enough demand for regular first-class fares. However, this wouldn't necessarily be a good idea.
The problem is that network carriers like Delta have traditionally used their unsold first-class seats to provide complimentary upgrades to frequent fliers with elite status. Frequent fliers who may spend tens of thousands of dollars a year on Delta flights wouldn't like to see the airline auctioning off first-class seats at a discount rather than offering them as upgrades.
In fact, Hawaiian Airlines is somewhat unique in that it almost exclusively carries leisure traffic on its mainland-Hawaii routes. As a result, it doesn't have the same base of frequent business travelers that need to be pampered with complimentary first-class upgrades.
By contrast, business-oriented airlines need to weigh the short-term opportunity of squeezing some incremental revenue out of their first-class sections against the risk of alienating their most valuable customers. Thus, while first-class auctions represent an enticing ancillary revenue opportunity for Hawaiian Airlines, auction systems aren't likely to be widely adopted by other U.S. airlines.
The article First Class Seats Go on the Auction Block at Hawaiian Airlines originally appeared on Fool.com.
Adam Levine-Weinberg owns shares of Hawaiian Holdings and is long January 2017 $40 calls on Delta Air Lines and short October 2016 $50 calls on Hawaiian Holdings. The Motley Fool has no position in any of the stocks mentioned. Try any of our Foolish newsletter services free for 30 days. We Fools may not all hold the same opinions, but we all believe that considering a diverse range of insights makes us better investors. The Motley Fool has a disclosure policy.
Copyright 1995 - 2016 The Motley Fool, LLC. All rights reserved. The Motley Fool has a disclosure policy.