Financial Engines Stock Upgraded: 3 Things You Need to Know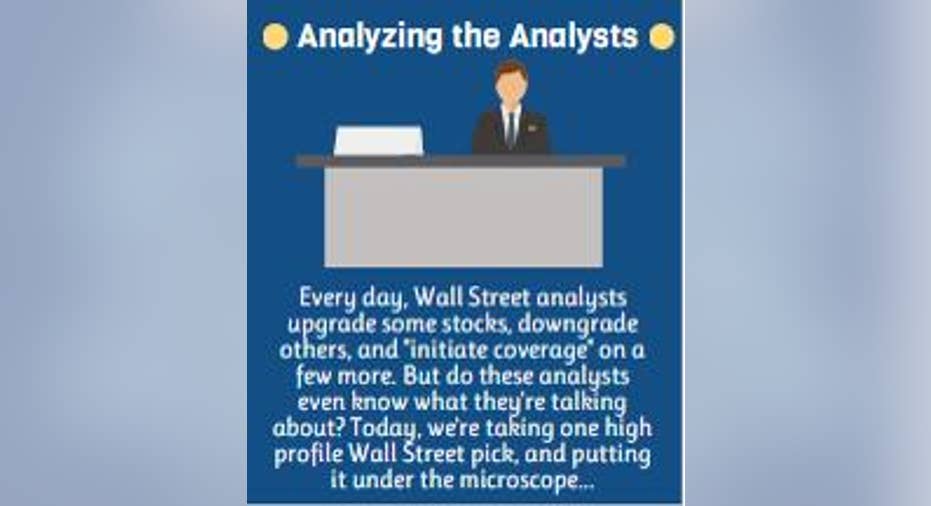 It's been a full week since Financial Engines reported its fiscal Q1 2016 earnings results. A week since the stock crashed in response to the news, and burned up 11.5%of its market capitalization in the process.
Since that date, Financial Engines stock has continued to plummet, closing last night at a share price 17% below its pre-earnings price. But now, the selling has finally stopped -- and you have Raymond James to thank for it.
Raymond James, you see, likes Financial Engines at today's new and improved -- and cheaper -- share price. Here are three things you need to know about its latest upgrade.
Raymond James thinks it's time for Financial Engines stock to stop falling. But should you follow its advice?
Thing No. 1: Last quarter was bad
Financial Engines' Q1 earnings report was not what you would call good news. GAAP earnings at the self-proclaimed "America's largest independent investment advisor" plummeted 60% year over year to just $0.06per diluted share, despite a 23% rise in revenue. The earnings missed Wall Street's prediction by about $0.02, and even revenues, while up, were not up as much as Wall Street had hoped for.
Thing No. 2: But the bad news is priced in (maybe)
Regardless, when Raymond James looks at the results, in light of the lower stock price today, it comes to the perhaps surprising conclusion that "the current valuation appropriate[ly] reflects the company's slowing organic growth." That's as reported by TheFly.com, which covered the analyst's write-up this morning.
Simply put, when Raymond James looks at the company's current valuation -- 61 times earnings, or 39 times trailing free cash flow of $42 million (which we define here as operating cash flow minus capital and software expenditures) -- the analyst thinks that's a fine and dandy price to pay for the company. It's good enough, in short, to convince Raymond James to remove its underperform rating from Financial Engines stock, and upgrade the shares to at least market perform.
Thing No. 3: Raymond James may be wrong about that
But is 61 times accounting profits, or 39 times cash profits, really a good price to pay for Financial Engines stock? Personally, I'm not too sure. My rule of thumb when valuing most ordinary stocks is to look for a valuation that's less than analysts' projected growth rate -- a PEG ratio when valuing on GAAP earnings, or a price-to-free-cash-flow-to-growth ratio when valuing on free cash flow.
Problem is, under that formula, Financial Engines' projected growth rate isn't anywhere near fast enough to justify buying the stock at today's price. Data from Yahoo! Finance show most analysts following Financial Engines stock today predicting long-term earnings growth rates of 25%,while data from S&P Global Market Intelligence, which figures things a bit differently, projects a growth rate of less than 21%.
Neither of these growth rates, though, is anywhere near fast enough to justify even the 39 times FCF valuation on Financial Engines stock today, much less the 61 times multiple to GAAP net income.
One more thing: Financial Engines isn't just any ordinary stock
Does this mean Raymond James is wrong to relent on its underperform rating on Financial Engines stock? Not necessarily. Turns out, when valuing asset managers such as Financial Engines, there's a third way that's popular with analysts. Essentially, what you do is take the company's assets under management (its AUM, which is currently $122 billion), multiply that number by 2%, and compare the resulting number to the stock's market capitalization. A market cap greater than 2% suggests the stock may be overvalued, and less than 2% -- undervalued.
And here's the thing: 2% of Financial Engines' AUM works out to $2.44 billion, and currently Financial Engines' market capitalization is only $1.64 billion. By this metric, at least, there's an argument to be made that not only is Financial Engines not overvalued, but that it's dramatically undervalued -- that Financial Engines stock is, in a word, cheap.
Mind you, this isn't an argument that even Raymond James is making just right now. All the analyst is saying is that Financial Engines stock's price is "appropriate" for the kind of slowing growth we saw in Q1. It does at the very least suggest, though, that when Raymond James says it's time to stop selling (or shorting) Financial Engines stock -- it's got a good point.
The article Financial Engines Stock Upgraded: 3 Things You Need to Know originally appeared on Fool.com.
Fool contributorRich Smithdoes not own shares of, nor is he short, any company named above. You can find him onMotley Fool CAPS, publicly pontificating under the handleTMFDitty, where he's currently ranked No. 299 out of more than 75,000 rated members.The Motley Fool has no position in any of the stocks mentioned. Try any of our Foolish newsletter services free for 30 days. We Fools may not all hold the same opinions, but we all believe that considering a diverse range of insights makes us better investors. The Motley Fool has a disclosure policy.
Copyright 1995 - 2016 The Motley Fool, LLC. All rights reserved. The Motley Fool has a disclosure policy.