Finally, AECOM Stock Is Profitable Again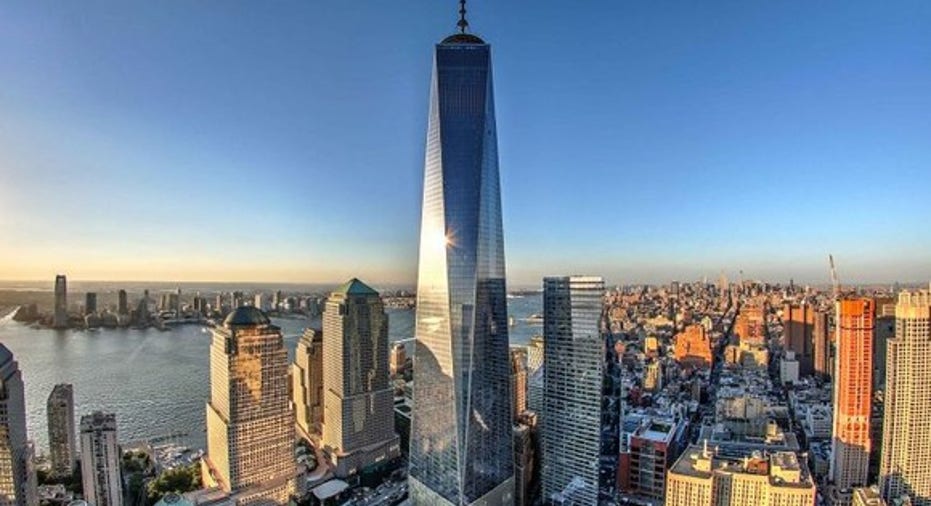 AECOM just might be the biggest construction company you've never heard of. For example, this is one of its marquis projects. Recognize it? IMAGE SOURCE:AECOM.
The year2015 was a rough onefor AECOM stock. The year 2016 promises to be different.
In fiscal 2015, which ended six months ago, AECOM closed out its fiscal year with a $155 million loss, only its second such money-losing year in the past five. But earlier this week, AECOM reported its earnings for fiscal Q2 of 2016, and it looks like the company is back on track. Here's how they did.
The news
On Tuesday, AECOM reported:
$4.4 billion in quarterly revenue, down 3% from last year's Q2, and somewhat short of estimates.
$141 million in operating profits, for an operating margin of 3.2% (up from 0.1% last year).
Pro forma profits of $0.87 per share, which was $0.15 ahead of analysts' projected $0.72.
On the bottom line, $0.27 in net profits.
Best of all, free cash flow at the company quadrupled year over year, to $83 million, bringing total free cash flow for the past six months to $160 million -- and free cash flow for the past 12 months to $578 million.
And that's just the start of the good news. Laying out guidance for the rest of this year, AECOM says it's "on track" to earn "adjusted" earnings per share -- that's the pro forma number above -- of $3.00 to $3.40 per share in fiscal 2016. What that works out to in GAAP-certified net income is not entirely clear. But management also gave us an estimate for free cash flow (a number I actually prefer to GAAP net income). To wit, AECOM expects to generate free cash flow of $600 million to $800 million in 2016.
That means AECOM's cash-profitability, already pretty strong at $578 million for the past 12 months, is almost certain to grow as the year progresses. And to top it all off, AECOM is promising to generate another $600 million to $800 million in free cash flow in fiscal 2017, as well.
Valuing AECOM
What does all this mean to investors contemplating a purchase of AECOM stock? Currently, AECOM sports $578 million in trailing-12-month FCF, and a $5.05 billion market capitalization. That works out to an 8.7 times free cash flow valuation today. Add in debt -- AECOM has $3.5 billion more debt than cash on its books -- and the debt-adjusted market cap (enterprise value) rises to 14.8.
That's a bit steep for a company that analysts expect will grow profits at only 9% annually. But what if the analysts are mistaken, and AECOM's predictions are more accurate?
To see how that changes the math, let's take AECOM's best-case prediction of $800 million free cash flow at face value. Eight hundred million divided into $8.5 billion in enterprise value equals only a 10.7 valuation -- and that's a whole lot closer to "cheap" than is the 14.8 ratio we see today.
AECOM stock is still not an obvious bargain -- the 9% growth rate still disconcerts. But the closer the valuation gets to nine or 10 times free cash flow, the more I'd be convinced that AECOM stock is a stock to watch.
And what would happen if what we're reading in the press comes true, and AECOM started to addsome big-ticket Hyperloop contracts to its backlog, and executing on them? In that case, AECOM just might become a stock to buy.
The article Finally, AECOM Stock Is Profitable Again originally appeared on Fool.com.
Fool contributorRich Smithdoes not own shares of, nor is he short, any company named above. You can find him onMotley Fool CAPS, publicly pontificating under the handleTMFDitty, where he's currently ranked No. 291 out of more than 75,000 rated members.The Motley Fool has no position in any of the stocks mentioned. Try any of our Foolish newsletter services free for 30 days. We Fools may not all hold the same opinions, but we all believe that considering a diverse range of insights makes us better investors. The Motley Fool has a disclosure policy.
Copyright 1995 - 2016 The Motley Fool, LLC. All rights reserved. The Motley Fool has a disclosure policy.