Fiat Chrysler shares up as investors play down EPA impact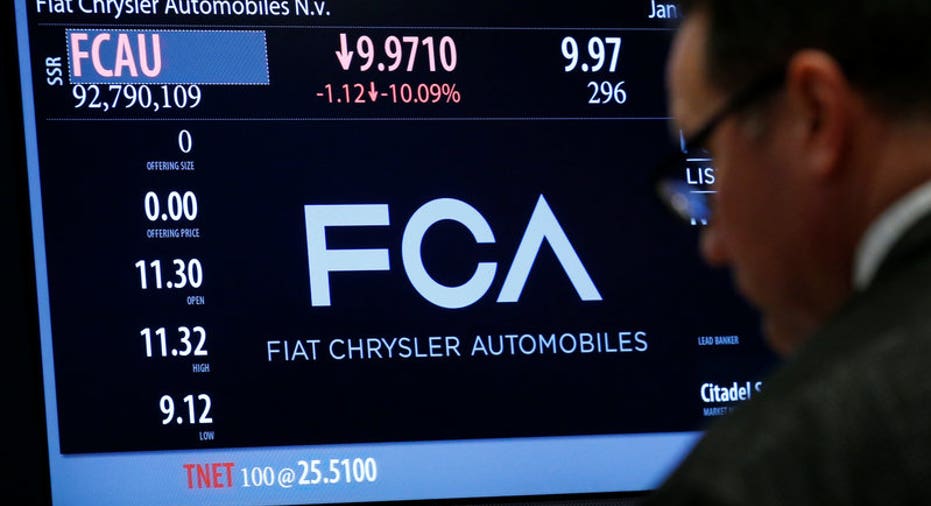 Fiat Chrysler Automobiles (FCA) shares rose on Friday as investors played down the potential impact of the U.S. Environmental Protection Agency (EPA) accusing the company of concealing diesel emissions.
Fiat's Milan-listed rose more than 7 percent in early trade and stood 3.53 percent higher at 9.09 euros at 1101 GMT (6:01 a.m. ET).
The shares tumbled 16 percent on Thursday after the EPA accused the world's seventh-largest carmaker of illegally using hidden software to allow excess diesel emissions to go undetected, suggesting a maximum fine of about $4.6 billion.
Larger rival Volkswagen has admitted to cheating diesel emissions tests and agreed to spend up to $22 billion in the United States to address claims from owners, environmental regulators, U.S. states and dealers.
FCA lacks Volkswagen's cash pile but analysts said its case looked much less severe than that of its German counterpart.
The EPA said FCA failed to disclose engine management software in 104,000 U.S. vehicles leading to an increase in emissions of nitrogen oxides (NOx). However, the authority has not yet labeled them "defeat devices" as in Volkswagen's case.
FCA Chief Executive Sergio Marchionne categorically rejected the allegations on Thursday saying there was no wrongdoing and the company never attempted to create software to cheat emissions rules. He also stressed FCA's situation cannot be compared with VW's.
Analysts drew best and worst case scenarios, estimating potential fines ranging from several hundred million dollars to $4 billion. But they said the likelihood of hefty fines were very low.
"Our base case is that the current violation notice is settled as a reporting violation of $140 million, a very manageable figure for FCA," said Stuart Pearson, an analyst at Exane BNP Paribas.
"However, until the issue is settled, emissions uncertainty is likely to remain a significant overhang to the shares and break the stock's impressive recovery since Trump's election."
Analysts also noted that FCA's vehicles are equipped with selective catalytic reduction (SCR) systems, so could likely be fixed at a relatively immaterial cost.
Before this week's tumble FCA's shares had risen by around 70 percent since Donald Trump's election on expectations of less stringent emissions policies under the next U.S. administration.
FCA's case will soon be handed over to the new U.S. administration, which the market expects to be more lenient.
The stock was also supported by Marchionne's promise to deliver on his ambitious 2018 targets, including wiping out the company's debt. Italian media quoted Marchionne as saying on Friday that the EPA enquiry would not affect those goals.
(Reporting by Agnieszka Flak and Valentina Za; editing by Jason Neely)